Two men in Florida found out the hard way that when you play stupid games, you win stupid prizes after the "stupid grown men" shot each other's daughters. It's been described as a "crazy" road-rage incident, but that might be putting what they did too mildly.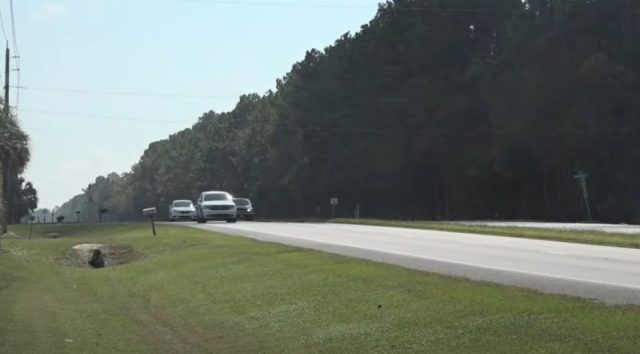 William Joseph Hale, 35, and Frank Gilliard Allison, 43, were both driving northbound along Highway 1 just outside of Jacksonville, Florida, on a Saturday evening when all hell seemingly broke loose. Even though both men had their families in tow, they began to engage in what a witness described as a game of "cat and mouse" as each dangerously attempted to gain one-upmanship over the other during a high-speed chase after arguing with each other on the road while driving aggressively, HuffPost reported.
According to police, William Joseph Hale, who was driving a black Dodge truck, and Frank Gilliard Allison, who was behind the wheel in a Nissan Murano, both began "speeding and driving recklessly" while also occasionally "brake checking" each other, The Blaze reported. Things got so tense, according to a witness, that "he knew something bad was going to happen." He was right. With both men operating their vehicles in a way that endangered themselves and others, things quickly went from bad to worse.
"They were both speeding and driving recklessly northbound in Jacksonville and then into Nassau County on U.S. 1, brake checking and trying to cut each other off," Nassau County Sheriff Bill Leeper told Newsweek. "They obviously didn't like the way the other one was driving so they were both acting like idiots."
Witnesses said that at some point during the incident, William Hale began to signal for Frank Allison to pull over. In response, Frank Allison's wife Jessica allegedly rolled down the passenger window of their Nissan to give the truck, driven by William Hale, the middle finger. At that point, someone in Hale's truck reportedly seized the opportunity to throw a water bottle into the Nissan, escalating the situation.
Things then turned even more violent as Frank Allison reportedly "grabbed his Sig Sauer 45-caliber automatic handgun and fired one shot at the other truck before driving away at a high rate of speed," according to Nassau County Sheriff Bill Leeper. The bullet, fired from Allison's pistol, entered the right rear passenger door of Hale's truck, tragically striking the man's 5-year-old daughter in the leg, Yahoo! News reported.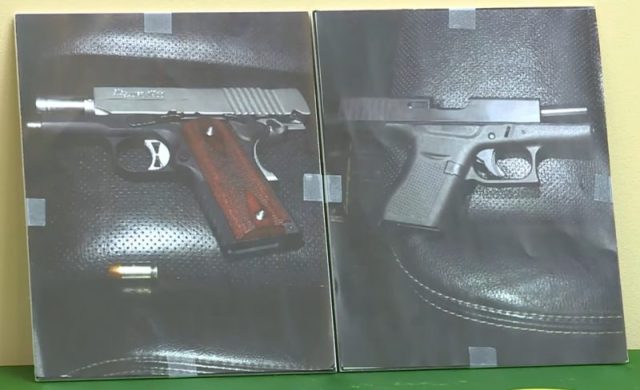 Sadly, things didn't end there. After realizing his daughter had been shot, Hale allegedly returned fire, emptying "everything that was in the magazine" of his Glock 9mm semi-automatic handgun. Hale admitted that he fired "seven or eight rounds" at the Nissan with at least three of those rounds hitting Allison's vehicle, police said. Unfortunately, one of those round struck Allison's 14-year-old daughter in the back, causing a collapsed lung.
After having shot each other's daughters, the two drivers then reportedly spotted a police cruiser and decided to pull over. Rather than letting cooler heads prevail, however, the pair began fighting one another. A deputy separated the duo before they were both eventually placed under arrest. Both Hale and Allison were booked into the Nassau County Detention Facility and chared with second-degree felony attempted murder for their part in the road-rage incident turned violent.
Both girls were taken by fire and rescue units to be treated for non-life-threatening gunshot wounds. Allison's 14-year-old daughter was taken to UF Health Downtown with a collapsed lung. It is also reported that both wives had, at some point, spoken to 911 operators during the incident. Both men were released on $150,000 bond. Police do not believe the men or their families knew one another prior to the incident.
Unsurprisingly, their shocking behavior has been strongly ridiculed by law enforcement with officers concluding in each of the arrest reports that their "act was imminently dangerous and demonstrated a depraved mind without regard for human life." Nassau County Sheriff Bill Leeper echoed similar sentiments.
"What's scarier than one crazy driver with a gun? Two crazy drivers with a gun," the shocked sheriff quipped, accoridng to NY Post. "Thankfully, no one was killed in this incident, but it could have very easily turned out that way because two people were acting stupid and let their tempers get the best of them," he continued. "There could have been two dead kids because of two stupid grown men."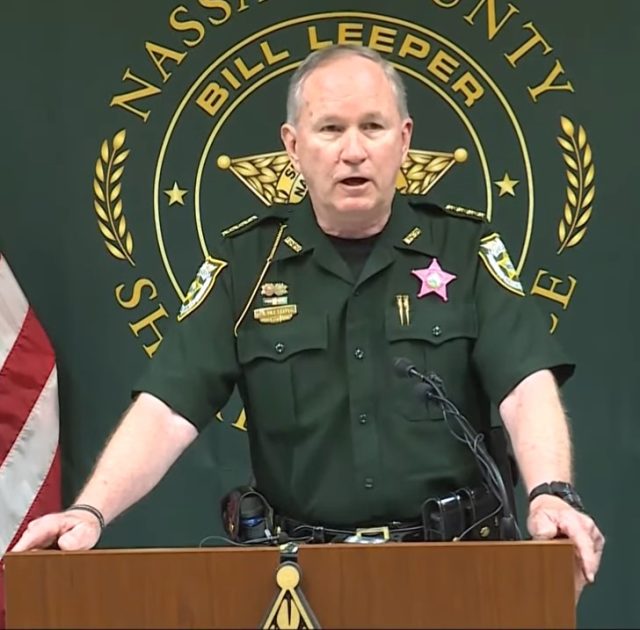 Saying the road-rage incident made him think of the "movie Dumb and Dumber," the sheriff said he questioned "how stupid" two people could be "to endanger their children, not only by driving recklessly but by shooting a gun at another vehicle while engaged in a road rage incident is just insane." The sheriff is right. But, this isn't just stupidity, it's selfish immaturity as well.
It's our duty as parents to first and foremost protect our children. It would seem, however, that these two men — and I use that term loosely — prioritized their pride over all else. They learned the hard way that one rarely wins when fueled by one's own ego. Sadly, it was two innocent girls who paid the price. Although they will recover from their physical injuries, I shudder to think of the damage this has done to their mental health. After all, dads should protect their daughters, not get them shot because they can't control their rage on the road.