A popular fitness personality with a "perfect" body and millions of followers got blasted by critics after posting a revealing video. She showed the world her perceived "figure flaw."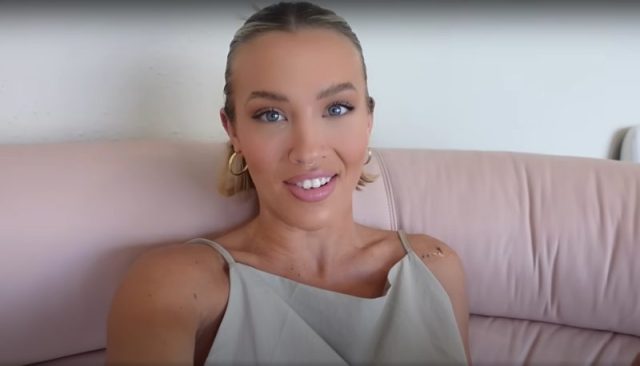 Tammy Hembrow has amassed millions of followers on Instagram, and it's easy to understand why after taking a look. The beautiful mother of two and Australian model is well-known for her toned bikini body and simple booty workouts.
However, when the fitness personality confessed to her fans that her body bears physical "reminders" of her pregnancies, she did not receive the reaction she had hoped for. Hembrow posted a video of herself in a crop top and panties touching her flat stomach.
"Some people ask me how to get rid of loose skin after having a baby without realizing I still have it! Loose skin is pretty much inevitable after having babies, but clean eating, moisturizing, staying hydrated, and working out before, during, and after pregnancy can help," she captioned the post.
According to Yahoo News, although the video was designed to promote her fitness app, it got mixed reactions from Hembrow's Instagram followers. Many have chastised the fitness influencer for attempting to appear relatable to her followers despite the fact that her figure is deemed "perfect" by most people's standards.
Tammy Hembrow was surprised by the reaction to the excess skin video. It wasn't what she expected.
"Loose skin? [She's] taking the piss," one follower wrote. "Millions on here would do anything to be as physically, mentally, and financially privileged as you. Get over yourself."

Another critic posted, "She's just looking for attention."
However, there were those who praised Hembrow for sharing her "flaws" and embracing her post-baby body.
"As a mom of two who's desperately trying to get her body back, this is so encouraging to see," a Hembrow fan wrote. "I never would have known, and this tells me there is hope for me!"
https://www.instagram.com/p/BKjyssZhYJl/?utm_source=ig_embed&ig_rid=a779e3fb-165e-49b7-95f0-57f06caaac7b
This isn't the first time the Australian beauty has flaunted her perceived body imperfection. People Magazine reported that after giving birth to her second child in 2017, Hembrow uploaded a mirror selfie on Instagram showing her holding her newborn while wearing a crop top and gray leggings.
Her daughter's foot is pressing into her stomach in the snap, exposing her loose skin."Proud of my mama bod and my loose skin," she captioned the photo, adding the hashtag "#6monthspostpartum." Hembrow also acknowledged that her figure has remained in terrific form despite her loose skin. She attributes her toned post-baby body to maintaining a healthy lifestyle throughout her pregnancy.
"What helped me bounce back is definitely how I ate and trained as I was pregnant," Hembrow said. "I ate very clean, I had a lot of veggies, a lot of protein, and I tried to only limit my treats to the weekends," she said. "What kept me going is how I wanted to look after the baby. I knew I wanted to get fit again after the baby and be in the best shape I could be, so I wanted to make it easier for myself by staying active while I was pregnant."
In an effort to normalize postpartum bodies, Tammy Hembrow also encouraged her followers to be kind to themselves. "Whether you have stretch marks, loose skin etc., just know that there's nothing wrong with it!" she said. "It shows what your body has been through so you should choose to embrace it!"