Actress Suzanne Somers was applauded by her fans after revealing why she refused an offer to become a cohost on "The View."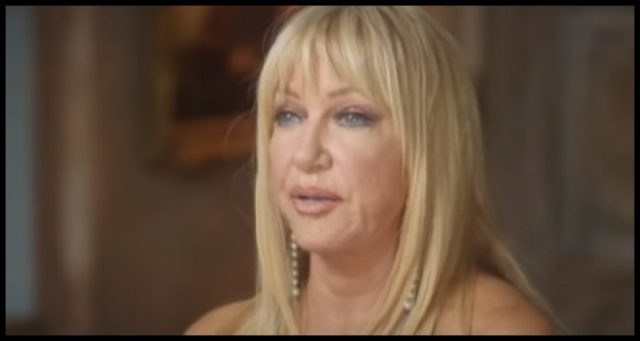 Suzanne Somers, who rose to fame starring in the 1970s sitcom Three's Company, opened up about an offer she got to cohost The View. "I was originally asked to be on the original 'View' with Barbara Walters and whoever else, and I turned it down," Somers said while appearing on the Behind the Velvet Rope with David Yontef podcast.
"And everyone said, 'Why would you turn that down? It is a national show,'" she continued. "I said, 'First of all, I have to live in New York. I don't really wanna live in New York. I like the weather down here, and I like the vibe down here.'"
Somers was born and raised in California and continues to live there with her husband Alan Hamel, but that's not the only reason she turned down this gig. "But secondly, I don't do well vying for time," she explained. "And there, you gotta interrupt and butt in and butt out. It's just not my personality." Somers concluded by saying that she "walked away from that" and has "never looked back."
Many on social media applauded Somers's decision. "She has class and a brain. Neither are allowed on that show," posted one supporter. "Smart lady, who would sign up for that much hate in one room," said another fan. "Good for you Susan, the View is Toxic," posted another supporter. "No sensible person should lower themselves to join that vile circus," offered one fan.
One person who would definitely say that Suzanne Somers made the right choice in refusing The View is former cohost Meghan McCain, who has spoken out to slam the program. She spent four years being the token conservative cohost on The View from 2017 until she left in 2021, and she has no interest in ever going back.
"There is nothing on God's green earth that could convince me to ever walk on to that set again," McCain wrote in an article for the Daily Mail. McCain went on to claim that she was frequently "pushed off topics that I thought were newsworthy by show producers." One example of this was the scandal that Democratic Virginia Governor Ralph Northam faced in which old yearbook photos of him wearing blackface resurfaced.
"It was a subject that millions of Americans debated around watercoolers at the office and picnic tables at backyard barbeques. But we weren't allowed to talk about it because of Whoopi and Joy Behar," Meghan McCain wrote about the scandal.
"Around the same time as the revelation about Northam, an old picture emerged showing Behar wearing makeup to darken her skin for a Halloween costume in the 1970s," McCain added. "Behar even boasted about the image in a resurfaced 2016 segment, saying she dressed up as a 'beautiful African woman.'" Goldberg also has a blackface scandal in her past, as she was photographed with her ex-Ted Danson in blackface at a 1993 Friars Club roast.
https://twitter.com/TheEvverymann/status/1192550180727357440?
"The only way to survive on that show is to be vanilla pudding," Meghan McCain concluded. "Say nothing controversial with the elites, bow down, and don't actually do the job you were hired to do, which is voicing your authentic opinions." Co-hosting The View seems like nothing short of a nightmare, so one can't help but think Somers dodged a major bullet.
The View premiered on ABC in 1997. Although there have been a number of cohosts since the original panel premiered, one thing that endures with the panel of ladies over the years is controversy. The View started out as a TV show where women debate differing political views, and it has been chided for straying too far to the left in recent years. Either you love the show or hate it, but it appears as if ABC is determined to keep it on the air regardless of the show's numerous scandals and pitfalls.