When a little girl came home from school, she was visibly upset as she began to empty out her piggy bank. As her grandmother asked her what she was doing, the child broke down in tears and uttered a heartbreaking confession that forced the grandma to act.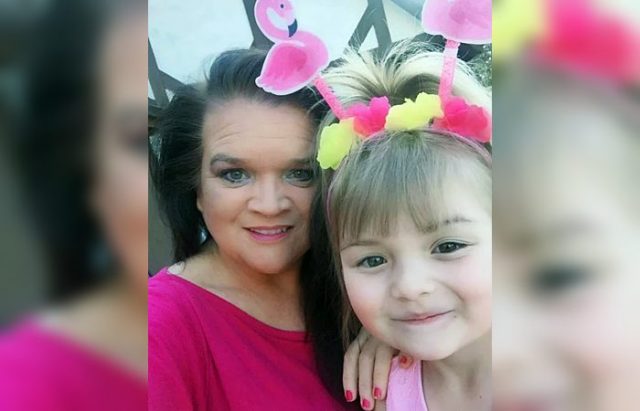 Five-year-old Sunshine Oelfke has always been a passionate child. So, when the typically bubbly little girl came home after school one day and headed straight for her bedroom without saying a word, her grandmother knew something was out of the ordinary.
Her grandmother, Jackie Oelfke, decided to check on Sunshine by peeking into her room. There, she saw that the child had emptied out her piggy bank, lining up the bills and coins neatly on the floor. The little girl then did her best to count the money but struggled with the differing amounts. Jackie sat down with her granddaughter and began totaling up the cash.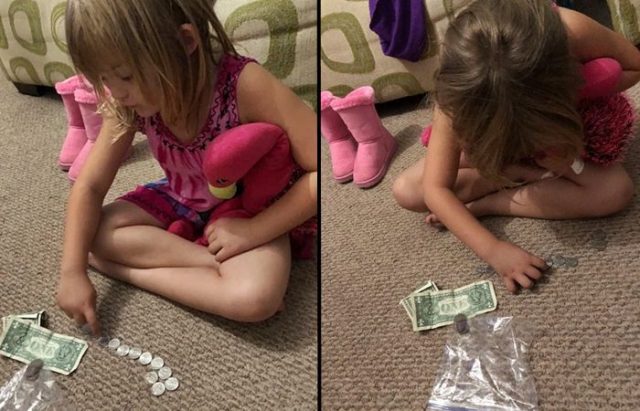 After they had finished, Jackie suspected that Sunshine was planning on spending the money on something she had recently seen, CBS News reports. Since the child had been saving up for a snowmobile, the concerned grandmother asked her what was so important that she would waste all the money she worked so hard to save.
"What are you doing with that money?" Jackie Oelfke asked her granddaughter.

"I'm taking it to school," Sunshine replied. "I'm going to take it for milk money. I'm taking it for my friend Layla," she explained. "She doesn't get milk — her mom doesn't have milk money and I do."
Jackie was taken aback by the little girl's answer. Although Sunshine is a caring and compassionate child, she has been through her own share of trauma. Jackie explained that the child's mother is a drug addict who has been in and out of prison.
"She's going to have enough issues growing up with this," Oelfke said. "I've never told her she can't do something, and I didn't want to start now."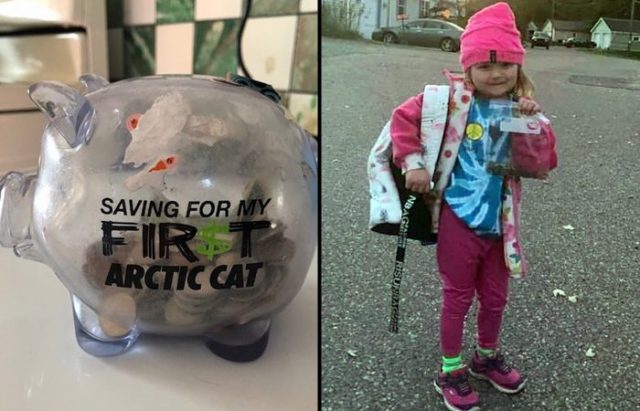 Moved by Sunshine's kindness, Jackie met with the child's teacher and handed her the $30 the 5-year-old had saved. The teacher told Jackie that roughly half of the students don't get milk each day. Since it costs $0.45 per carton, the total adds up to around $180 per month for the class.
Overwhelmed by the thought of children going without but knowing that she can't afford that amount each month, Jackie took to social media with a tearful video explaining the situation. Incredibly, her cry gripped the hearts of thousands of social media users, and soon, donations began pouring in.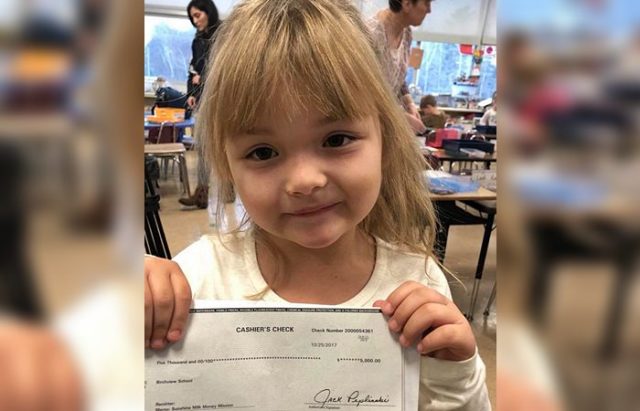 Jackie Oelfke set up a Go Fund Me account, which raised more than $1,000 in the first week alone. By the time the fundraiser had finished, they had raised over $19,000 for the school's milk fund.
"Guess what! My whole class got milk today," Sunshine proudly told her grandma. "Layla now has milk money."
Upon hearing about the little girl's charitable act, Textron presented Sunshine with a free Arctic Cat ZR 120 snowmobile, WXYZ reports.
"Sunshine is a snowmobile fanatic. We rode over 800 miles together just last year, and she never touched her Arctic Cat piggy bank prior to this mission because she had her heart set on that snowmobile," Jackie Oelfke said in a statement. "That's why I was so taken aback when I saw her emptying her coins into baggies and taking them to school. To see this little girl have such a big heart at her age is amazingly heartwarming, and I am just so glad that people want to spread her message of kindness."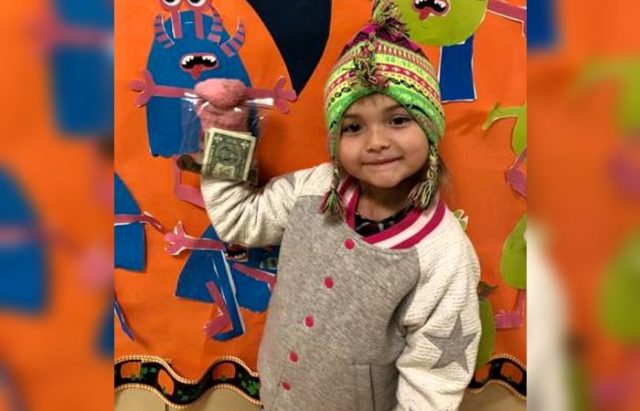 Sunshine Oelfke raised more than enough money to pay for every child to have milk with their lunch each day in the cafeteria. Despite her young age, she cares more about her fellow classmates than herself.
Sunshine's compassion has inspired thousands of people to donate to her milk money fund. She had no idea her kindness would spark such a massive flood of charity. This little girl is definitely going to make a positive impact on the world.