After converting to Islam, a young woman donned her brand new hijab and headed to work at a fried chicken establishment. However, once her manager saw the new addition to her uniform, he had an unexpected response, and it was all caught on video.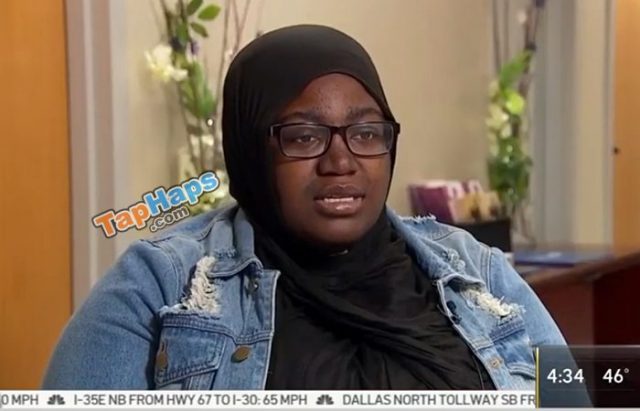 In August, Stephanae Coleman made one of the biggest decisions of her life — converting to Islam. In October, she accepted an entry-level position at Chicken Express in Saginaw, Texas. However, not long after learning the ins and outs of her new job, she decided to challenge the chain's strict dress code.
Adhering to her religious compulsions, Coleman arrived at work near the end of December with a long black hijab covering her hair and neck. She casually clocked in, thinking nothing of her headscarf she had recently started wearing. However, her manager quickly took notice.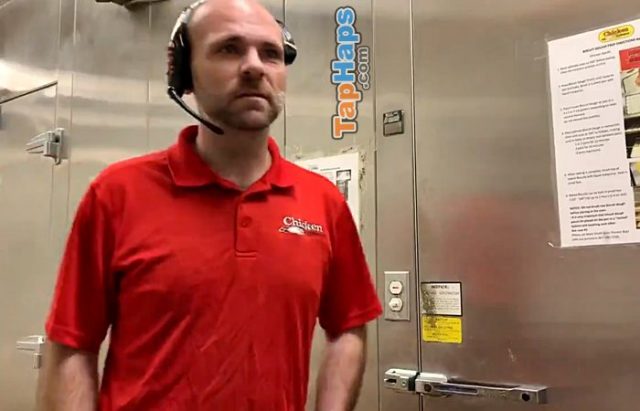 According to Daily Mail, Coleman was sent home from her job because she refused to remove her hijab, which the manager claimed was in violation of the franchise's dress code. The Muslim employee secretly filmed the unidentified manager calmly explaining to her that she can't wear any article of clothing that doesn't have the Chicken Express logo.
"Your job is your job. Your job has nothing to do with religion," the manager says in one video. "The job requires a specific uniform. [The hijab] is not a part of the uniform; you as a paid employee cannot wear it," he adds in a second clip which the woman said was from when he called her into the office after speaking on the phone with the area coach.
Coleman, who goes by the name Folake Adebola on Twitter, ranted about the uncomfortable incident, calling for her followers to boycott the restaurant. She then claimed that she is the victim of "discrimination" and would seek further action against her former employer.
"I converted to Islam not too long ago and I started wearing my hijab, I went to work today and was kicked out because my hijab was not apart the 'dress code' apparently and I wasn't allowed to wear it. Don't come to the chicken express in Fort Worth!!" Coleman wrote on Twitter.
Stephanae Coleman reached out to the Council on American-Islamic Relations for legal advice. She vowed to file a civil rights lawsuit and contacted the Equal Employment Opportunities Commission about her case.
However, Coleman tweeted, "That's the thing nobody in my job will come forward about anything. Because they are all too scared."
While most of Coleman's social media followers expressed their support, some questioned the details of her claim as well as her motive. One Twitter user even scrolled through Coleman's social media profile to point out discrepancies in the timeline concerning her conversion, employment, and wearing the hijab.
"Just couple questions to clarify. You converted in Aug, and apparently are proud of the new religion. In Aug or Sept did you not have any pics taken of yourself wearing a hijab? You didn't join twit till Oct. Why fill out ur twit bio and profile w/o any mention?" Twitter user Neil Hoyt asked, pointing to Coleman's rather sexually explicit descriptors.

"Lemme say this I converted in AUGUST I didn't start working there till OCTOBER in the hand book they say they have 'equal opportunity for every religion' so yes I FELT comfortable working there. I told my manager that I am Muslim and that I was waiting on my hijabs to come in," Coleman replied.
Neil Hoyt didn't feel that the explanation cleared up anything. He then asked why she waited so long to wear her hijab at work and why there was no mention of her devout reform on her openly secular profile.
"No ceremony pics from Aug? Where were they ordered from that it would take from Oct till late Dec to arrive? Was there no wearing of one from Aug till late Dec? Just seems odd to join/convert to a religion n be happy about it, then join twit in Oct w/ no mention," Hoyt again questioned to no reply.
After Coleman's formal complaint, Chicken Express apologized profusely for the handling of the incident, likely fearing a lawsuit. An attorney representing the franchise explained that it was a "mistake" sending her home but that she's "not facing discrimination for her decision to wear a headscarf or for being Muslim."
"The manager's decision to send Ms. Coleman home for wearing the headscarf was due to a lack of training," Rhett Warren told CNN. "The manager was using a strict interpretation of the company policy that does not allow derivations from the standard employee uniform, and he unfortunately did not take religious liberty into consideration."
Although Stephanae Coleman was promised that she could wear her hijab if she returned to work, she ultimately declined. She claims that she faced a "negative hostile atmosphere" and couldn't return.
Only time will tell whether Coleman will continue forward with a discrimination lawsuit. As such, the franchise is scrambling to do damage control in order to avoid what could easily result in a massive settlement.