Don't mess with Texas. An armed bandit found this out the hard way when he decided to attack a young woman in broad daylight and a Texas grandfather leaped into action, delivering "frontier justice." Luckily, it was all caught on video.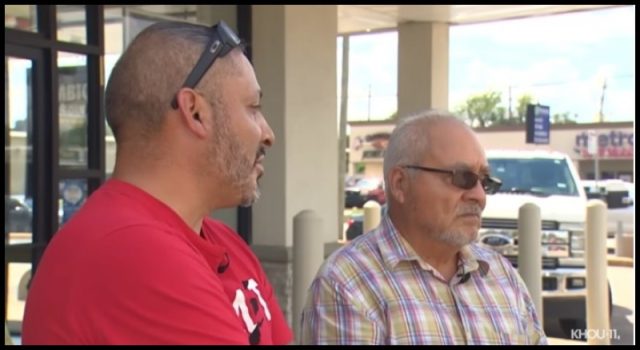 .As criminals become increasingly brazen, we see more and more broad daylight attacks and robberies. That's what happened to one young woman, who was minding her own business around lunchtime as she returned to her car in a parking lot.
According to the Houston Police Department, a woman was accosted by an armed robber around 12:30 p.m. as she made her way to her vehicle near a local check-cashing business. The suspect had followed her and pointed his gun at the victim, demanding that she hand over her keys. He proceeded to choke her.
As the crook was choking the young woman, a grandfather of 11 named Simon Mancilla Sr. just happened to roll up in his truck. The retired construction worker quickly assessed this woman was in danger and needed his help. "I open my window, 'Hey man … don't make a problem,'" Mancilla said he told the bad guy.
That's when the armed man turned his attention to Mancilla. The bandit yanked the grandfather out of his truck and climbed inside. While the suspect prepared his getaway, Mancilla threw the door wide open and began pulling the suspect out of the vehicle despite the man being armed with a firearm. The suspect repeatedly struck Mancilla in the head with his pistol.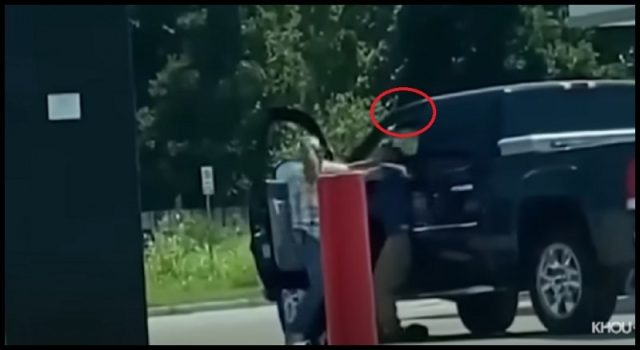 According to The Blaze, the grandfather "leaned into the struggle, delivering a flurry of punches" despite his injuries and suffering a wound that would ultimately require several stitches to close. Two other bystanders reportedly jumped into the fray, but Mancilla had figured himself all alone in the ordeal." His son told KHOU 11 that by that time, his father's "eyes were full of blood, he couldn't see anyone."
In spite of the bystanders' last-minute intervention and a few more punches from Mancilla, the suspect sped away in the stolen vehicle. Although the grandfather lost his truck in the battle, he delivered a beatdown that stopped the criminal from his original objective and ensured the young woman was safe. "I don't have any choice," said Mancilla, concerning his sense of obligation to intervene and potentially save a life.
The chances that a carjacking victim will get their vehicle back are not nearly as good as their chances of being robbed and attacked in Houston, Texas. Only 14% of carjackings reportedly have resulted in an arrest. In 2021, there were 1,216 carjackings, which is up 10% from 2020 and up 20% from 2019.
Sr. Officer Jeff Brieden with the HPD's Robbery Division said that the upwards trend of violent crimes in the city is "a disturbing trend and it bothers all of us." Simon Mancilla Sr. is a hero who many in our society may discount due to his age. There is no doubt the armed criminal who tangled with this elderly gentleman got the surprise of his life when he was thwarted by a senior citizen.