When a police officer pulled a van over for what he thought would be a routine traffic stop, he never imagined what he'd encounter instead. One look in the backseat had him breaking out his handcuffs and calling for backup. It was one of the worst things he'd ever seen, one officer said, unable to hold back his tears.
Specialist Shane Grady, Specialist Jerry Stemm, Trooper Enrique Llerenas, and Corporal Kevin Kessler weren't quite prepared for the horrors they'd face when assisting Sergeant Justin Klitch after he pulled over a van for a traffic violation on I-90 in Shoshone County, Idaho. The driver, Jorge Gonzalez-Vergel, 59, was in the car with a 32-year-old woman and two children, ages 2 and 1. And, it didn't take officers long to realize something was terribly wrong.
Immediately, the Idaho State Police noticed a female passenger with signs of abuse on her face. Her bruises would be the least of their worries, however. In fact, things would only go from bad to worse when Sergeant Klitch glanced in the back of the Dodge minivan, where he was met with a sight he and his colleagues would never forget.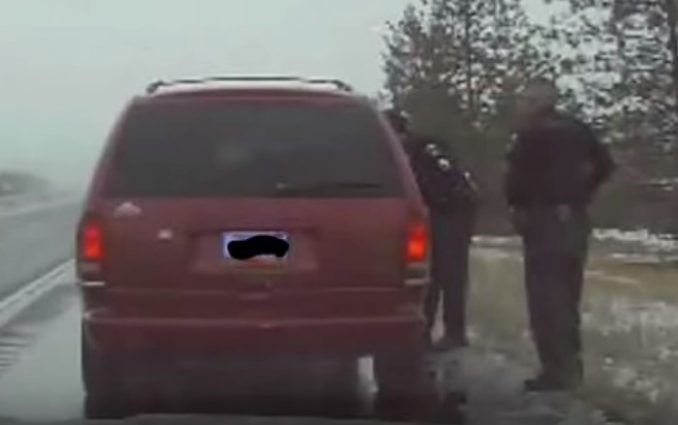 "While we were there, he [Sergeant Klitch] discovered a young boy in the back of the minivan," Officer Shane Grady recalled. "He had discovered a small boy in the back who was severely injured. He had bruises on his head, multiple lacerations on his stomach, his arms were stuck in a fetal position and his left eye was not functioning properly."
Officer Grady, who accompanied the child to the hospital, broke down repeatedly as he recalled the ordeal in an interview. Still shaken by what he had witnessed, Officer Grady was unable to hold back his tears. It was one of the worst cases of abuse he'd ever seen. Although he said he had seen some horrifying traffic collisions and other awful sights during his police career, this incident would clearly stick with him forever.
Although the 1-year-old toddler was uninjured, the 2-year-old had multiple visible marks and scars indicating severe child abuse, and he wasn't entirely responsive.  The Idaho State troopers immediately alerted medics, The Epoch Times reported. The child was rushed to Sacred Heart Hospital's ICU with life-threatening injuries, including brain trauma.
"I've never seen anything quite as traumatic as this to a small child, innocent child," Sergeant Klitch said, according to KREM. "But what really made me know things were serious was the paramedic had a look on his face of panic," he recalled. "Based on what I saw and how severely beaten this child had been, I had never seen anything like that in my entire life."
The child, identified only as "Baby J," was close to death when the officers found him, and according to Officer Shane Grady, the toddler constantly cried in pain. Thanks to their efforts, however, the case had a positive outcome. Reports indicate Baby J is expected to make a full recovery.
"Sgt. Klitch just left Sacred Heart Hospital and said Baby J is alert, engaging and playful. We are all so thankful for the hard work and care of the Sacred Heart Pediatric ICU team! Still work to do but good news nonetheless," the Idaho State Police wrote on Twitter.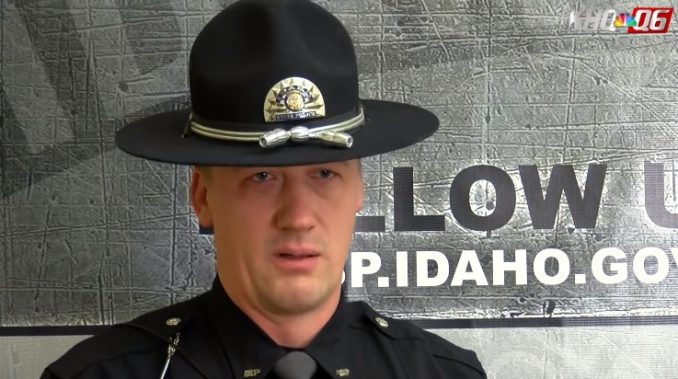 Within days, Baby J was well enough to be discharged from the hospital. Crediting Sergeant Klitch with saving the badly beaten boy's life, doctors said if it wasn't for that traffic stop, the child might not have survived. Thanks to the officer, however, the toddler was given a fighting chance and two children are now in a safe place.
Sergeant Klitch credits his fellow officers, first responders, and the medical staff, saying they deserve the praise as well. "I can't be more proud of my agency and the troopers at the scene. But honestly, I think the true heroes here are the medical staff who treated the kid initially," he said. He added that this case is also a perfect example of how troopers are trained to spot several things during a traffic stop and make sure protecting people is their priority.
Troopers discovered meth, marijuana, and drug paraphernalia in the van. Although Jorge Gonzalez-Vergel, a convicted felon, is not suspected of the child abuse, he was arrest and booked into Shoshone County Jail on charges of felony possession of a firearm and trafficking methamphetamine. The physical abuse case was handed over to the Redmond, Washington Police Department for further investigation. Both children were placed in state custody.
We often don't think about the effect that these life-saving incidents have on the men and women who have to deal with them every day. While we know that doctors, nurses, and medics witness horrific injuries daily, we forget that it's often law enforcement officers who first come across and are faced with the most tragic of incidents that most of us can't even imagine. Seeing Officer Grady's interview brings this reality to light, and hopefully, it will continue to be shared as a tribute to all those first responders who give so much and work so hard to help keep us all safe.