The mother of a little boy freaked out after the police knocked on her front door. The mom is a "social media influencer" who used her TikTok account to broadcast an event involving her toddler, and it caused viewers to immediately call 911.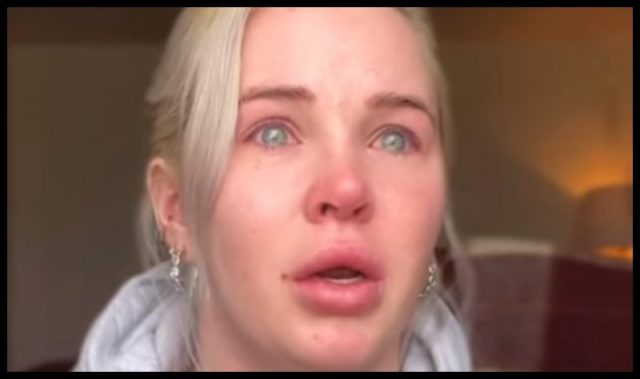 Savannah Glembin posted a video on TikTok that some viewers deemed "disturbing," the New York Post reported. After Savannah received immense backlash from what she believed was an innocent video, she temporarily made her account private. However, it was too late. Other TikTok users had already reposted clips of the original video and added their own commentary to blast the mom.
Viewers who shared portions of Savannah's original post gave the footage a "trigger warning" and claimed that "this feels like abuse." Savannah's video starts out by showing her husband, Hank Glembin, holding their toddler upright on their bed. The boy, who looks to be around two and whom she has subsequently revealed is called Gunner, is tightly wrapped from the neck down in cling film.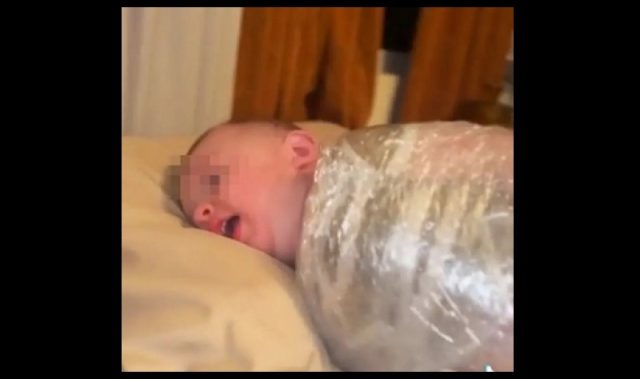 With his arms strapped to his sides, little Gunner drops to his knees and falls forward. Hank Glembin, who is in his army uniform, smiles as he maneuvers the boy around. Savannah is heard saying in the background: "If you have a grumpy toddler all day, this is the only way."
Savannah then focuses on her dog for the next part of the video, laughing while zooming in on the animal jumping up and down on the bed. Meanwhile, Gunner is seen in the background being placed onto the bed by her husband. "He's a worm," Hank jokes. Then, as the boy lies still on the bed, he lets out a small sound.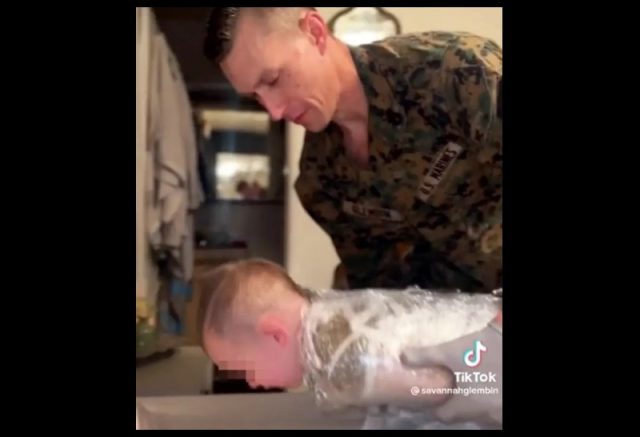 An upset TikTok user named Aunt Karen shared the clip and offered her opinion of the footage. "I don't see what's funny here," she said. "I don't understand how putting your toddler in an uncomfortable position is funny and then posting it for views. Not only did you not just do this for your own entertainment, you thought this was going to be everybody's entertainment. This is why I don't like family channels like this, because they will go to any length for views."
Viewers also commented on the clip to share their concerns. "My anxiety when he fell forward, I was like OMG he's going to suffocate," said one. Another replied, "He's been crying, his nose is red." And a third mentioned he's likely "terribly overheated. I can only imagine the struggle and how aggressive it must have been to wrap him up that tightly."
Apparently, someone alerted the police who showed up at the Glembins' front door. "Right now, we're dealing with a situation where Gunner has been taken from us until CPS can evaluate our home because I posted a video of my husband and son playing," she said. "[My husband] playfully wrapped him in cling wrap, he had room to move. He looked like a little cucumber. At no point was he in distress or crying."
Savannah insists that her son was at no point upset. "That video was skewed in a way [and resulted in] people thinking we were abusing our child. But he was laughing and smiling and it was just a funny thing Hank did because Gunner was getting into the stove that day and tried putting a fork in a socket." According to this clip, Gunner was returned "home where he belongs" after CPS conducted their investigation.
In response to the criticism, Savannah released a statement: "I made the biggest mistake of my life posting this video. Genuinely and truly he was laughing and smiling and was out of the plastic in under five minutes." The responses to Savannah's video were mixed. Some critics continued to tell the mom, "The internet will never forget," while her supporters maintained, "I believe she really is sorry."
Social media creates an environment where individuals can overshare intimate moments of their lives. Savannah Glembin appears to have learned a hard lesson. "All I can say is that my son is so loved and cherished," she declared. "He is my miracle baby, he was my fourth pregnancy after three miscarriages, he's the light of my life."