A broad-daylight theft from an Alabama Tractor Supply store skidded to a halt when an armed customer decided they weren't having it and pulled out a gun. Determined to stop two men, who were trying to steal merchandise, customers took action. Following the dramatic takedown that ensued, one customer had a message for any other thieves who might consider doing something similar.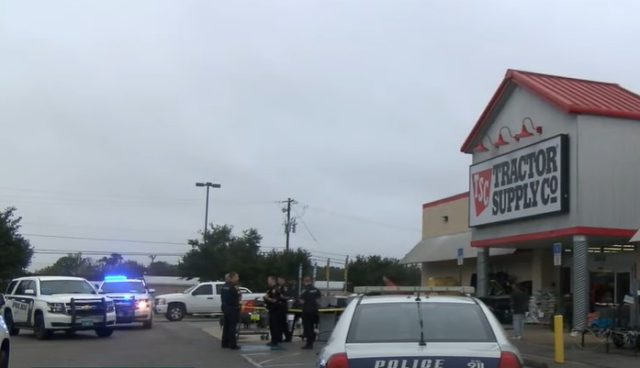 Ryan Maxie and his fiancée, Katie Clark, were in the parking lot of an Alabama Tractor Supply store on a Friday morning when, unbeknownst to the pair at the time, two men attempted a broad-daylight theft from the store. The couple knew something was wrong when they suddenly heard gunshots, which left them scrambling to call the authorities as they also tried to figure out what was happening.
"I was trying to call 911 while we were seeing what was going on," Katie Clark told WPMI.
Two men were loading up a shopping cart with unpaid merchandise, intent on stealing the goods. However, some customers weren't going to sit and just watch, including one who pulled out a gun and fired shots at the getaway vehicle, taking out at least one of the SUV's tires, The Blaze reported.
According to witnesses, two men — later identified as Toby Priest and Troy Brown — were trying to steal merchandise from the Tractor Supply Co. location in Theodore, about 15 minutes southwest of Mobile. Choosing Theodore as a place to attempt to pull off a crime was the first of many mistakes these thieves made, according to Ryan Maxie, who witnessed the aftermath of Priest and Brown's bad decisions.
"What was funny is the guy put his hands up to his mouth and went like that, and when he went like that, a big o'l bag full of white powder came and hit the ground. It was like dude, we all know you threw it," Maxie recalled. "You got like 15 people standing around, everybody is going to be able to tell."
Although one customer was able to pull Toby Priest out of the getaway vehicle, the second suspect was able to take off in the SUV, but he didn't get far.
"They kind of beat on each other inside the car, the guy was trying to [hit the driver's hands] so he wouldn't start the car," Maxie recalled. "Unfortunately he was able to get it started and floored it back, so the guy had to step back so he didn't get hit. When he floored it back he came out this entrance … and went to that light right there and hit a U-turn and kind of did a couple [of] donuts in the road."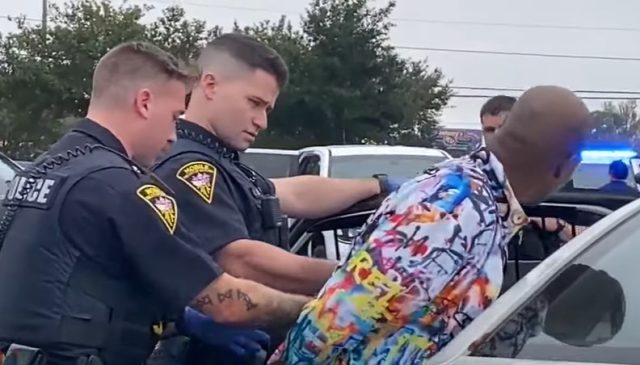 Troy Brown might have thought he was in the clear, but another customer shot out at least one of the vehicle's tires, which proved useful in bringing the theft to a halt. Brown was apparently forced to ditch the getaway SUV, which was soon found by the Mobile Police after it was abandoned on Highway 90 at the Interstate 10 entrance. It had at least one flat tire, according to reports.
Although Brown took the time to change his clothes, he was eventually located by police, wearing a different outfit, witnesses said. Brown and Priest were both booked into Mobile Metro Jail and charged with third-degree felony theft.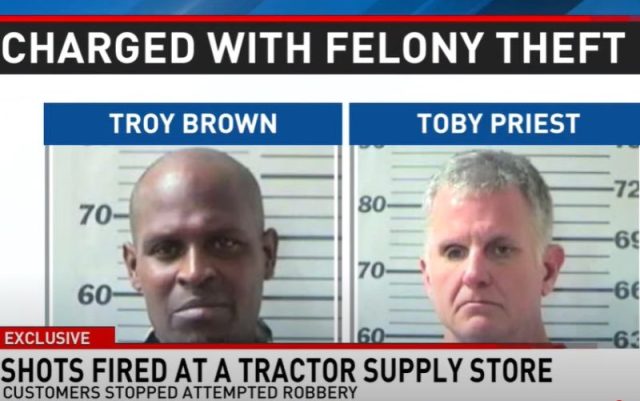 After the pair was arrested, Ryan Maxie had some words of wisdom and shared some advice for any crooks who might try their luck in his neck of the woods.
"Don't come to Theodore and rob a Tractor Supply without knowing the person is going to have a gun," he said with a chuckle. "Everyone is walking around with guns in Theodore."
Indeed, it seems rather unwise to try your luck in a part of the country where law-abiding citizens are known to legally arm themselves. Troy Brown and Toby Priest thought they were going to get away, but the customers had a different plan. Being armed allowed at least one of them to follow through with it. Thanks to those brave customers, two criminals were taken off our streets and held accountable for their crimes.