Rosie Moore, a woman with beauty and brains, has been dubbed the world's "hottest" scientist. Moore, who is also a part-time model, went viral when she sliced open a "bulging" 18-foot Burmese python and made a horrific discovery you won't soon forget.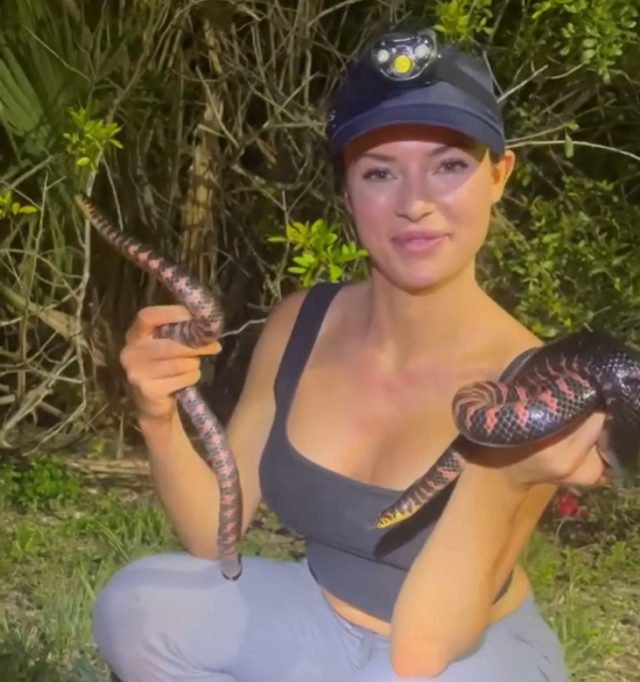 Rosie Moore, who has been dubbed a "well-rounded woman," describes herself as "a scientist and a model." According to the Instagram personality, "my days include tagging alligators, hunting pythons, and posing at luxury events in heels and full makeup."
Moore found herself in Florida, where Burmese pythons are a serious concern. So much so that when they are discovered, they are automatically exterminated to prevent them from eradicating other wildlife. Moore was brought in to investigate a "bulging" 18-footer that had been put down after being noticed by field workers in Florida.
Rosie Moore and a team of scientists are shown cautiously performing a necropsy on the gigantic snake in the popular video that was filmed inside a lab. Scientists could see that the Burmese python tried to devour something quite large before dying. This is not a video for the faint of heart. A five-foot alligator is dragged out totally intact as Moore makes the final cut of the python's stomach membranes.
"Due to the subtropical environment of South Florida, combined with the Burmese pythons' long life span and rapid reproduction, these snakes have successfully invaded ecologically sensitive areas such as Everglades National Park," Moore wrote in the caption when she shared the video. "This poses a threat to a variety of wildlife, due to the pythons' wide dietary preferences," she added.
The freediver and part-time model said that she had never seen anything like that inside a python before. "They called us and they said there was a large object in it, we thought it was either a deer or an alligator," she said. "It's definitely shocking, it was my first time ever seeing an event like that, I've never seen a python with something like that in it."
Moore also explained why she decided to show that side of herself. "In media, female scientists are often portrayed as the shy, dorky characters," she declared. "I think it's important for young women to see that is not the case, and that being a scientist can actually be a cool thing to aspire to be."
Moore talked about her background and how she got started researching animals. "My whole life I thought sharks were the coolest thing, so I thought, 'I'm going to go to Florida and find a way to work with sharks,'" she said. "I moved to Florida when I was 20 to attend Florida Atlantic University and study environmental science.
"In graduate school I studied geosciences, which includes remote sensing and GIS, basically using data to figure out where things are and why," Moore added. "I worked a lot with water resources, as well as invasive reptiles and crocodilians. I also model. People always joke on Instagram that I'm like Hannah Montana, because I'll post and I'll be out in the field doing crazy things or up to my waist in mud, and then the next thing they know I'll be at a luxury event in full hair and makeup and heels and a dress."
Rosie Moore talked about the vastly different worlds of science and modeling. "I think working in science is more fulfilling because it's more respected," she said. "As a model, when you're talking to somebody and they find out you're a scientist it's almost like the respect for you changes."
"When people think you just model, it almost feels like they think less of you, whereas once they know you have a respected career it's like something flips in them and they think more highly of you," she added. "On the other hand, in the science world, I think people respect the fact that I model, so it's interesting that it goes one way but not the other."