A pair of thugs bashed a 6-foot-2 man in the back of his head with what the victim later described as a "metal" object, knocking him down on a California street. Unfortunately for them, he got up — and that's when the violent suspects turned into cowards.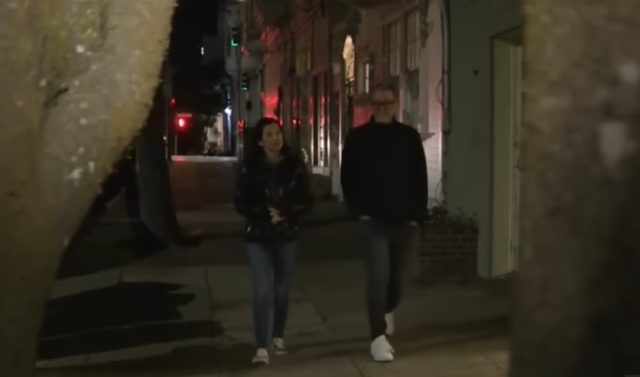 Richard Titus, a California father of three, had just parked his car in the Lower Pac Heights neighborhood of San Francisco on a Sunday evening with plans to take a short walk to a friend's home, The Blaze reported. Sadly, things didn't go as planned. Instead, it wasn't long before Titus, who's lived in San Francisco for years, was brutally assaulted by a pair of thugs. Thankfully, he'd turn the tables, but not before receiving a devastating blow to his head.
While walking up a hilly street in San Francisco, Titus noticed footsteps behind him, but being 6-foot-2, he doesn't spook easily. "I was walking up the street, minding my own business, I heard some footsteps behind me, and then suddenly 'bam' — I got hit in the back of the head with something metal [and] went down on all fours," he told KPIX CBS. Unbeknownst to Titus at the time, that blow left a significant wound, but that didn't stop him from getting up quickly and defending himself.
After jumping to his feet, Titus took a look at the two men, who he was later able to describe as having a darker complexion and being only about 5 feet tall. Both wore hoodies, and at least one was holding a weapon. The second one seemed to be reaching for Titus's wristwatch, a 1968 Rolex Daytona, according to KRON4. That's when Titus took matters into his own hands. "So, I punched him, as you do," Richard Titus recalled with a chuckle. "The one not holding something was closer to me, so I took a swing at him."
That was enough to turn the violent suspects into cowards. Titus believes his reaction surprised his attackers, who likely figured they'd lose this fight, and scared them enough to run away as both quickly fled the scene. Unfortunately, the damage was already done. "My brain has sort of broken up my memory of the evening, and that's what happens with traumatic brain injuries," Titus admitted, explaining that even though he remembers the assault quite vividly, the last thing he clearly remembers before the attack is leaving a brunch around 5 or 6 p.m.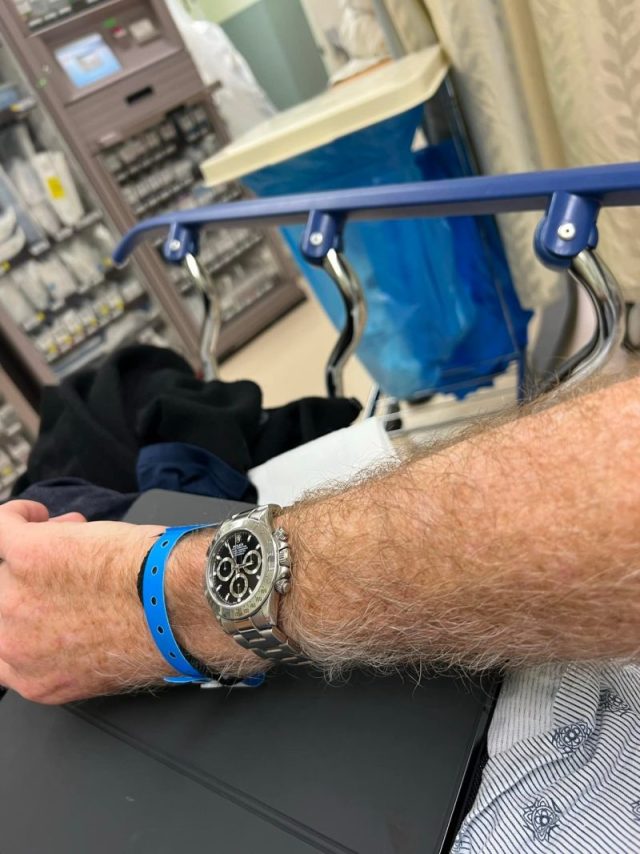 After the violent ordeal, the next thing Titus recalled was walking up the steps to his friend's apartment, where he was staying, with blood dripping down his back from a head injury. "I didn't actually realize how bad the injury was, and standing on a street corner in the cold, my head was hurting, I was bleeding," Titus recalled. "I just wanted to get home and bandage my head and go to bed."
Expecting a delayed police response, Titus didn't call 911, but the next morning, when woke up with blood all over his pillowcase, he decided it might be wise to have the injury checked out. Titus went to the emergency room at California Pacific Medical Center, where the six-inch gash to the back of his head was closed with the help of five staples. Unsurprisingly, he also suffered a severe concussion with fragmented memories surrounding the attack.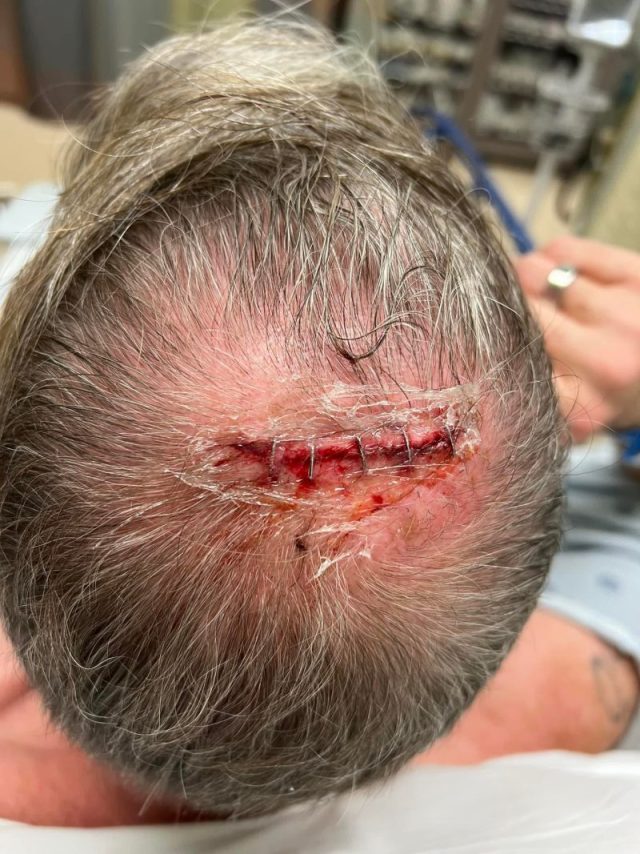 After discovering the gash to the man's head and hearing his story, the hospital staff required Titus to file a police report, which his insurance would also need. He ended up waiting around until about 11 p.m., but no officers came during his 10-hour hospital stay. Feeling disappointed and discouraged, Titus took to social media, posting photos of his injury and the story of his assault online. Not long after making the post, he says a couple of police captains finally reached out to him to help file the report.
"I've lived in San Francisco off and on for all these years, and I've never been mugged before, I've definitely never been assaulted before by strangers. It felt a little scary given I'm in the city I love," Titus, who was expected to need several weeks of recovery time, said. While he was thankful to be safe and that he was able to defend himself, he hopes to see the city increase its police presence and respond faster to crimes like this one.
"I'd like to see some action from law enforcement and the city," Titus said. "I think there needs to be a tighter relationship between the mayor's office and the enforcement, and the third thing is I'd like criminals to be held to account," he added. "I always felt safe in San Francisco, even in the dangerous years, 15 years ago," Titus admitted. "But even before this experience, it feels more menacing, and the police response seems slower."
In addition to hoping that incidents like this will lead to a better police presence and response, Richard Titus also urged people to be more aware of their surroundings. He also felt it important to note that he was sober during the entire incident. In fact, he's been sober for the last 30 years, he said. While we are proud of him for that, it is rather sad that a victim of violence felt the need to preemptively preserve his own reputation against another type of attack after already being bashed in the head during an unprovoked assault.