During his arrest, a man drew a gun from his waistband and screamed that he was going to kill the police officer and himself. However, before he could carry out his deadly plan, he suffered an ironic accident.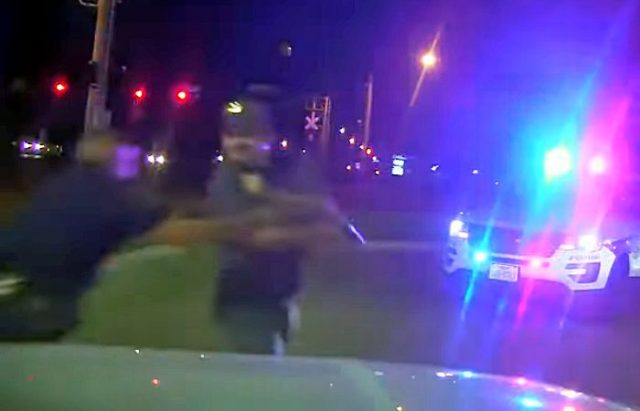 After receiving a call about a man who appeared drunk in public, Texas police discovered Reynaldo Esquivel-Barrera stumbling around the 3000 block of Highway 83 in McAllen. However, according to the caller, Barrera appeared to be armed and dangerous, allegedly wielding both a gun and a knife. They claimed that Barrera had "went into the office and pointed (a) finger like he was going to shoot," The Monitor reports.
The officers approached Barrera with caution, knowing that he has a lengthy criminal history under multiple aliases. In order to positively identify Barrera, the officers knew they would have to take him in for fingerprinting. Unfortunately, the suspect wasn't going in willingly.
Police located Barrera and proceeded to take him into custody. However, before they could detain him, the suspect decided that no one was getting out alive.
In a video captured by the police cruiser's dashcam, Barerra can be heard shouting "Here we die!" in Spanish as he walks away from the arresting officer. In clear view of the camera, he reaches into his waistband and pulls out a pistol before turning back toward the officer.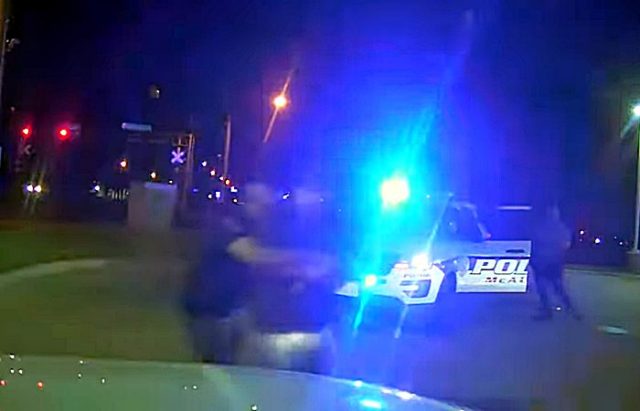 As soon as he saw the gun, Officer Noe Guerra, a 19-year veteran of the McAllen Police Department, charged Barrera and tackled him, causing the pair to fall to the ground together. As they hit the ground, a single gunshot can be heard off-camera. Moments later, the officers realize that Barrera had accidentally shot himself, putting an end to his nefarious plans.
"We're very fortunate today to not have a death on our hands," McAllen Police Chief Victor Rodriguez said. "The individual clearly indicated that he was dying and that so were officers at that moment in time. It's the bravery of our officers that resulted in what we call nominal injury to the suspect. We're very, very fortunate for the officer's actions because clearly we could have one or multiple deaths today."
Due to Barrera's incapacitated state, the officers were able to place him in custody and seize his .380 pistol. Unsurprisingly, he was also in possession of an Arizona Department of Corrections "Released Offender" ID Card.
Barrera was rushed to McAllen Medical Center due to a gunshot wound to his left hand and received treatment for non-life-threatening injuries. Rodriguez confirmed that Barrera would be charged with attempted capital murder and retaliation. He explained that the suspect continued to make threats toward the officers even after he was detained.
"He clearly continued to threaten the officer once he was in custody," Rodriguez said. "He was saying that he would come back and finish what he started. So we're going to charge him with those charges."
Rodriguez commended Guerra's quick thinking and agreed that the situation could have ended far worse than it did.
"Part of decision making is knowing yourself, knowing your capacities, knowing your physical capacities and psychological capacities, and then utilizing that to make decisions," Rodriguez said. "Only the person at the scene at that moment in time, only that person is the best judge of the situation. He made determination based on his training and what he knows about himself, and we are fortunate that because of that, today we are not dealing with a death of either the suspect or officers."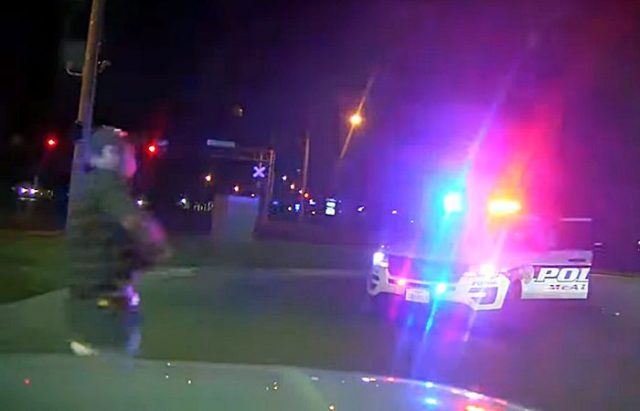 Guerra clearly saved his own life as well as the life of the suspect who wanted to kill him. Thanks to his bravery, a dangerous criminal is once again off the streets.
As the anti-police movement sweeps the nation, it's moments like these that give us a glimpse into the risks that law enforcement officers willingly take in order to thwart evil and protect the general public.