After a driver left a tire mark on a freshly painted rainbow "pride" crosswalk, police officers scrambled to catch whoever left the alleged "gesture of hate." However, they embarrassingly decided no crime had been committed once they identified the driver.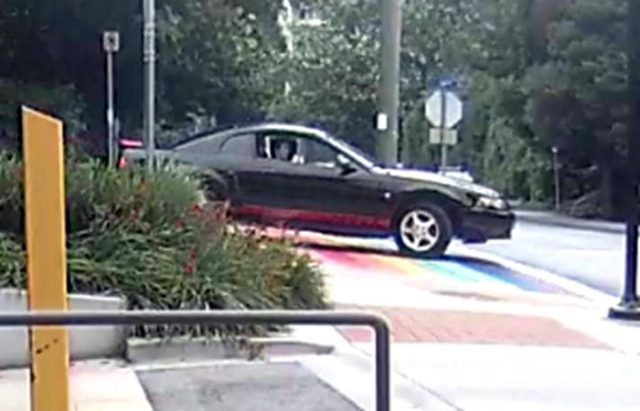 In an effort to show support for the LGBT community, the city officials of Vancouver decided to install a rainbow crosswalk to replace the typical white lines pedestrians use to pass through an intersection. The colorful display was painted on the intersection of 16th Street and Esquimalt Avenue on the west side of what's considered one of British Columbia's most diverse cities.
Each pride crosswalk is repainted every few years, and this particular symbol had barely dried when the police noticed the pride symbol had been marred by a thick, black tire mark. Immediately, the authorities and media were clutching their pearls in horror at what they deemed evidence of an act of bigotry and hate.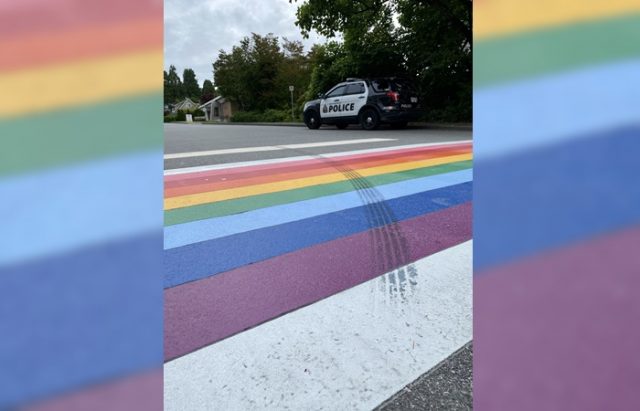 Vancouver Is Awesome reported that "vandals" had "deliberately" defaced the crosswalk and that it would likely cost around $2,000 to repair. West Vancouver Police decried the act, calling it "upsetting" and "a gesture of hate."
"This is very upsetting," said Const. Kevin Goodmurphy. "For whatever reason, this person has chosen to leave a gesture of hate on a crosswalk that stands for the exact opposite. The crosswalk itself was a very meaningful piece and it stands and will continue to stand as a symbol of our commitment to promote diversity and inclusion.

"This impacts the community at large and there are detrimental impacts that it has emotionally for a lot of people, especially given what this crosswalk represents," he said.
Authorities released surveillance footage, which showed two suspects in a black Mustang with a red racing stripe making a right turn at the intersection. They then wasted no time in launching an investigation into what they presumed was a hate crime.
"Investigators would like to speak with the driver responsible for defacing a recently installed Pride crosswalk at 16th St. and Esquimalt Ave," West Vancouver Police wrote on Twitter.
Within days, police had identified the culprits in the black Mustang, announcing their success online. However, the investigation didn't render the evidence for which they were hoping, as police announced almost disappointedly that the driver hadn't intentionally defaced the crosswalk, according to CTV News.
"It does not appear that this incident was motivated by hate," he said in an emailed statement.
Although Goodmurphy confirmed that the pair wouldn't be charged criminally, much less with a hate crime, his department is determined to punish the pair. Instead, two charges were laid under the Motor Vehicle Act.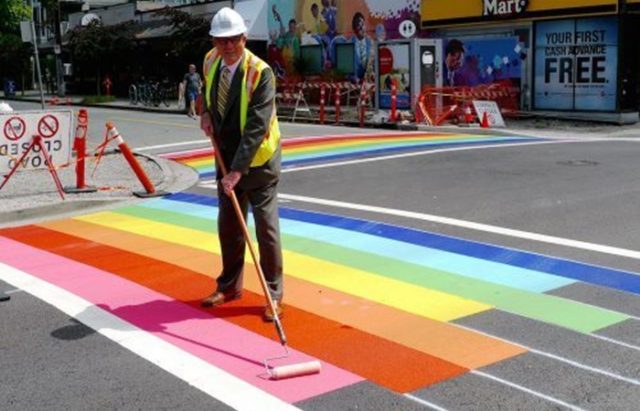 Although both the police and media seemed desperate to pin a hate crime on someone, not everyone was on board with the idea that any damage done to the crosswalk was undeniable evidence of bigotry. In fact, many individuals expressed their disagreement with spending funds and resources on such an investigation.
"Maybe don't paint stuff on streets if you don't want cars driving over it?" one user commented.

"There is only 'One' tire mark. If the driver had intended to do burnout and 'deface' the 'paint' there would be two heavy black tire marks. The car is an older car that would not have traction control. So turning right on a freshly painted road, caused a lose of grip," another wrote.

"Is this rainbow a legal crosswalk? Has it been tested to show that it has the same effect on drivers stopping as a normal crosswalk? Have politics and political correctness trumped public safety here?" another asked.
The police went forward with the investigation but remained secretive about the suspects' identities.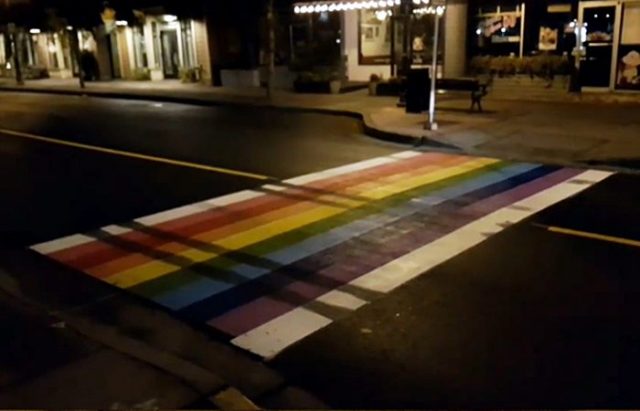 While violent crimes are aplenty, it's disturbing to see law enforcement expenses and resources wasted on something as trivial as tire marks. It's apparent that bigotry is in such short supply that we're ascribing hate to even the most insignificant incidents.
Hopefully, the day comes when the worst action the police have to worry about is errant skid marks. Unfortunately, the victims of actual crimes are still waiting for justice while the authorities hunt down people who may or may not have intentionally hurt someone's feelings.