A Florida police officer is being called "Supercop" after putting a pair of punks in their place. After choke slamming the first obnoxious subject, the officer is able to keep him under control, restrain the other aggressor, and call for backup — all at the same time. The best part? It was all captured on video.
A supercop stepped in to take down two men after a large fight broke out on a Florida beach. After Sergeant Bryan Bingham parked his ATV on St Pete Beach in Pinellas County, a few dozen people started running toward the officer, reporting that beachgoers had been threatened, according to Bay News 9.
The Pinellas County Sheriff's deputy was all alone. Moving closer and noticing two groups fighting, Sergeant Bingham had to make a quick decision: Should he wait for backup, which could mean others getting hurt…or intervene on his own? "I acted instead of waiting," Sergeant Bingham said. He said that he noticed two main aggressors — Josh McMahan, 25, and Justin Lewis, 24.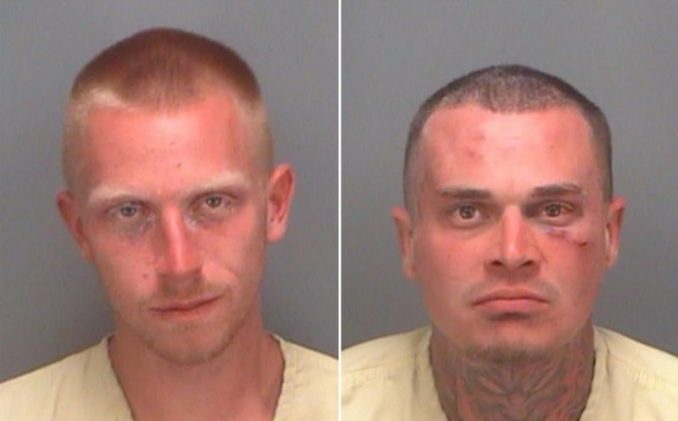 Dramatic video footage shows the confrontation turning physical. Sergeant Bryan Bingham tried getting McMahan away from the fight, grabbing him by the neck, throwing him to the sand, and using a jawline pressure-point technique to subdue him before holding him down and handcuffing him as a large crowd of beachgoers cheered him on. The video then shows a second man, Justin Lewis, arriving on the scene and attempting to intervene.
As Sergeant Bingham was still on top of McMahan, the officer shouts "back up" before pushing Lewis to the ground. Apparently, Lewis missed the "don't touch a cop" memo that his friend just got. Rather than do what he was told, Lewis again tries to intervene before being grabbed by the officer. Fed-up beachgoers could then be seen kicking sand on the back of a handcuffed McMahan while the officer is restraining Lewis.
At one point in the video, Sergeant Bryan Bingham, who was wearing sunglasses, can be seen straddling McMahan, holding Lewis down with one hand, and calling for back up with another. An onlooker is heard saying: "Man, he the truth." Seconds later the officer wraps his arm around Lewis's head and pushes him down to the ground. Beachgoers then appear to step in to help pull his arms behind his back.
Josh McMahan and Justin Lewis, both of St. Petersburg, have been charged with disorderly conduct and battery on a law enforcement officer. After hearing concerns that Sergeant Bingham used excessive force to apprehend these two men, Pinellas County Sheriff's Office issued a statement on the matter, which you can see in the video below.
"That was me being in a situation where it is actually equivalent to a deadly force scenario," Sergeant Bryan Bingham said. "Where again, my main goal is to maintain control of that situation and being justified to do anything at that point in time to make sure I go home at the end of the day and everyone else is safe."
Pinellas County Sheriff Bob Gualtieri said that Sergeant Bingham would've been justified in using deadly force in this situation and that he used appropriate techniques. "Sgt. Bingham did what he had to do to protect himself and the others out there and he handled the situation extremely well given the circumstances. We're fortunate that he wasn't hurt," he said.