"Porch thieves" scan neighborhoods looking for packages left unattended on doorsteps. Well, one Marine veteran was sick and tired of being robbed, so he left a "nasty surprise" in one package, and that's when the thief got blown away.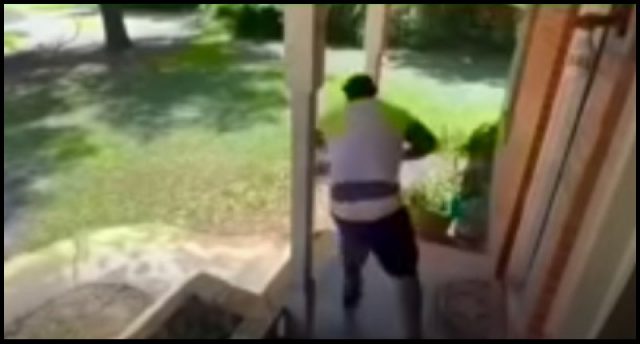 There are few things as gratifying as watching someone immediately receive their comeuppance. There's something eminently satisfying about watching someone, who feels comfortable performing an action that everyone knows is wrong, being swiftly dealt a huge helping of well-deserved retribution.
Who better to deal out such righteous justice than a United States Marine veteran, who has had more than enough of people stealing his packages from his porch. The somewhat prepared thief sported a balaclava to shield his face but wore socks and sandals — seemingly not expecting a chase from a homeowner. The porch pirate obviously had no idea what awaited him.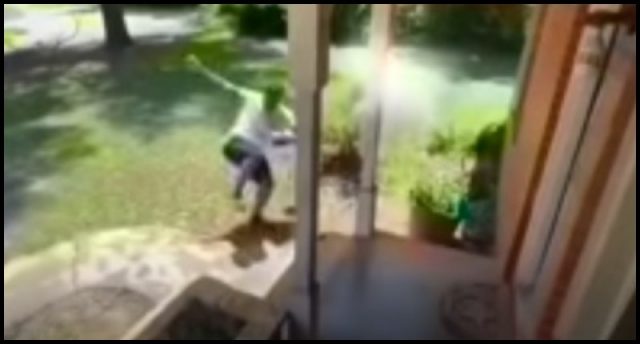 The clip captured by the security camera starts after the thief grabs the package. That's when a flashbang goes off, launching the balaclava-wearing robber off the porch. "Look what you b**ch ass did, you hoe ass," the Marine yells from his home. "I know you been stealing my shit!" Once you realize the thief isn't badly injured, the exchange between the two becomes comical as the porch pirate, who is dazed, stumbles back toward the door.
"I sh*t myself!" the robber says after he put his hand down his backside. "I wasn't trying to steal it," the thief claims as he lifts his balaclava. "I'm from next door. What was in that package — a cell phone?" The Marine then explains what just happened. "Naw, that's a booby trap," the former Marine yells in response. "I'm ex-military…Marine Corps!"
With crime running rampant in parts of the nation, citizens are coming up with unique ways to ensure criminals are stopped dead in their tracks. That's what happened with a New Orleans man who endured his expensive truck being broken into time and time again. Although he still has to replace his window, he came up with a deterrent that chased away the would-be thief.
According to Fox News, the truck owner took matters into his own hands by installing a flashbang inside the vehicle to punish criminals. He had a chance to see his creation at work when a thief smashed the window of his truck and triggered the loud, non-lethal deterrent he had set up in the center console. It was all caught on surveillance video.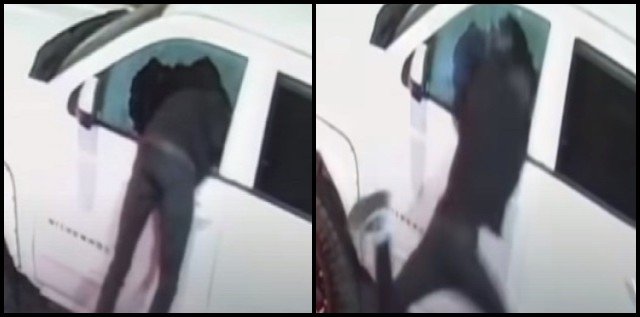 "To see him like gleefully walk up and just smash my eighth window in the past couple [of] months and jump in, and then you know to see the detonation go off and his reaction," the man, who wished to remain anonymous, told FOX 13.
"I don't want this guy to die for what he did, but I don't want him to just be able to smash and grab and run away," he continued. "He probably didn't get hurt that bad, but it wasn't pleasant, and it might deter him and his friends and tell other people not to do this too because, without something like this, there is no consequence because they're not going to get arrested," the truck owner said.
New Orleans police data shows vehicle burglaries in the city were up 28% in 2022 compared to the previous year. In the Central Business District, where the man lives, they were up 116%, according to Fox News. The truck owner explained who he blames for this uptick in crime. "Leadership has failed in more ways than one when it comes to this situation," he said.
"I reported to the police almost every time and I don't blame the police for this, they're understaffed and like there's too much crime," the New Orleans man added. "I really blame the fact that like these, these people get caught, and then they basically get bailed out. Whoever did this, definitely, had a bad night. He might never do it again because every time he goes in there, this could happen to him."