Pink, who's big on staying fit, floored fans and fellow celebrities when she shared a "sizzling" photo that showed off her "thick" legs. In the caption, the singer celebrated what she dubbed her God-given "thunder thighs," and a bunch of famous people "low-level freaked" in the comments.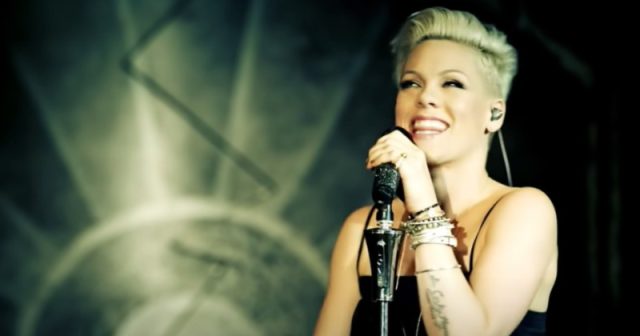 While others use filters, well-thought-out poses, and special angles to try to make themselves look a certain way in the photos they post to Instagram, Alecia Beth Moore Hart, better known professionally as Pink, has a different approach. The American singer, songwriter, and actress, who was a member of the girl group "Choice" before her successful solo career, has chosen to celebrate her body just the way it is.
This was seemingly never more evident than in a past post the celebrity made in 2020, which has garnered attention time and again. "I always wondered why God gave me thunder thighs. It's cause he knew I'd use them," Pink captioned the 2020 shot, which featured the star surfing, along with the hashtags #throwingbuckets, #strongismygoal, #joyful, #wakesurfgirl, and #somebodysponsormealready.
The photo, which was described as "sizzling" by Yahoo! News, caused "a bunch of famous people low-level freaked in the comments," the outlet reported. While her trainer, Jeanette Jenkins, praised Pink's "beautiful strong legs," Karla Welch wondered if there was anything Pink couldn't accomplish, and Gisele Bundchen was apparently speechless, opting to send applause emojis to show her support.
"Beautiful strong legs so you can tuuuuuuuuuurrrrn up! 🔥🔥🔥🔥🔥🔥🔥🔥🔥," wrote her trainer Jeanette Jenkins.

"Is there ANYTHING you can't do?" celebrity stylist Karla Welch said.

Pink also got a nod from Gisele Bundchen, who wrote, "👏🏻👏🏻👏🏻👏🏻."
Everyday fans shared the same enthusiasm, applauding Pink for her ongoing body positivity and journey of self-acceptance, regarding her appearance and body image. But, her strong figure really shouldn't come as a surprise. The star has shown an enthusiasm for an active lifestyle with a strong background in sports, having trained in gymnastics between the ages of 4 and 12, according to Do You Remember.
Pink, who has earned herself the designation of "pop royalty," has often put her athleticism on full display not only on social media but also during her performances, frequently stunning fans with acrobatics that incorporate and show off her incredible strength. And, who can blame her? Pink works really hard to stay fit, once sharing on Instagram that she had biked 32 miles with Jenkins and was "still standing."
In addition to an hour of cardio, the pop star also does an hour of P90X or yoga "six days a week" in order to stay fit and feel strong, Pink previously told Women's Health. Does she love working out? Maybe not exactly. "I like results. I like feeling strong. It keeps my mental floor higher," she explained. Her healthy lifestyle doesn't just involve fitness alone, though. She's also big on nutrition and trying to eat well.
"I try to eat really healthy most of the time. When I'm not on tour, I've done the vegan thing, although I sometimes eat chicken and fish," Pink told Fitness Magazine. Speaking with Food & Wine, the icon also explained that she listens to her body's needs, eating "a lot" while on tour "because I work out four and a half hours a day: a two-hour show, plus yoga, cardio and a rig check with the flying apparatuses."
But, perhaps most important to her health and fitness journey, Pink gives herself grace when it's needed — like when she had her son Jameson in 2017. "Would you believe I'm 160 pounds and 5'3"? she wrote on Instagram at the time, revealing that she qualified as "obese" by BMI standards, but she was cool with it.
"By 'regular standards' that makes me obese," Pink admitted in the post before adding, "I know I'm not at my goal or anywhere near it after Baby 2, but dammit I don't feel obese. The only thing I'm feeling is myself. Stay off that scale, ladies!" Eat right, exercise, avoid the scale, and love your body and yourself. That sounds like perfect advice to me.
Oh, and the most important part — be real. Don't think twice before posting an image that might not fall in line with some impractical beauty standards. After all, beauty comes in many shapes, sizes, and forms — and there is nothing wrong with showing a little love for your God-given "thunder thighs" or other so-called "flaws." Strong is beautiful, and just like Pink, we can accept and even love "the skin we are in" while also taking proper care of ourselves and working to continuously improve our bodies and health.