Pink, the superstar singer and entertainer, decided to embrace being an "embarrassing mom" by posting some photos. While many thought it was an empowering and edgy move, others thought the rocker had missed the mark in a big way.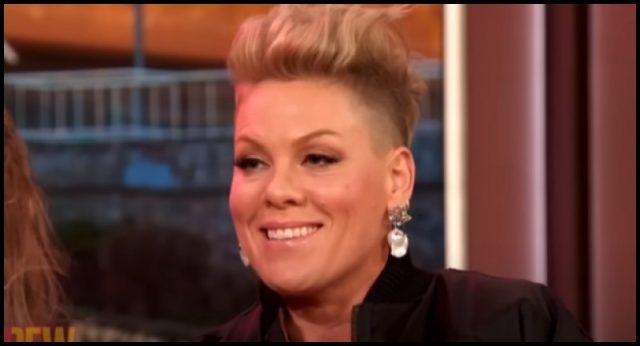 Pink, whose real name is Alicia Moore, gained notoriety when she posted some images on social media. The mother of two wanted to show her followers how she is embracing the simple pleasures of life and identifying herself as an "embarrassing mom."
"Lake weekends and a new ridiculous bathing suit. If you haven't showered outdoors while your husband tries to scare you every five minutes you haven't lived," she posted. The native Californian performer gave her post a humorous spin by using hashtags that included #embarrassingmoms, #eyerollsfordays, #bananaboobies, #imfun, and #readyfortour.
According to reports, Gwen Stefani, a fellow musician, took notice of the "banana peel" bathing suit by designer Adriana Degreas because of her popular song "Hollaback Girl," which spells out the word "bananas." She commented on Pink's photo with a string of approving emojis: "💖🍌👙🥰."
Pink also shared a photo of herself taking a shower outside, likely one that her husband Carey Hart took. Pink smiled for the camera, posed while water streamed down her body, and raised her hands in the air. Social media users had diverse reactions to the Grammy winner's post.
"For folks like her, anything goes, regardless of how it impacts even their own children," wrote one critic.

"Come on Pink age gracefully think about your kids not yourself," posted another.

"She wants to stay relevant…..it's too bad she doesn't care that she embarrasses her children. That's what's wrong with celebrities, it's all about 'me'!!!!" wrote one commenter.
However, not everyone seemed to be in agreement with the harsh critics. Other social media users loved Pink's photos and defended the singer.
"You a legend!!! You go Beautiful!!! No matter what you do, or where you go, you always going to be in Spot Light," wrote one fan.

"Everyone always has an opinion about how others live their lives, maybe stay in your own lane and mind your own business. If you don't like it, don't look," posted another social media user.
Pink's husband opened up about his wife using their relationship to inspire her music. During an appearance on The Kelly Clarkson Show, Hart responded to his wife's comments on the same talk show about penning lyrics about him. "There's one on the album that was a hard day. I played it for him because that's fair," Pink said in the previous interview. "He should know what's being said about him in the world. And he just started giggling, and he was like, 'Well, you're welcome.'"
The couple tied the knot in 2006 but has been open about the highs and lows of their relationship. They share a daughter Willow and a son Jameson, and in a 2021 interview with Entertainment Tonight, Hart said that having kids forced the couple to grow up. "Children made us grow up a lot more," Hart said. "You can't be young and loose and petty and fighting as much with children, so children definitely made us grow up and prioritize and kinda get in our lane and stay in our lane. So that definitely helped out quite a bit."
Pink shared her feelings about her husband holding down the fort while she works. "I credit a lot of that to Carey because Carey has his own career, but he pauses every couple of years for us," she said. "We are a family unit. Everywhere we go, we roll together, and I'm lucky to be able to be the boss and to call the shots, and to create a universe in which they can thrive."