A former supermodel has been called everything from "old" and "ugly" to "desperate" for posting provocative photos of herself in swimwear, lingerie, and even nothing at all. The woman's age seems to be at the center of the criticisms, so she has clapped back at the "trolls," even going so far as to set online "bait" for them.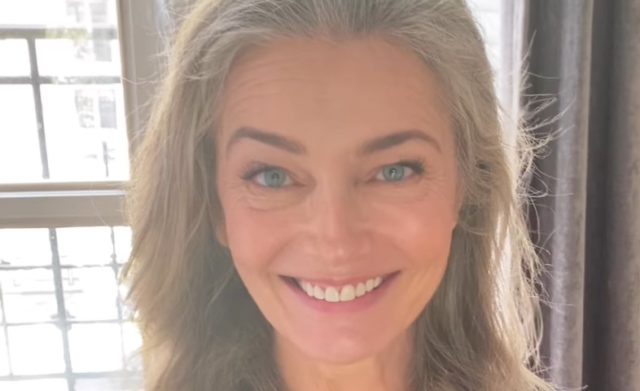 When it comes to former supermodel Paulina Porizkova and her online battles with internet trolls, it's hard to know where to begin. It seems that once the woman hit her 50s, many felt it was time for her to stop posting any sort of scantily-clad images. However, as a former Sports Illustrated Swimsuit alum, Porizkova continued to pose in swimwear and lingerie, as well as nothing but a smile, and she shamelessly shared such images on social media. Sadly, critics took this as an invitation to disparage the woman.
In March of 2021, cruel "bullies" branded a then-55-year-old Paulina Porizkova as "sick" and "desperate" after she shared saucy photos of herself posing in black lingerie in her New York apartment, according to Daily Mail. The following month, she made headlines again when she hit back at the trolls. In November of the same year, bikini photos that the model posted while on vacation became "news." April of the following year, Porizkova's swimsuit photos made the news again after a commenter said she was "too old" to post bikini photos.
The criticisms continued as Paulina Porizkova continued to post "controversial" snaps. In September 2022, she was again in the headlines after she showed off her body in a "stunning bikini pic," according to the NY Post. More recently, in March of 2023, Page Six reported that Porizkova, then-57, had slammed critics of a "barely-clothed" lingerie pic that she had posted to Instagram, calling the naysayers "sad." So, as you can see, we have a pattern. Porizkova posts "racey" photos, the trolls come out to criticize, and she hits back.
So, why would a successful woman, who's well into her 50s, continue such an exhausting cycle? The answer is in her responses. After a commenter said she was too "old and ugly" to share swimsuit photos, Porizkova explained, "I get comments like these every time I post a photo of my body. This is the ageist shaming that sets my teeth on edge. Older men are distinguished, older women are ugly." Being no stranger to internet hate, the supermodel has become a pro-aging activist, who uses the criticisms launched at her as teachable moments.
Often posting screenshots of her critics' cruel comments on Instagram, Porizkova has explained that she is "holding them responsible for what they say." More importantly, however, she's trying to change perceptions. Explaining that "in society, when you go into your middle age, you sort of lose your license to be able to show up in bikinis too," she has said that she believes "we get more beautiful with age," and it seems she's trying to prove it with her "controversial" photos as well as her own unique take on beauty.
"People who believe prettiness equals beauty do not understand beauty. Pretty is easy on the eyes, partly because it's a little bland, inoffensive. It's easy to take in and easy to forget. Not so [with] beauty. Beauty can be sharp. It can wound you and leave a scar. To perceive beauty you have to be able to SEE," Porizkova explained in a post lambasting one critic's comments. Speaking of women her age, she added, "We have earned our beauty, we understand what it is, and we can see it so much better. There is no such thing as ugly and old. Only shortsighted and ignorant."
In addition to inspiring women to grow old gracefully while routinely exposing the double standards women face as they age, Porizkova has also offered valuable lessons on dealing with online trolls. "'You know how you disarm the bullies in the schoolyard, right? You LAUGH at them," she explained. And, that seems to be exactly what she does, even going so far as the set "bait" for their hateful comments, which she then uses to send a larger message about aging, beauty, and embracing imperfections.
"Troll bait: a 57-year-old woman in a bikini. Who's not at all feeling #oldandugly Sorry/not sorry trolls!" the Swedish model, who once graced the cover of Sports Illustrated, captioned a photo of herself in a two-piece swimsuit in 2022. As expected, the image garnered a lot of attention with mixed reviews. Admitting that the negative comments "have been so mean," Porizkova added, "I looked at those pictures of myself without makeup or without clothes, and I just thought, 'Hey, I look pretty good for my age.'"
Troll bait: a 57 year old woman in a bikini. Who's not at all feeling #oldandugly Sorry/not sorry trolls! pic.twitter.com/sNkPZqfvOO

— Paulina Porizkova (@paulinaporizkov) September 8, 2022
"My desire is to be an unaltered older woman," Paulina Porizkova explained, and she's hoping that her activism in the form of photos will encourage more and more women will accept their aging bodies and choose to celebrate their natural beauty without going under the knife for surgery to reverse aging. Because of this, she always speaks positively about her aging face, saying "[I]t's like a really good novel of the history of my life, like it's all written into my face."
Reminding other women about the importance of letting yourself age and how it is a beautiful natural process, she said, "We have to make older cool, I'm really trying, but we need more women to sort of embrace age and keep trumpeting it out there, going 'look at what I'm doing at my age.'" And, doing just that, after her 58th birthday, she posted an image of herself in "nothing but sunshine and a smile."
Talking about the regrets people have on their deathbeds, Paulina Porizkova wrote that many people only realize how wonderful their body is when they begin losing it — when it's too late to fully appreciate what you once had. It's then that they say things like, "If only I had known, I would have danced more." Rather than facing the end of life with regrets, the former supermodel hopes women of all ages can appreciate their bodies at every season.
Hoping to drive this point home, Paulina Porizkova concluded, "So, dance. And taste and smell and feel. And love the body, your body, that makes it all possible." That sounds like perfect advice to me. Embrace your body. Take care of it. And, don't cave to critics because, let's face it, the naysayers are uglier than Paulina Porizkova could ever be — and that has nothing to do with their outward appearance but rather the hate they spew at a woman for simply growing older without hiding her "imperfections" from their scrutinizing eyes.