When Paige Spiranac posted a video offering some golf instructions, it went viral. However, it wasn't her athletic skills that got all of the attention. She got blasted for "sexualizing" the sport, and the comments weren't very kind.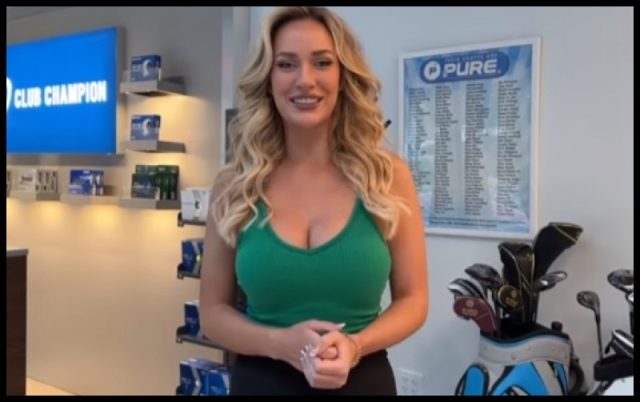 Paige Spiranac, an ex-golf pro turned social media influencer, has previously told her fans that she dresses a particular way because she has "an image to uphold." Spiranac has become a controversial figure due to her "eye-catching" outfits and for "over-sexualizing" herself.
When Spiranac posted a video of herself playing the 18th hole at Alpine Country Club in New Jersey, it quickly went viral. She took to the course in a skimpy all-white outfit and invited her Instagram followers to play a hole with her. The comments on the video were highly inappropriate with many making suggestive sexual remarks.
The majority of the offensive remarks seemed to be made by men. One that wasn't "X" rated said, "I guess I see what you want to be known for." This isn't the first time Sprinac garnered attention for her clothing. The influencer claimed she was "traumatized" in 2022 after being criticized by another female golfer for the outfit she was sporting when she went to play at a new course.
Spiranac "cried all the way home" when a "golf Karen" tore into her "highly inappropriate outfit," The Sun reported. Spiranac admitted to being shaken by the criticism from the irate player. Spiranac was visiting the new course and had read up on their dress code, only for the woman to confront her about her attire on the range.
"I wore something that I knew I wouldn't get in trouble with," Spiranac recalled. "I had a collar, I zipped the zipper up so there was no cleavage showing, it came about mid-thigh, and I felt like it was a very appropriate outfit. This lady goes up to one of the workers and I hear her talking to this guy, and I can't quite make it out," she continued.
"Then all of a sudden I hear, 'what she's wearing is inappropriate, we have rules, I'm going to talk to her,'" the former golf pro added. "I tee off and I'm shaking because I never want to be in a position where I'm making a bad first impression. I [don't like to] look inappropriate because I know the misconceptions on me to begin with so I really try to dress as appropriately as possible."
After a rocky beginning, Spiranac revealed that she got through the round, but she was later ambushed in the parking lot. "She comes straight up to me, stops me in the parking lot, and she goes, 'Woman to woman, you need to hear this, you look cute but that is highly inappropriate, we have rules here and you cannot wear that outfit,'" Spiranac said.
"She was so condescending and so rude to me," Spiranac added. "She was talking to me like I'd never been on a golf course before and like I wasn't rich enough to know these rules, and I'm just a stupid young girl that looks s****y on the golf course."
"I was just out there minding my own business and she makes a point to make me feel so small," Paige Spiranac explained. "It was one of the most traumatizing experiences that's happened to me on a golf course in a long time. I literally cried all the way home."
The popular golf influencer fired back at those who criticize her. "What I produce is not that provocative. If my body makes someone uncomfortable, that's not my problem. I'm not doing anything illegal. I'm not causing harm," Spiranac told Golf Digest. "Maybe it is because I come off as every guy's fantasy—a girl that loves golf and wears a bikini—but I see myself as a girl's girl. I'm coming from an authentic place."