Paige Spiranac is perhaps the most well-known golf influencer. After she was blasted by critics for wearing "revealing" attire, she defended her choice of golf outfits with a "case study." However, her vocal critics refused to accept the explanation.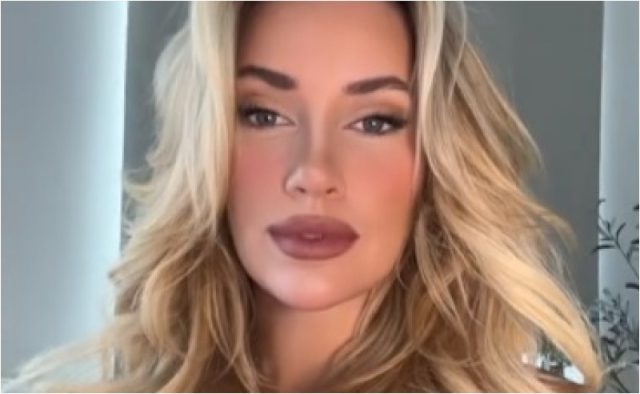 Paige Spiranac is a former professional golfer and Instagram influencer who rose to prominence on social media by posting content that featured herself wearing eye-catching apparel. Spiranac has previously admitted to receiving criticism from commenters for her provocative clothing choices.
The social media sensation chose to respond to online critics who took offense to her clothes, slamming the "hypocrisy" of women's online reactions to shirtless baseball dancers contrasted to the reaction she received from women. Spiranac used a "case study" to justify her outfit choices, and it went viral on social media.
Spiranac wrote in a post on social media that her golf game was much better when she was wearing a tank top rather than a collared shirt. "I was a gymnast before I switched into golf," the former All-Mountain West Conference golfer said.
"I was so comfortable wearing spandex and very little of it because that's just what you wear when you're wearing a leotard and you're competing," she added. "When I switched into golf, we were struggling a little bit financially and so I didn't have the luxury to go out and buy a whole new golf-appropriate wardrobe. And so, I wore what was in my closet which was workout clothes. That's just how I learned to play the game."
Spiranac believes golfers are athletes and wonders, "Why don't we dress like athletes?" She mentioned pro golfer Lucas Glover sweating through his clothes during a PGA Tour event as an example of why golfers should be allowed to wear whatever they want. LIV golfers, for example, are permitted to compete while wearing shorts.
"That was always my mindset when I got into golf, and it really rubs people the wrong way which is shocking," she said. "They'll have really intense discussions over if they should wear shorts or pants or a blade collar or a real collar and I'm just out here just in tank tops or spandex and people are like 'What are you doing?' But we're starting to see that change and fashion is a big part of growing the game and it's moving in the right direction."
Social media critics didn't seem to believe Paige Spiranac's claims that her golf game is better when she wears more comfortable outfits. They fired back at her.
"She found these outfits were the best way for her to get attention on her social media after the tournament is what she means," posted one social media user. "Why front and act like it's anything more than that?"

Another wrote: "What she meant to say: 'I get paid better when I wear less clothes.'"

One commenter said, "Er, uh, yeah – these outfits are about your golf game. Even Paige doesn't believe that. The outfits are about toeing the line on her social media accounts, which to her credit she has done masterfully."

One commenter got sarcastic, posting: "There is absolutely no connection between Paige Spiranac's wearing scanty golf attire and her desire to increase her social media popularity; it is all about comfort. Even Paige cannot convince us (or herself for that matter) to believe that one…"
The former pro golfer turned Instagram influencer brushed off the "nasty" online critics after they condemned her for wearing a plunging gray romper in an instructional video as she practiced her golf swing.
"This is so insulting to men. Don't toy with our love of golf. You're beautiful, yes. But you don't need to be overt. Dress proper and u'd still be hot," the comment read.
Paige Spiranac then responded to the critic, "So what I'm gathering is you hate boobs. But everyone loves boobs, boobs are great." Despite the critic's negative comment, however, her clip was very well-liked. Spiranac, for her part, isn't deterred by the outside noise. In reality, her internet empire has only expanded.
Spiranac has received a wide range of reactions over the years. Although much of her content is playful, Spiranac warned critics not to get too far into the weeds in the midst of other life events."There's a lot going on in the world that should bother you and offend you. Boobs ain't one of them," she explained.