Two parolees made a big mistake when they pulled a gun on a group in an apparent robbery attempt. Their huge blunder and the consequences of it were all caught on video.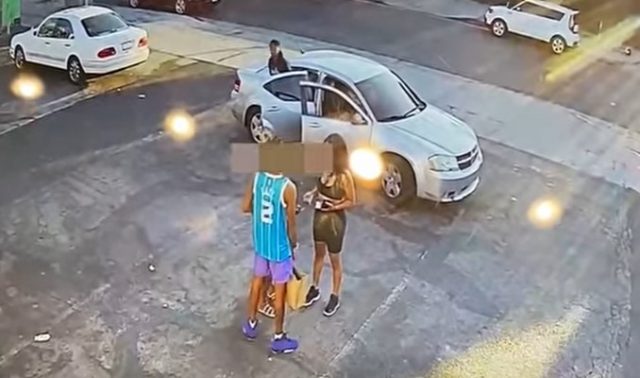 Nicholas Brown and Markeil Hayes, two California parolees, obviously didn't give up their life of crime after being paroled for prior convictions. Instead, the parolees were captured on camera in an apparent armed robbery attempt. Unfortunately for them, things didn't go as they had planned when they pulled a gun on a group in a Los Angeles parking lot just after 7 pm on a Monday evening.
In footage captured by a nearby surveillance camera that was obtained by Los Angeles police detectives, a silver Dodge Avenger is seen backing up toward a man and two women who are standing in the parking lot near Melrose Avena and Vista Street. Immediately after pulling up to the small group of people, two men — later identified as Brown and Hayes — emerge from the vehicle.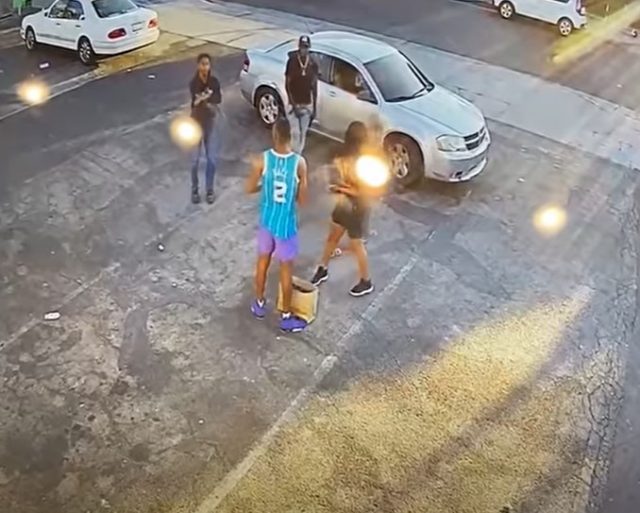 After exchanging words, at least one of the men who exited the car pulled a gun on the man in the group in an apparent attempted armed robbery. Unfortunately for the robbery suspect, he and his buddy were about to get much more than they bargained for. After seeing the handgun, the women begin to flee but the man in the small group, seen dressed in a blue tank top and holding a beige shopping bag, quickly makes Brown and Hayes realize they had made a huge mistake.
"Words were apparently exchanged, and the victim ultimately produces a handgun, apparently to defend himself and others in his group from the would-be robbery suspects," the Los Angeles Police Department said in a press release. "The victim fired his weapon towards the suspects and then all parties immediately fled the location."
Not about to let the stickup continue, the unnamed would-be victim draws his own weapon and fires at the two assailants "apparently to defend himself and others in his group from the would-be robbery suspects," The Blaze reported. After firing at least four shots at the suspects, the man drops his shopping bag and turns to run in the opposite direction.
In the footage of the incident, everyone in the parking lot is seen fleeing on foot after the shots were fired, including the failed robbers' apparent getaway driver, who speeds off without them as the two assailants also scatter. Once again, however, things wouldn't go as the would-be robbers had likely hoped.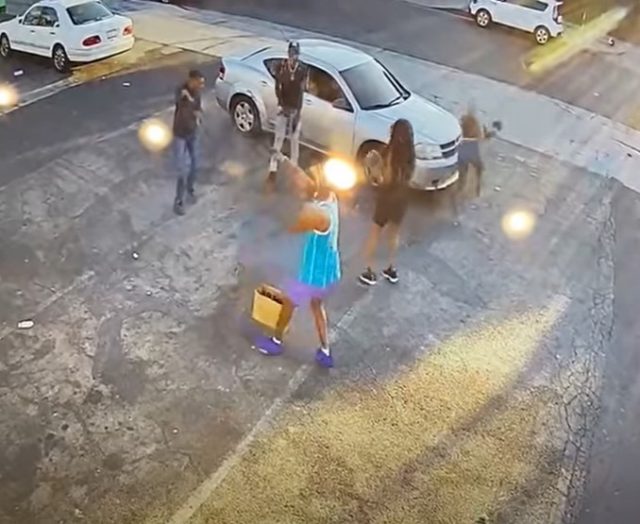 Nicholas Brown, 22, and Markeil Hayes, 28, were apprehended a short time later and arrested for attempted robbery, police said. Both of the L.A.-based suspects, who were on parole at the time of the incident, suffered non-life-threatening gunshots wounds. Brown was reportedly shot in the upper left thigh, and Hayes was struck by a bullet in the right calf.
The attack occurred as shootings in LA were skyrocketing with shooting victims up 43.2%, according to Daily Mail. In addition, homicides were reportedly up 25%, and South LA was seeing a 50% increase in killings, according to Fox News. LAPD detectives said they are "aggressively addressing a rise in violent crime in the Melrose area over the past year and [are] pursuing all leads involved in this and other crimes."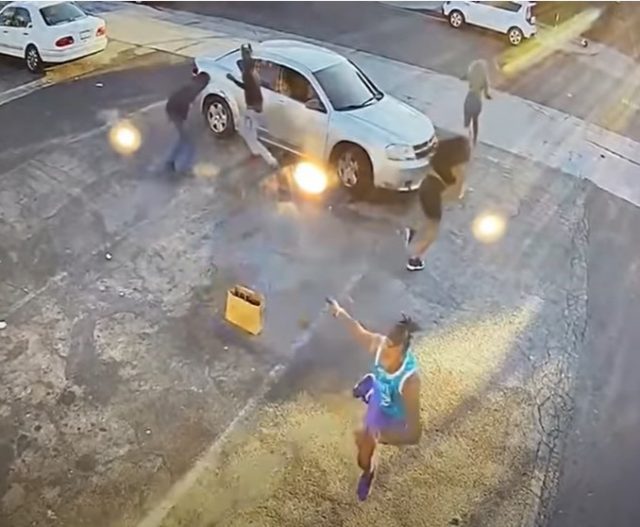 Indeed, there seems to be an alarming uptick of brazen broad-daylight attacks of all kinds across the country. This pair of criminals, however, was taught an important lesson when they were shot in the legs by their intended target: Never underestimate your would-be victim's ability to defend themselves.
Nicholas Brown and Markeil Hayes learned the hard way that the best way to stop a bad guy with a gun is to have a gun of your own — a right that many Americans exercise, especially when faced with increased crime. They also provided a valuable lesson for the rest of us: Be prepared to defend yourself, and there's no better way than exercising your Second Amendment rights.