When a belligerent inmate bit down on his leg, a sheriff's sergeant used his other leg to kick the man off. Despite the prosecutors' best efforts to convict the sergeant, use-of-force experts threw a wrench in their plan.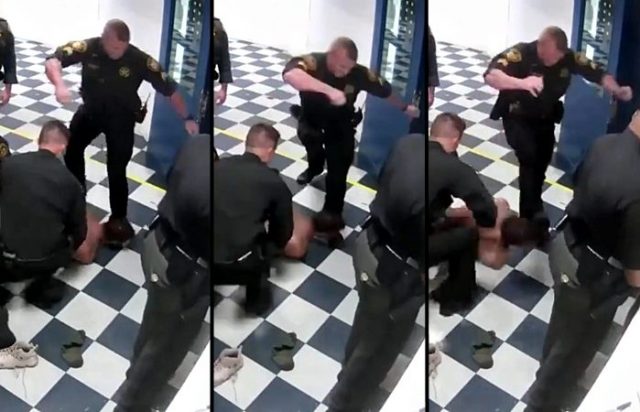 During his arrest for disorderly conduct while intoxicated and obstructing official business, Nicholas "Nick" Ballachino was increasingly belligerent, WXIX reports. As officers were processing him for booking at Hamilton County Justice Center, the detainee finally pushed the officers too far, resisting their orders and ultimately becoming combative.
When Ballachino physically resisted, officers forced him up against the wall and then to the ground in an attempt to subdue him. Still refusing to comply, Ballachino lunged at Sheriff's Deputy Sgt. Jesse Franklin's leg, biting down near his ankle. The officer then used his other foot to break free, kicking Ballachino in the head.
The incident was captured on the center's surveillance camera, showing the initial assault and the officer's response. Franklin was immediately fired, and his police powers were suspended while an investigation ensued. The findings determined that he had used excessive force, leading Hamilton County prosecutors to formally charge him with misdemeanor assault.
"As Sheriff of Hamilton County, I am outraged and shocked by this egregious conduct," Sheriff Jim Neil said. "These actions are inconsistent with our training and will not be tolerated under my watch."
Prosecutors brought their case before Judge Bernie Bouchard for a bench trial, hoping to convict Franklin of assault. However, before they even had time to prove that the sergeant had committed a crime, the case was acquitted and Franklin was free to go.
City prosecutor Sue Zurface confessed that her team was unable to go forward because they couldn't find even one expert witness to testify that Franklin had used excessive force when he kicked Ballachino in the head. The judge acknowledged the lack of supporting evidence and dismissed the charge against Franklin.
"The use of force by Sgt. Franklin in this particular situation did not rise to the level of a crime," the judge said.
While he was fired from his position with Hamilton County Sheriff's Office, Franklin has no convictions on his record and can seek employment with another police force. Still, his attorney expressed his disappointment with how the county handled the case.
"The case was a travesty from the start and he never should have been indicted," attorney Mike Allen said.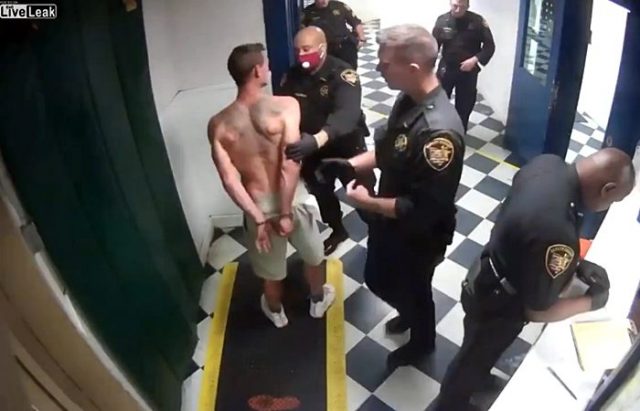 Despite his acquittal, Franklin was still faced with litigation. Ballachino filed a civil rights lawsuit against Franklin, the sheriff's office, and Hamilton County Board of Commissioners. He alleged that he was the victim of assault and battery and that Franklin should have been disciplined for using excessive force.
"Defendants Hamilton County and former Sheriff Neil had knowledge prior to this incident of committed similar acts by Defendant Officers, particularly numerous incidents committed by Defendant Franklin. Defendants Hamilton County and former Sheriff Neil have refused or otherwise failed to adequately discipline all individual deputies involved in this incident," the lawsuit reads.
Following the incident, Ballachino was taken to University Hospital and given five stitches for a cut above his left eye before he was released. However, he insisted that he suffered a long-term injury, according to WLWT.
"He was subsequently diagnosed with a traumatic brain injury (TBI) and has been receiving medical treatment since then," Ballachino's attorney said, adding that he "still at times has dizzy spells."

"I just recently got a letter from my doctor," Ballachino said. "He said that I could go back to work but I'm not allowed to go up any ladders, drive any heavy machinery, anything that I've done for the past 32 years I'm not allowed to do."
Nicholas Ballachino was convicted of obstructing official business. His disorderly conduct charge was dismissed, according to court records. He was never charged in connection with biting Sgt. Franklin.
Ballachino hoped to make Franklin and the county pay for his injuries. He complained that Franklin was never disciplined by the sheriff's office, even though he was suspended and subsequently fired.