A customer at a KFC restaurant received vicious insults and threats from an employee when the patron asked for bacon on their sandwich. The video footage will leave you downright disturbed by the fast food worker's reaction to the simple request.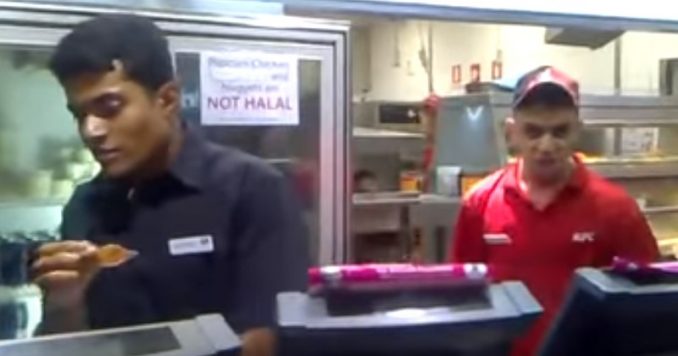 The KFC in Punchbowl, a suburb of southwest Sydney, Australia, is a "halal-friendly" restaurant, which means it does not serve bacon. However, since most KFC restaurants do serve the pork product and the chain even advertises it, one would think it's not unusual for an unknowing customer to request the meat for their sandwich.
What one wouldn't expect is a violent outburst over such a simple request. Instead of a reasonable explanation that the KFC location in question is "halal-friendly," a violent outburst from a fast-food employee is exactly what one patron got when asking for bacon on their sandwich.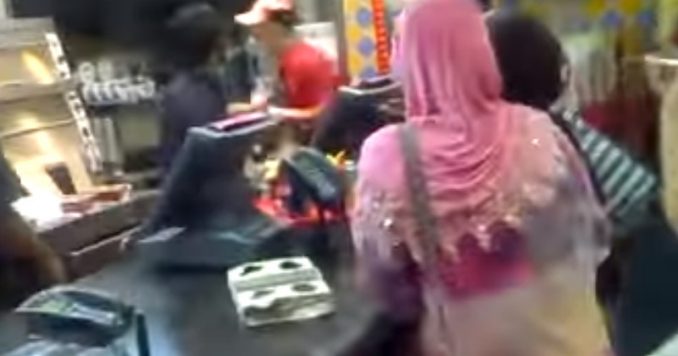 The shocking incident was recorded. In the video, one employee is heard saying, "We don't have bacon." However, another becomes completely unhinged and begins to scream at the patron, using explicit language, vicious insults, and even physical threats.
"Don't record me, b*tch! Don't f*cking record me!" the KFC employee, who has become disgruntled about the request for bacon, rants and yells, smacking the cash register display over before another worker grabs him in an attempt to calm him down. As he is led around the corner, he continues, "I'm gonna f*cking break your head, bro!"
The employee was suspended after the screaming incident, according to The Blaze. "KFC Australia strongly condemns the behavior of the team member who appears in the clip and sincerely apologizes for this very inappropriate reaction," a KFC spokesman said.
However, this wasn't the only time that bacon has caused a major disturbance, warranting international headlines, for a "halal-friendly" KFC. An incident involving bacon at a Derby KFC in Derbyshire, England, left a father of three so stunned and disgusted that the situation was reported by Daily Mail.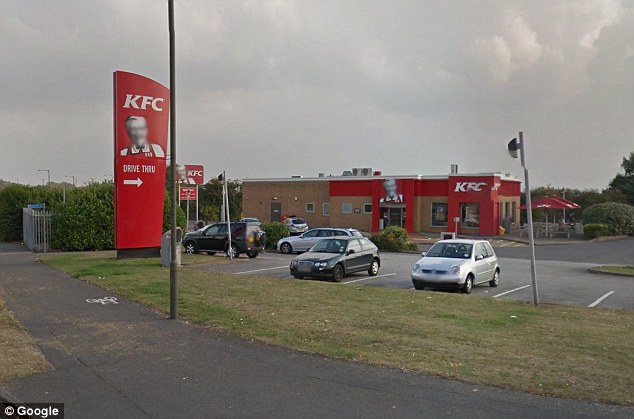 Steve Mitchell, 45, took his family to KFC for a "treat night" meal, but the staff at the Foresters Park branch location refused to serve him the BBQ Bacon Boss Box deal because it is not halal. Infuriating the father, he had to drive an extra 4 miles, taking him an additional 15 minutes, to another branch of the fast food restaurant to get the advertised meal that his daughter Chelsea, 18, had spotted in a KFC promotion.
Mitchell was stunned when he was told that the meal was not available at that location since it was a halal-only branch and, therefore, did not serve bacon. "I'm disgusted that we couldn't get the fast food we requested in the first restaurant and even more disgusted that I had to drive the extra miles to get the meal," he said after traveling to another KFC restaurant in nearby Wyvern to purchase the box meal deal.
"I don't recall seeing anything advertising that the Foresters Park site wasn't serving this meal due to halal beliefs," Mitchell explained. "On the way to the site from Spider Island, down Osmaston Park Road, there is even a huge poster on the side of a bus stop advertising the [bacon box] meal."
According to KFC, the Foresters Park location is the only Derbyshire branch with a restricted menu. "We have ensured that an alternative non-halal restaurant is nearby to satisfy all of our fans," a KFC spokesman said. "The Derby Foresters Park KFC is the only halal restaurant in the area, and the nearest non-halal restaurant is two miles away at the Derby Intu centre."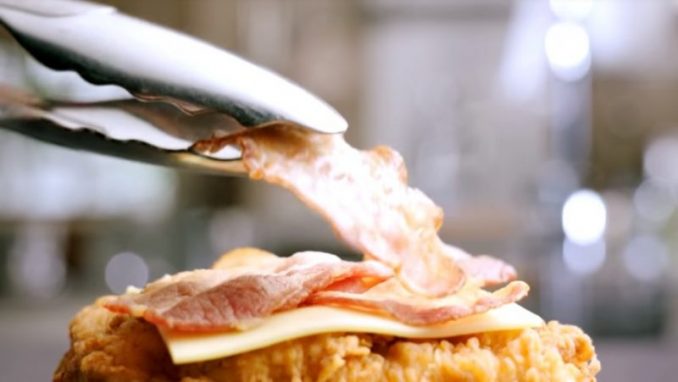 In 2009, KFC began to make some of its restaurants halal-only. The fast-food chain, which confirms the branch at Foresters Park is the "only halal restaurant in the area," says they are "delighted" the Halal Food Authority (HFA) certifies its products.
On KFC's website, the franchise explains that, to be halal accredited, its restaurants have to serve meat from birds and animals that are "not dead prior to slaughter." Halal also requires that a verse from the Quran is read while the slaughter is performed by a Muslim, invoking the name of Allah and saying three times "Allahu akbar," which means Allah "is the greatest," Homestay for Life explains in a "Guide to Islam."
"We have worked with the Halal Food Authority to understand the requirements involved in supplying and producing halal-approved products," KFC's statement says. "We are delighted that the HFA have certified KFC's products."
While they might be "delighted," some of their customers are certainly not pleased that the advertised product isn't available, as these two stories clearly indicate. Obviously, anyone is welcome to run their restaurants how they wish. However, their customers are also welcome to take their business elsewhere, and when they want bacon, which is a staple in many Western countries such as Australia, England, and America, that's exactly what they will do.