Megyn Kelly revealed why her interview with Jane Fonda and Robert Redford went off the rails. Kelly claims Fonda's "weird sex talk" about Redford made him so uncomfortable that she was asked to intervene, and that's when Fonda got angry.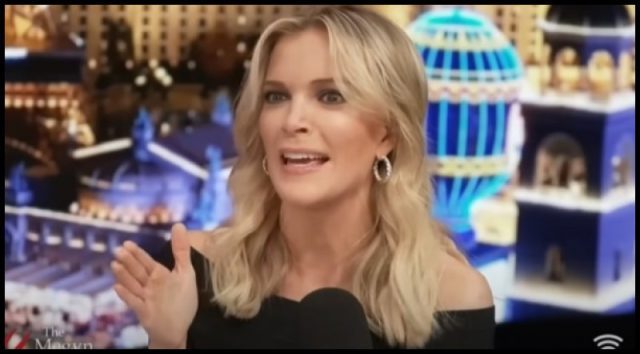 During Megyn Kelly's first week hosting her morning talk show on NBC back in the fall of 2017, things got awkward when she asked Hollywood star Jane Fonda about her lengthy documented history of getting plastic surgery. Robert Redford and Fonda joined Kelly to promote their Netflix romance-drama "Our Souls at Night" — the fourth time they co-starred in a major Hollywood motion picture together.
Many may remember Fonda was visibly upset at the plastic surgery question and lashed out at Kelly during the interview. Years later, the former Fox News anchor finally revealed what happened behind the scenes that caused Kelly to ask Fonda that very personal question.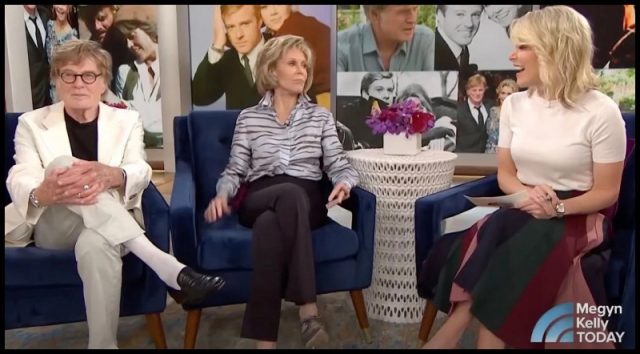 Kelly revealed on her SiriusXM podcast that Redford's representative asked her to steer the conversation away from their steamy love scenes — prompting an awkward exchange with Fonda about her plastic surgery. Redford was "visibly uncomfortable" with co-star Fonda because she "kept wanting to talk about being in bed with" him while they were promoting their new film, Kelly claimed.
"Jane Fonda was on set [at NBC in 2017] and so was Robert Redford … and she had been doing a publicity tour with all this weird sex talk about him," Kelly recalled during her podcast. "She kept wanting to talk about being in bed with Robert Redford in the movie." In the film, Redford and Fonda play a widow and a widower who begin sleeping in bed together platonically in order to alleviate their grief and loneliness.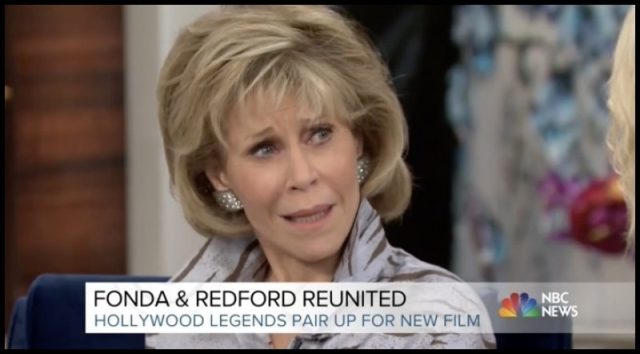 According to Kelly, Fonda kept mentioning the love scenes with Redford in frequent promotional interviews, including the sit-down on Kelly's NBC show. "And you could tell he was visibly uncomfortable with it," Kelly said of Redford. "And during the commercial break, Robert Redford's publicist specifically asked me if I would try to keep her off of that, if I would redirect the conversation to something else," Kelly said.
"Sure, I will," Kelly told Redford's publicist. After returning from a commercial break, Kelly asked Fonda about "having work done" — which she says was a "favor for Robert Redford." But the segment turned into a cringeworthy spectacle when Fonda appeared taken aback by the question. "You've been an example to everyone in how to age beautifully and with strength and unapologetically," Kelly told Fonda during the segment.
"You admit you've had work done, which I think is to your credit. But you look amazing," Kelly told Fonda. "I read you said you felt not proud to admit you had work done. Why not?" Fonda wore a shocked facial expression. The actress then tried to change the subject when Kelly paid her a compliment about her appearance and "how amazing you look."
"Well, thanks," Fonda told Kelly. "Good attitude, good posture, take care of myself." Fonda then redirected the conversation. "But let me tell you why I love this movie that we did, 'Our Souls at Night,' rather than plastic surgery," she said. Kelly explained that Fonda's statements about plastic surgery led her to assume that it wasn't a sensitive topic.
"So that's why I thought I would come back in with something she talked about a million times before, her plastic surgery," Kelly said. "And it was relevant because it's [the movie] about aging and a woman coming to terms with what that means," she said. "So I thought it would be the non-awkward place to go. Wrong!"
In a 2017 interview with Entertainment Tonight Canada, Fonda, who was 80 years old at the time, said she was bewildered by the timing of Kelly's plastic surgery question. When asked if she was "shocked" by Kelly's question, Fonda said, "A little bit. Given the fact that we don't have a lot of time and Bob is right here, it's a weird thing to bring up — whether I've had plastic surgery or not. I have and I've talked about it. Seemed like the wrong time and place to ask that question."