An absolutely brutal video of a McDonald's worker beating up a female customer who apparently "disrespected" her mother has surfaced on social media. In the unbelievable footage, flesh goes flying as the rotund McDonald's employee uses her large frame to clobber the scantily-clad female customer. You have to see this to believe it.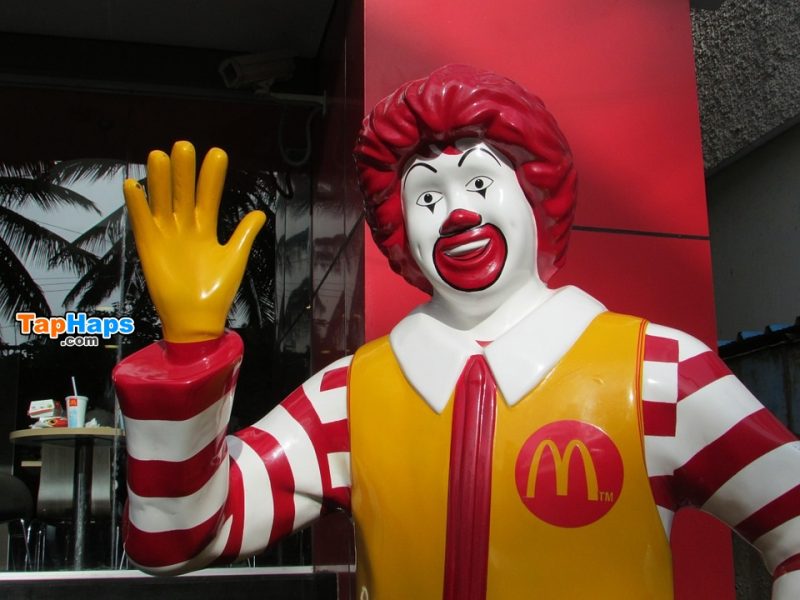 Erika Chavolla, 24, was working at a Las Vegas McDonalds when she got into a dispute with a female customer, according to Daily Mail. The McDonald's employee brutally beat Sabrinah Fontelar who allegedly tried to fill up a water cup with free soda. The wild brawl was caught on video.
The footage was uploaded to Facebook with the caption, "So this happened at McDonald's… the lady asked for a water cup and supervisor shut down the soda machine because she wasn't letting her get a free soda." As the video begins, the argument is already well underway, with Fontelar throwing a milkshake at the McDonald's employee.
As Erika Chavolla storms toward Sabrinah Fontelar, the customer picks up a tray and hits the employee in the head with it, but she barely notices. Chavolla then grabs the customer by the hair and begins raining punches down on her head and face. Being much larger than her opponent, she picks Fontelar up and throws her over a nearby table as other employees run over to try and break up the fight.
The pair are eventually separated as another McDonald's worker tries to move the customer away, but the customer then begins fighting her instead. That restarts the brawl, with Fontelar beaten in the head and face a second time before Chavolla throws her over another table.
At one point, Erika Chavolla can be heard shouting, "My momma aint dead, you respect my momma," though it is not clear what this is in reference to. A few more angry words are exchanged, but no more punches are thrown before the footage cuts out.
They say that the customer is always right, but this McDonald's patron was totally out of line. No one deserves to be assaulted at their place of employment. Next time, this customer will think twice. She should never have thrown a milkshake at the employee or insulted her mother.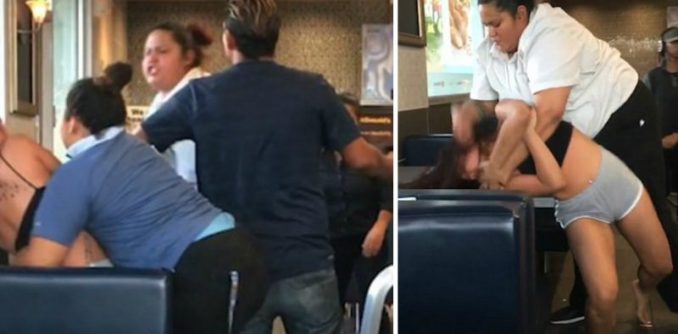 McDonald's said it is investigating the incident, and they "do not condone the behavior depicted in this video." If Erika Chavolla had simply notified her manager or the police of the unruly guest, the brutal fight which broke out could have been avoided. It's hard to believe that this entire argument transpired over something as simple as a free soda and a "your momma" insult.
Chavolla said that she has kept her job at McDonald's following the incident. She also showed off a scratch on her hand from where she hit Sabrinah Fontelar in the teeth. "It's crazy, people think just because you're working…" she said. "She was trying to smack for a long time. I wasn't even going to hit her. When there's a big girl coming towards her, she started freaking out. Don't talk about my momma!" she added, laughing.
Sabrinah Fontelar caused the incident by attempting to steal a drink, and she should be charged with assault and theft. Too often, the companies just look the other way, which emboldens customers like her to think that they can say and do anything they want and get away with it.
This is one of the craziest videos ever captured at McDonald's. Was the reaction from the employee deserved? At what point is the customer no longer right? Should Chavolla keep her job? Let us know what you think.