A Brooklyn man was riding the subway in the middle of the day when he heard a woman belt out a blood-curdling scream. When it carried on for longer than a few seconds, he looked in her direction then immediately went barreling through the cowards who were watching.
When the doors to the No. 3 train opened at the Bergen Avenue stop in Park Slope, Maurice Osborne, 37, said he heard screams from a woman, who investigators said was being sexually assaulted in the middle of the day. "Usually when you're on the train, you hear commotion. You don't think nothing of it, but she was screaming for like 15, 20 seconds," Maurice said. "As soon as she said that he was trying to rape her, I just reacted."
Alvaro Denica, 40, had been allegedly fondling himself in the last subway car before chasing the victim onto the platform and jumping on top of her. Maurice, a fit 6-foot-1, 200 pounds, leaped into action and grabbed Denica by his collar. "There were a lot of people who didn't do anything," Maurice said. "I was the only one that did something. When you see something like that, you're supposed to help."
The subway hero continued grabbing the man by his shirt, pulling him all the way up the subway station's steps and dragging him two blocks away to the local police station. The 28-year-old victim followed close behind and told investigators what had happened. "I just picked him up and tried taking him to the police precinct and she was following and crying," Maurice said.
Despite having a swollen right hand and getting six stitches above his left eye from when he headbutted the suspect, Maurice said he would do it all over again. When asked if anyone else was going to help the woman, Maurice said, "Nope. I wish someone else did. I wish the conductor stayed. The conductor didn't even stay. The train left."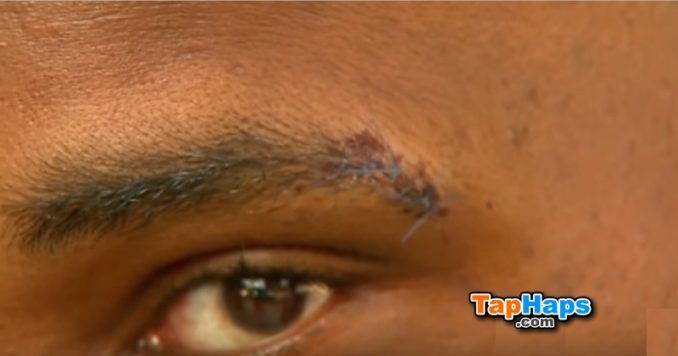 Alvaro Denica was hit with a slew of charges, including assault, attempted sexual abuse, public lewdness, harassment, and menacing. He is the father of two autistic kids who he supports by working at Purbird restaurant in Park Slope. Employees at the restaurant were shocked by the allegations. "It's something we can't believe," said manager Andre Gordillo. "He's a good employee. We've never had a problem with him."
At the time of the incident, Maurice was living in a shelter in the Bed Stuy section of Brooklyn while studying to become a medical assistant. He hopes New Yorkers will follow his lead and help one another the next time help is needed. "I like helping people," he said. "It makes me feel useful."
Maurice Osborne is rightfully being hailed a hero for what he did to stop this monster from having his disgusting way with an innocent woman. People have become too passive to take action because they fear for themselves more than they care about other people.
The fact that this can happen in front of so many citizens, who refuse to help a stranger, says something tragic about the state of society today. However, Maurice proved that not everyone lacks character and courage. This woman was lucky to have him aboard that day. Had he not been there, she would probably have been raped while others watched, pretending it wasn't happening.