When The Undertaker was inducted into the World Wrestling Entertainment Hall of Fame, the WWE legend surprised many with what he had to say about Jesus.
Mark Calaway is one of the most legendary World Wrestling Entertainment wrestlers in the history of professional wrestling. For decades, Calaway has been known to fans as The Undertaker. The night before WrestleMania 38, Calaway addressed thousands of screaming fans in Dallas' American Airlines Center during his WWE Hall of Fame induction ceremony.
"Tonight I am going to take you behind the curtain to meet the man under the black hat," Calaway began. According to Deacon Jesse T. Jackson, the speech that followed is "what some have called the greatest WWE Hall of Fame induction speech ever."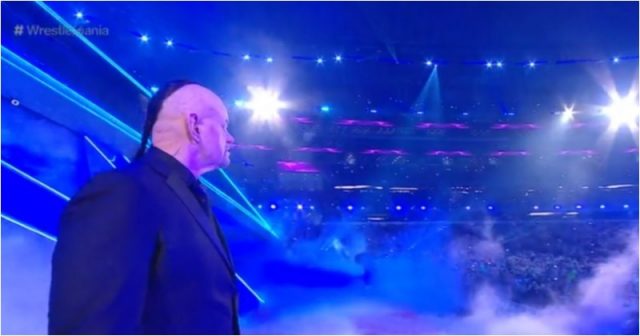 In his 45 minute speech, Calaway told the crowd that perception is reality, that respect and loyalty go a long way, and to never be content. However, the most powerful moment came when he talked about his family and the impact his wife, former wrestler Michelle McCool, had on his relationship with Jesus.
"I think the greatest thing that you've ever done for me, though, is restore my relationship with my Lord and Savior Jesus Christ," Calaway said as McCool and their daughter looked on during the ceremony. Recalling the first time his wife asked him to go to church, The Undertaker recalled telling her, "Babe, I'm going to walk into church and the rafters are going to start shaking and lightning bolts are going to start flying at me."
McCool told him, "Don't be stupid," but Calaway joked that she made him sit on the other side of the church, just in case. "Thank you for seeing passed my long hair, my tattoos, and my iffy reputation and being my wife," Calaway said as he stared at McCool and his daughter. "I love you with all of my heart. You are my soulmate."
While speaking at a Christian Conference in 2019, Calaway went into depth about his journey back to Christ. "I wasn't living my life for God," he said. "I've always believed in God. I just didn't lead my life that way. … I lived a pretty excessive lifestyle, and I didn't have a, you know, I believed in God but I wasn't living my life for God."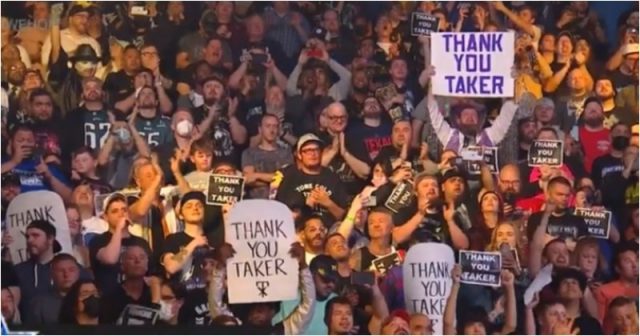 After meeting McCool, the WWE superstar was persuaded to start attending church regularly, and Calaway spoke about his experience. "I was thinking, 'OK, all right, the pastor's going to see me and he's going to throw fire and brimstone right at me' — 'Sinner! Sinner!' — and it wasn't nothing like that," Calaway said.
"I found myself [going] from being kind of tense and pensive to kind of leaning in and like, 'Wow, this is, you know, this is, this is pretty cool. This is, yeah.' And, that started my journey back to leading my life the way I should," he added. It was the beginning of him discovering that there was "a whole other part of life" that he was "missing out on."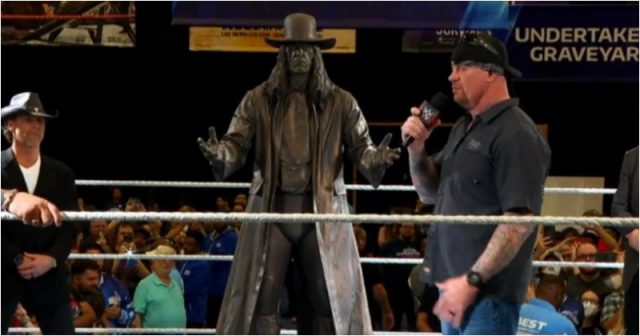 Even though he's come a long way, Mark Calaway acknowledged that he is far from flawless and that he is indeed a work in progress. "I'm getting there, but I spend, you know, I spend a lot more time these days reading my Bible," he said.
Beginning with his pay-per-view debut at Survivor Series in 1990, The Undertaker became a fixture in WWE. Even so, Calaway was humbled by his induction into the Hall of Fame. "When I was younger, a Hall of Famer to me was Andre the Giant," Calaway said. "He was always larger than life. That wasn't just because of his physical stature. It was also because of his work as a performer. Even as a kid, I went to see Andre. To think I'm going to be enshrined with Andre, and people of that nature, it's incredible."