An Instagram model set the internet on fire after she posted photos of herself swimming in a "forbidden" cave. She was slammed by critics who viewed the images and said this is how "influencers will end up going extinct!"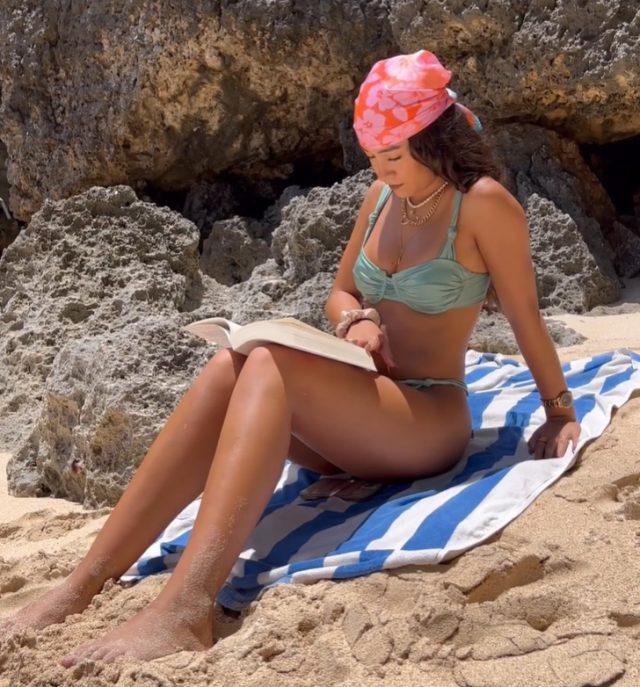 Marina Rivera Saldana, also known as Marina Rivers, received criticism for swimming in a "forbidden" cave in the Canary Islands. Saldana is a well-known Spanish influencer and Instagram model, with millions of followers on Instagram and TikTok.
While Saldana frequently shares photos of herself in stunning locations, certain images sparked outrage on social media, with many harshly criticizing the social media star. She posed for a few photos in a cavern with gorgeous blue water in the background. She can be seen swimming in the water in some of these photographs, which she captioned, "I'm a little mermaid from Makoo."
https://www.instagram.com/p/CwnrxeOoaVv/?hl=en
Saldana was swimming in the sapphire waters of El Tancón cave in the Canary Islands. There was, however, one major issue with this gorgeous blue lagoon cave. According to Tenerife Weekly, this place embodies a perilous "Bufadero," a natural formation in which the currents are unpredictable and rescue teams find it difficult to help. Several tourists have died at this location in the past due to the hazardous circumstances.
In fact, the cave is so dangerous that it is actually off-limits to tourists due to its Bufadero, also called a "blow-hole." It was reported that six people have died in the cave as of 2021, including Swiss native Jasmine Ben Ali, 33, and Giovanni Rodríguez, 27, from Italy, who all drowned in the cave. In 2017, an unidentified 30-year-old British tourist died after getting swept out to sea while walking past El Tancón.
https://www.instagram.com/p/Cu2UfWIICDD/?hl=en
Marina Rivera Saldana was soon ridiculed by the online masses. They accused her of disrespecting the deceased and putting her life in danger for social media fame.
"I think it's disrespectful that you're bathing in a place that is FORBIDDEN," fumed one viewer on Instagram.

Another critic wrote, "That place is a death trap for those who dare to bathe. Such a dangerous place should not be advertised."

Another said, "It seems to me a lack of respect that you are bathing in a place that is PROHIBITED, which is FENCED and has SIGNS POSED which prohibit bathing, and you enter because of the photos, and on top of that you publish it. Where you are, people have died, it is not an area suitable for bathing."
https://www.instagram.com/p/CQ3bX6UBHNR/?hl=en
One native to the region declared, "Bathing is forbidden there. We are sick of tourists that don't respect our land."

A survivor of the El Tancón cave posted, "I clung to the rocks with my nails."

One social media user posted the official signing warning potential spelunkers of the danger while another scoffed, "Influencers will end up going extinct."
Meanwhile, Saldana's social media post was hit with a Community Notes advisory, in which they wrote that her photos could "encourage people to go to the place and swim, a danger since several people have died at the location in recent years." However, Saldana isn't the only social media star who has come under fire for their travels. One TikToker faced backlash for urging her viewers to simply "book a freakin' flight" to Thailand instead of staying at home.
In the video which amassed over 5 million views, Kat Crittenden was called "tone-deaf" for telling her viewers to hop on a flight and go to the Asian paradise right away. "What are y'all still doing in America?" she said, showing off a picturesque ocean landscape in the background, complete with islands rising out of the sea. "Like, this could be 5:30 on a Thursday night for you if you just book a freakin' flight."
Viewers immediately hit back at the influencer and gave her a dose of reality. Some stated that they couldn't go because they didn't have rich parents, while others suggested that she should pay for their plane tickets. It's sad to see that some social media influencers will do nearly anything for internet fame. We're seeing an entire generation of unparalleled narcissists, and we're all doomed.