Manny Machado, the third baseman for the San Diego Padres, sparked outrage when he donned a t-shirt with a three-word message. Many blasted the MLB player, while others showed him support.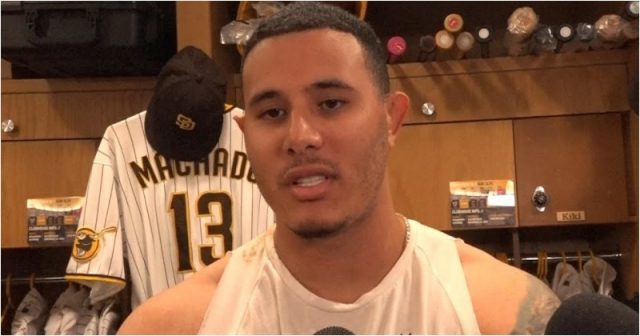 Manny Machado is a five-time All-Star who signed an 11-year extension worth $350 million with the Padres in 2023. He is also very familiar with creating controversy. It's one of the few things Machado does better than playing baseball. Consequently, a sports betting website named the Padres third baseman the "most-hated" player in the MLB after he wore a t-shirt with a three-word statement that mostly irritated individuals who voted for Joe Biden.
According to reports, Manny Machado took some time away from the field to chat with the media, and he did so in somewhat provocative apparel, wearing a "Let's Go Brandon" t-shirt in 2022. KUSI News, based in San Diego, tweeted a photo of Machado wearing the jersey with the description, "Padres superstar Manny Machado repping a 'Let's Go Brandon' shirt at Spring Training."
Padres superstar Manny Machado repping a "Let's Go Brandon" shirt at Spring Training. pic.twitter.com/9l451zRBy0

— KUSI News (@KUSINews) March 24, 2022
The phrase, which is a euphemism for "F*** Joe Biden," first appeared in 2021. As a reporter interviewed driver Brandon Brown after he won a NASCAR race, the crowd could be heard yelling "F*** Joe Biden." At that point, the reporter noted, "you can hear the chants from the, the crowd — Let's go Brandon." The slogan "Let's Go Brandon" quickly gained popularity as an anti-Biden jab.
On Twitter, images of Machado's t-shirt went viral. As the debate grew, two letter writers offered The San Diego Union-Tribune their thoughts on the Padres third baseman's wardrobe choice. "Congratulations to Padres star Manny Machado for having the guts to wear a 'Let's go, Brandon" T-shirt," Colleen Kline began in her letter to the outlet.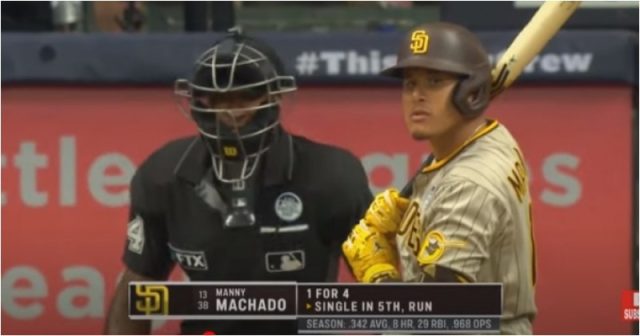 "In today's woke culture, that was certainly a wonderful show of strength to stand up for what you believe," Kline added. "Just because the people who run the Padres are apparently fans of the socialist party of Joe Biden, that shouldn't put a fear of reprisal in the minds of those who are not afraid to speak their mind," she concluded.
After seeing Machado's shirt, Randall Hamud was furious, and his letter had a very different tone. "Manny Machado's T-shirt slogan was the last straw," he wrote. "This year, I bought a 20-game package and parking for the Padres. But my newly found faith in the Padres has been severely challenged. Finally, 'the most unkindest cut of all,' a photograph of Manny Machado wearing a 'Let's Go, Brandon' T-shirt. That phrase, as you and he well know, means 'F— President Biden.' I have reached my dynamic limit. I asked for and got a full refund. The Padres have done their very best to drive me out."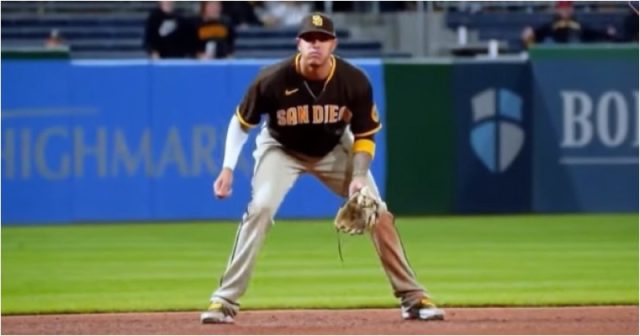 Others commented on the infielder's political stance on social media. The reaction was pretty divided, with some supporting the baseball player and others hating him.
"Well I officially have a new least favorite player," one critic said.

"Why am I not surprised. Idiot," another said.

"And just like that I'm a Manny Machado fan," posted one supporter.

"That is awesome," someone else declared.

"Some heroes wear capes, some swing baseball bats," another post stated.
According to NBC Los Angeles, the sports betting website BetOnline.ag dubbed Manny Machado the league's "most hated" player in the wake of the t-shirt controversy. The website's software looked for phrases like "I hate this player" or "this player sucks." It even included words like "overrated," "I can't stand," "the worst," curse words, negative emojis, and memes. As a result of receiving the majority of critical remarks on Twitter, Machado earned the title of 2022's most despised player.
Machado has strong connections to his Dominican heritage. His grandfather was born and raised in the Dominican Republic. In 2017, Machado decided to play for the Dominican Republic in the World Baseball Classic. "There was no way I could pass on representing the Dominican Republic in the WBC. It's in my blood," he said. "I'm doing it for my mother. I'm doing it for my uncle. I'm doing it for everybody who has supported me in my career. And most of all, I'm doing it for my grandfather."
Many fans have complained about professional athletes mixing sports with divisive political statements, saying they just want to enjoy the game and escape the conflicts they have in everyday life. However, the combination is unlikely to go away anytime soon.