After getting booted out of a water park, a mom claimed she was discriminated against. Apparently, all the men couldn't stop staring.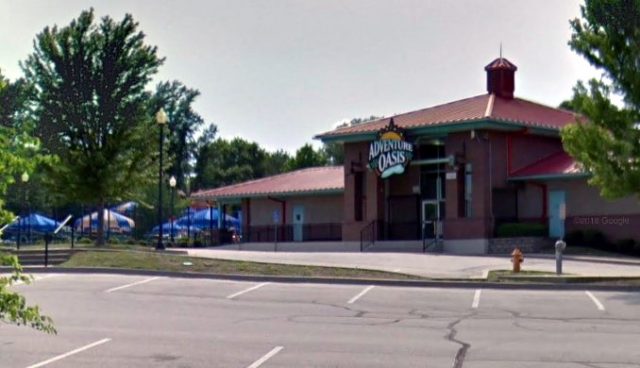 Madelyn Sheaffer, a 43-year-old woman from Independence, Missouri, accused employees at the Adventure Oasis Water Park of discriminating against her because of her fuller figure. According to the mom, she was asked to leave the community pool because the staff deemed her string bikini inappropriate and told her to cover up, Daily Mail reported.
Sheaffer allegedly went to the park with four family members. After getting in the pool with her niece and nephew, she said she was approached by pool staff, who told her to put on shorts because her bottoms were too small. Sheaffer asked to speak to a manager, according to Dayton Daily News, but when a supervisor came over, she was told her top was too small too. Again, she was ordered to cover up or leave the park.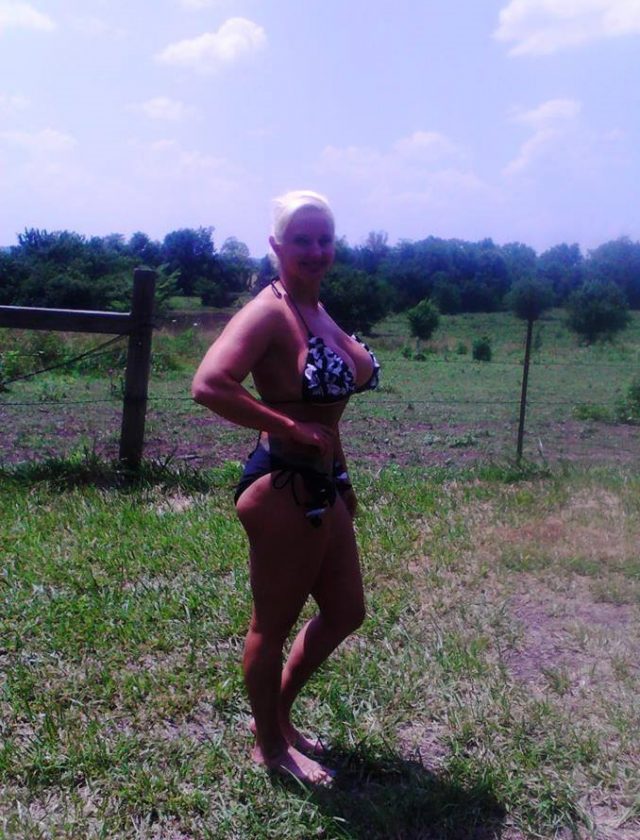 The demand didn't sit well with Sheaffer. "I am a 43-year-old woman who did not have the confidence — or the body — to put on a bikini until [I] was 40 years old," Sheaffer explained. "I will not be discriminated against because I look too good in one," she added, alleging that she was asked to cover up because of her fuller figure.
"I just felt like I was singled out," Sheaffer told 41Action News. "I felt like it was both age and body discrimination, and I felt like I could look around me and I could see a handful of other girls half my age, wearing the same size swimming suit and not being singled out and told to put on clothes or leave."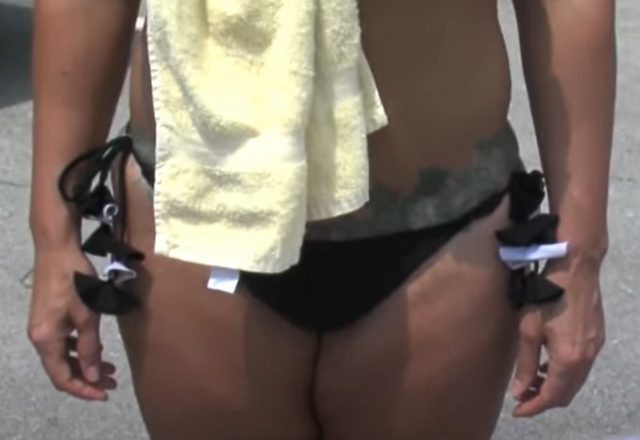 After being told to cover up or leave, Madelyn Sheaffer asked the supervisor to call the police so she could file a complaint. When officers arrived, Sheaffer was escorted off the premises, but according to the bikini-clad mom, the cops sympathized with her. "Fifteen minutes later the police did arrive and said that while they did not agree, they had to do their job," she wrote in a post on Facebook.
"'We can't actually say anything,' they said as we walked outside, 'but I hope from the expressions on our face you can tell how we feel.' They were compassionate. They too, thought it was ridiculous," Sheaffer explained. "This was not a thong. It was a standard, summertime, two piece, string bikini. The same as everyone else, who felt confident enough in their body to wear one."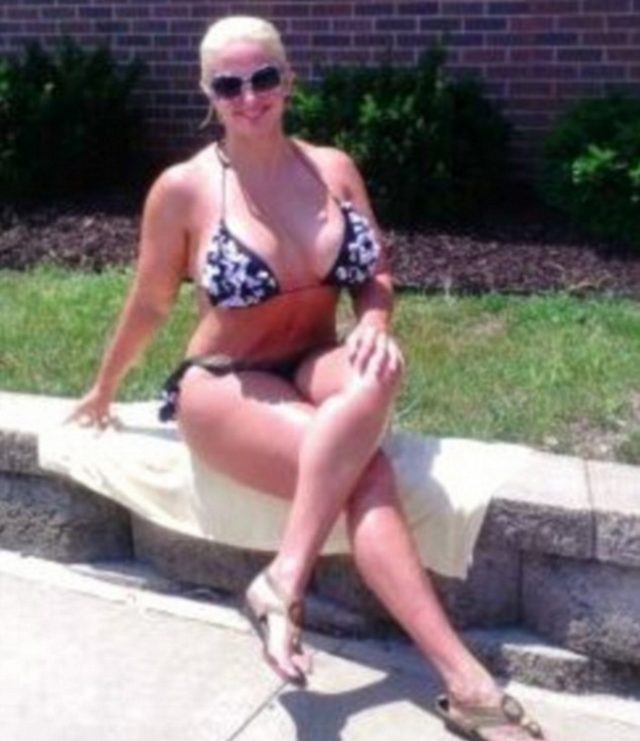 Officials at the Adventure Oasis Water Park had no comment about the incident, but the City Of Independence said that "the facility made the call and we rely on their judgment." The City added that it's up to the manager to decide whether a patron's attire is appropriate for the park and they don't feel like they discriminated against Sheaffer. Of course, the full-figured woman feels differently.
According to an exclusive interview with Daily News, Sheaffer said the staff saw a scantily-clad woman rather than someone who overcame obesity and adversity to become a role model. "I am a person who at one time wore clothes that covered my arms and legs completely," she said. "I am not someone who would wear something that was revealing or inappropriate."
Over the previous seven years, Sheaffer said she put in a lot of hard work to lose weight and keep it off. Beginning at 255 pounds and then weighing 170 when the bikini incident occurred, she had found confidence in herself and her body. "I am comfortable in my bikini. I am happy with who I am. My first reaction was why are you singling me out? They said that my bottoms were inappropriate. That was funny to me because they are full-size bottoms," she said.
"I felt it had more to do with my top because I am large-busted," Sheaffer continued. "I was embarrassed for a second, and then it was no, no way. My body is different than the young girls that were walking around in their bikinis, but why should I be made ashamed of my body?" After struggling with obesity, Sheaffer never imagined that her 15 minutes of fame would come from her slimmed-down physique, but it did, and it left her with a message for other women.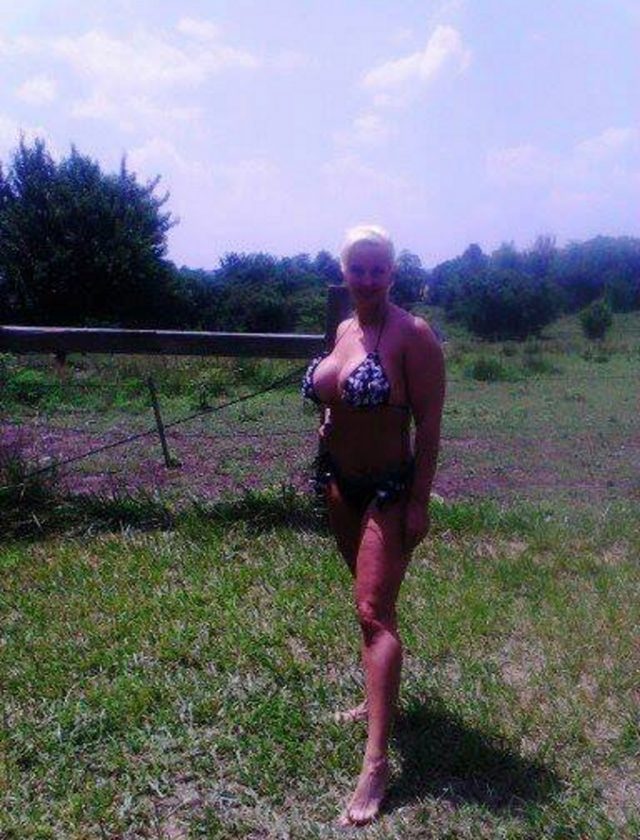 "I have a hundred and one messages for women," Sheaffer said. "My top message to women would be to say don't let anyone tell you that you are not good enough. Take time to honor yourself. Women should be comfortable in their skin and be comfortable with the way they look. Imperfections are what makes us all beautiful."
While Madelyn Sheaffer is right in some regards, a public pool also has the right to decide what's appropriate for a family-friendly environment. That said, most would expect to see more than just a little skin when going to the pool, where a bikini isn't unusual. The question is, what's too much? I'll let that up to you to decide.