A member of a theft ring snatched $18,000 in luxury purses and quickly took off for the exit. However, just before he could escape, he ran straight into the most satisfying karma — and it was all caught on video.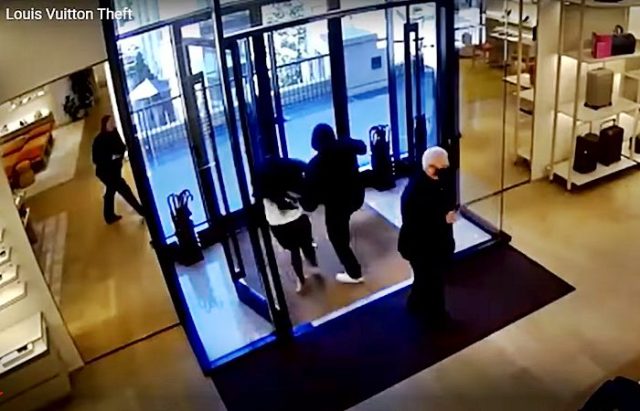 Smash-and-grab theft has devastated businesses in the most crime-ridden areas. Disturbingly, some gangs have grown so insolent that they will often walk into a shop, seize armfuls of items, and make a shameless sprint for the door, getting away with thousands of dollars worth of products before employees even know what hit them.
After a retail crime theft ring in Bellevue, Washington targeted a designer store, police were left marveling at how "brazen" the thieves have become. Incredibly, this bold behavior has resulted in some brash decisions, which have finally led to officers capturing one of the unfortunate suspects.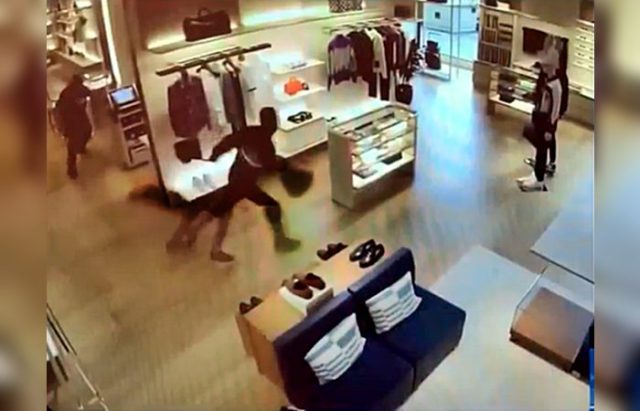 Police say that a local theft gang carried out a calculated heist in which multiple suspects targeted a Louis Vuitton store in broad daylight, KOMO reported. Surveillance cameras captured the plot, which saw several thieves grab luxury handbags from shelves, rip them from the displays, and make a mad dash for the doors. Unfortunately, one thief wasn't so lucky.
While his friends had successfully made off with multiple luxury purses each, one 17-year-old male suspect somehow got turned around during his escape. Instead of running for the exit, the thief sprinted toward a newly cleaned plate glass window. The outcome was nothing short of satisfying.
Before he realized that his chosen exit was solid glass, the suspect smashed full speed into the window, knocking himself out cold. He immediately slumped to the floor with a pile of handbags worth $18,000 still in his arms. Moments later, he awakened to find a security officer on top of him.
Prosecutors confirmed that the suspect is a member of the same retail theft ring as convicted murderer Billy Chambers and career thief Earnetra Turner, who has multiple felonies for theft and robbery and 24 warrants for failing to appear in court in one year alone.
"Brazen is the perfect word for it," said Bellevue Police Captain Rob Spingler.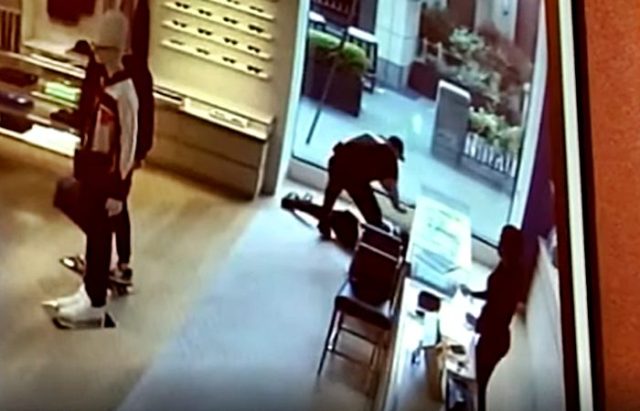 Bellevue police have been cracking down on theft in an effort to combat the explosion of cases in recent years. Thanks to their hard work, they successfully decreased retail theft by 52 percent in 2022 versus 2021.
"This is all data-driven," said Bellevue Police Captain Rob Spingler. "We use our accountability and transparency dashboard and we follow the crime wherever it goes and we're going to continue it as long as we need to."
Officials are ramping up patrols in targeted areas and prosecutors are successfully trying cases involving retail theft.
"The message is, if you come to the City of Bellevue, you commit these crimes, we're going to put together solid cases," said Captain Spingler.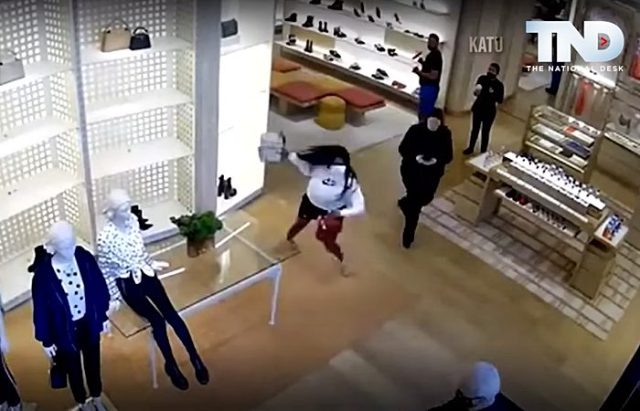 Authorities are trying their best to deter, intercept, and punish criminals who brazenly target local businesses. Because of their determination to capture and convict thieves, this particular crime has already decreased by more than half.
Just as lax policing emboldens criminals, more policing keeps criminals at bay. Unfortunately, there are far too many politicians and activists pushing for less law enforcement. It's time to take back our communities by supporting the policies that crack down on criminal mischief and especially repeat offenders.