An armed suspect learned the hard way that crime doesn't pay. Instead, he found out it can come at a cost no man wants to pay after deputies left him with a wound he will never forget.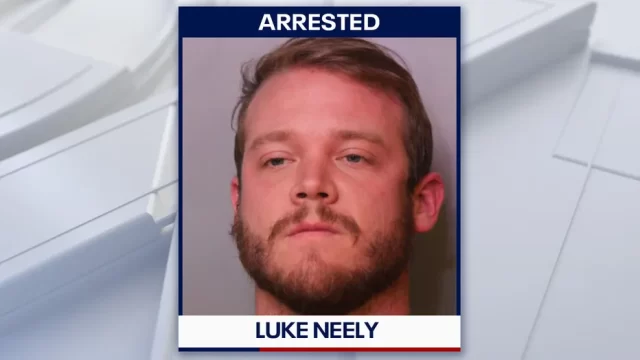 Thirty-year-old Luke Neely of Lakeland, Florida, whom Polk County Sheriff Grady Judd characterized as a "bad man," had reportedly been throwing "Molotov cocktails onto a roof and at a house" in central Florida on a Sunday morning. The home in question had a mother, father, and their adult daughter still inside, prompting a call to the police.
Responding to the 911 call, the sheriff's office dispatched deputies to the north Lakeland neighborhood just after 8 in the morning to deal with the suspected arsonist, who was throwing incendiary devices at the residence and would later be identified as Luke Neely. Arriving just one minute and 18 seconds after receiving the call, "the first deputy on the scene witnessed the suspect throwing one of seven Molotov cocktails, two of which had exploded on the house. Other incendiary devices had reportedly caught fire in the yard," The Blaze reported.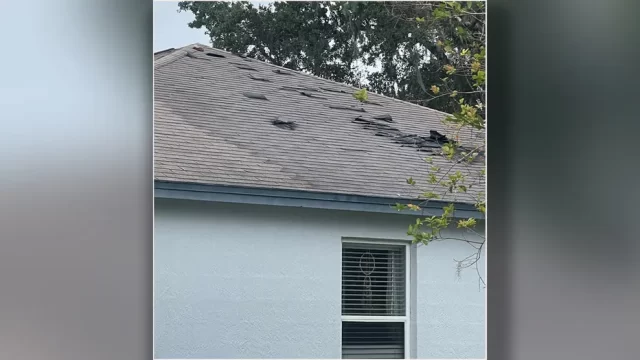 According to the sheriff's office, the deputy ordered the suspect to stop. That's when Luke Neely reportedly got into an older-model Chevrolet pickup truck and fled the scene. The deputy attempted to pull Neely over, but he continued south down U.S. 98 instead. The deputy gave chase and determined that, on account of the arson charges, a precision immobilization technique or "PIT maneuver" was warranted.
The deputy made two PIT maneuver attempts, the second of which reportedly broke his wrist. Unfortunately, the attempt did not result in the immobilization of the truck, which then fled on I-4 westbound with deputies in pursuit, according to a press release from the sheriff's office. The truck eventually slowed because of damage sustained by the PIT maneuver, allowing deputies to block and ram the truck, causing the vehicle to crash and end the pursuit. But, Luke Neely refused to immediately surrender.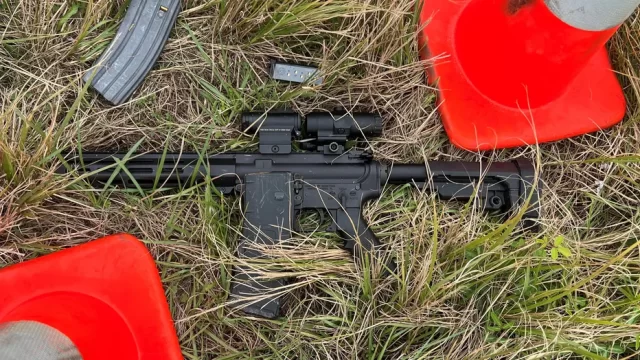 The arson suspect allegedly got out of the truck, brandishing an "AR-style" rifle with a fully loaded .380 handgun on his hip and 57 rounds of ammunition to spare, it was reported. Polk deputies immediately engaged him, firing at Neely. With the chase coming to a stop west of the county line in the Hillsborough County area near Dinosaur World, Neely began to run toward a tyrannosaurus rex statue on the perimeter of the theme park, but his last-ditch effort to get away was all in vain.
Three deputies fired a total of 10 shots, striking the suspect twice in his right leg, once in his left leg, and once in the groin, and the sheriff had a few words to say about the unforgettable wound Neely endured. "We've changed the looks of his groin forever if you know what I mean," an unapologetic Sheriff Judd said. "We're blessed that everything turned out the way that it did. It certainly could have been a lot worse."
Neely's injuries were reportedly non-life-threatening, but they likely did a number on his ego. After Neely was detained, it was revealed that his arson spree concerned more than Polk and Hillsborough Counties. According to a press conference with Sheriff Judd, the suspect had "started early" the day of the incident, setting multiple fires in Ybor City and the Tampa area, Fox35 reported.
Neely was accused of trying to set fire to a tree around 2:40 a.m. before he then went to the Ritz in Ybor City, where he tried to set the hotel's air conditioning unit on fire while there were about 1,000 people inside, Judd said. He went on to set additional fires, including a trash fire at Gaspar's Grotto around 4 a.m., just hours before his run-in with Polk County deputies. One of the incidents can be seen in the video below, which was obtained by WFLA:
Luke Neely was previously arrested by the Polk County sheriff's office in 2016 and charged with disorderly conduct, using a firearm while intoxicated, and resisting arrest. He was psychiatrically admitted under the Baker Act in 2020. His more recent crime spree resulted in charges that include three counts of attempted first-degree murder, one count of arson, seven counts of firebombing, and one count of resisting arrest. According to Sheriff Judd, Neely will face other charges, such as fleeing to elude.
While the initial reaction to a guy having his manhood disfigured might be one of empathy, it's really hard to feel sorry for someone who put so many lives in danger. Being effectively emasculated near Dinosaur World suddenly seems fitting for a criminal like Luke Neely — it's only disappointing that the theme park doesn't have a shirt for that. Maybe that should be part of his sentence — a prison jumpsuit embroidered with the words, "I got my groin destroyed at Dinosaur World." Seems fitting.