After posting a few swimsuit snaps on Instagram, a Real Housewives of New York Alumni became the target of critical comments. But, rather than take the criticism lying down, she quickly decided to clap back.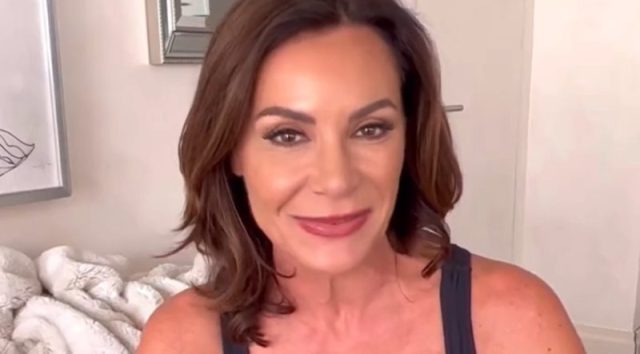 Luann de Lesseps is an American socialite, television personality, model, author, and singer, who is best known for her role as a main character in the first six seasons of "The Real Housewives of New York." The former wife of French entrepreneur and aristocrat Count Alexandre de Lesseps, Countess Luann has amassed over a million followers on Instagram, where she isn't afraid to heat things up with swimsuit-clad images of herself.
Of course, swimsuit-clad posts, especially those made by women over 50, tend to draw criticism, which was the case when the RHONY alum proudly posed in swimwear and shared the photos on social media at 58 years old. When a commenter called Luann "too old" to post such images, she decided that she "had to clap back," defending her style in a response video. But first, the post that drew the criticism:
With the comment "Way too old boo!" by user schlosser6196 displayed in the lower right corner of the frame, Luann de Lesseps addressed the criticism in her response video, which she also posted to Instagram for the world to see.
"I'm proud of the fact that I can still rock a bikini at this age," the reality tv star said. "Women should be able to wear whatever they want at any age as long as they feel good," Luann continued. "So, be cool, don't be like all uncool," she concluded, using a phrase she's known for from an episode of RHONY.
Luann de Lesseps didn't stop there. She doubled down on the defense of her swimsuit snaps while speaking with Page Six Style about making her response video. "People should be able to do and wear what they want," she told the outlet. "I had to clap back to that because I just found it so irritating … women should not be shaming each other."
The star also made it clear that she won't be ditching her beachwear anytime soon and she has no plans to slow down when it comes to her sexy style. "I think at this point in my life, I'm proud of the fact that I can still put on a bikini, and I don't like people shaming women about their age," she said.
Countess Luann then went on to share a few skincare secrets and tips for capturing the perfect shot, which she says comes down to three things: Pose, "good" lighting, and confidence. "It goes back to the old days of modeling," she explained, adding that wearing a swimsuit "you feel comfortable in" also helps.
For Luann, that includes "designs from celeb-loved designer Melissa Odabash — whose pieces include solid color staple styles like the white Bahamas Halter Bikini Top ($126) and aptly-named Hamptons Knot Bikini Top ($139)," Page Six revealed before going on to share the star's skincare regime.
Luann's beauty arsenal includes the "very hydrating" Kiehl's Creme de Corps, "good exfoliators" from Molton Brown, and products from Embryolisse. According to the outlet, these products retail from roughly $30 to $50 each, but if that's too rich for your blood, have no fear — Luann had a bit more wisdom to share.
At the end of the day, Luann de Lesseps says that her ageless beauty secrets don't boil down to poses, products, or magic potions. Instead, it's all about lifestyle choices, which she says her mother has proven to be true. "My mother is 94 and she has great skin but she uses Ponds Cold Cream," Luann explained, referring to a much cheaper product than what's found in her cabinet. "I think it's just … having a healthy lifestyle, working out and taking care of yourself … [and] being happy."