At a school board meeting, a group of angry parents read aloud from erotic books assigned to students. However, they didn't end their efforts there. The parents decided to sue the district and took steps to recall the board members.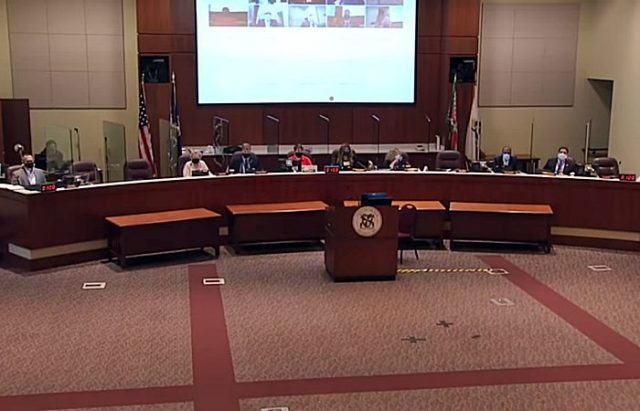 A group of parents decided to battle Virginia's Loudon County School District and put an end to the ultra-progressive curriculum. While the district was already in trouble for pushing the radically racist Critical Race Theory, parents discovered that their children are also being fed violently and sexually explicit materials.
During a Lound County School Board meeting, parents lined up to read several "pornographic" excerpts from books assigned to ninth graders. Some of the passages described x-rated encounters between children while others narrated disturbing acts of domestic violence, kidnapping, and torture.
The passages were taken from Tiffany D. Jackson's Monday's Not Coming, a social justice novel praised by Publishers Weekly's "An Anti-Racist Children's and YA Reading List." The book details children performing sex acts on one another, some within the classroom.
"I tiptoed toward the door, peering through the window at the boy — his pants around his ankles — squeezed between April's straddled legs as she lay on top of a teacher's desk," the passage reads.

"I gripped his arms and flipped him around, pushing him against the wall," another excerpt reads. "I took a deep breath before dropping down on my shaking knees, the ground cold."
Other passages tell of severe domestic violence scenarios in which the narrator justifies brutally beating, starving, and keeping a young woman captive.
"I came home early from babysitting and see her coming out of some car in these tight-a** little shorts, talking fast, telling my she's about to leave me. I grabbed her by the neck and started punching her. She wanted to be all big and bad, trying to face me like a grown-a** woman, she's gonna get beat like a grown woman," the book reads. "I threw her in the closet for a couple of days. She kept on screaming, begging to be let out, begging for water. Every time she made too much noise, I'd walk in and kick her."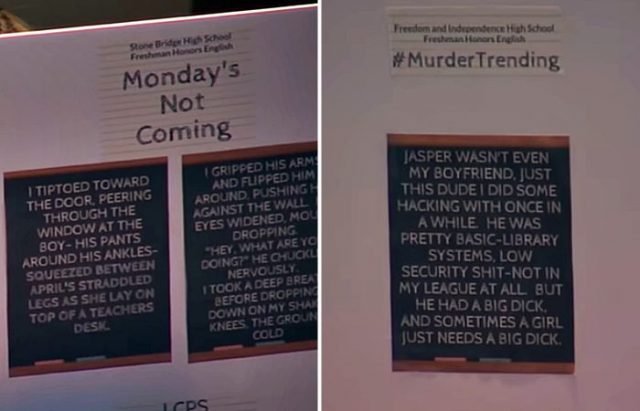 The book, which is rated for ages 13 to 17, repeatedly describes sexual encounters between children as well as other risky and dangerous situations. One character explains that he "did do something" with the titular Monday, further admitting that she "sucked my d***."
"She did your homework and you ate her c******?" Is that why you crying? 'Cause Monday's not around to do your homework no more?" another character asks.
Another book titled #MurderTrending tells the futuristic story of an app that allows viewers to watch the execution of murderers. The novel, which is recommended for ages 14 to 18, describes a teen girl's casual sex with a male friend.
"Jasper wasn't even my boyfriend, just this dude I did some hacking with once in a while. He was pretty basic — library systems, low security sh** — not in my league at all but he had a big d***, and sometimes a girl just needs a big d***," an excerpt reads.
The graphic excerpts were read aloud one-by-one as indignant parents lined up with posterboards of the raw quotes. Afterward, a man spoke directly to the board members and accused the district of violating its own policies.
"You didn't follow your procurement policies when you bought $1.8-million worth of these trash books. If you had followed your procurement policies, then you would have done a curriculum review, where I hope and pray that at least the majority of you would've said, 'No, we can't read this trash to our kids.' Your own code of conduct says that this is sexual harassment. We know it because all of us would be fired from our day jobs if we said this crap at work. This is the definition of a hostile work environment. My kids don't go to your crap schools but theirs do and they are filing these harassment suits on their behalf. Thank you for not doing your jobs," he said.
Loudon County Public Schools seemed to trivialize the issue by responding with a statement that parents are allowed to "submit a formal request" for their child to be given an alternate text.
This is a clear case of school officials presenting children with sexually explicit material that serves no other purpose than to tantalize and arouse. This is a textbook grooming technique used by pedophiles and sex abusers, and parents are right to be outraged. The content and presentation within these books would be considered sexual harassment in any other public setting, so why do these officials consider it acceptable for our children?
Now more than ever, it's critical for parents to know what is being taught in the classrooms. Parents must become proactive if they wish to stop this indoctrination. The only reason school officials get away with presenting obscene and demoralizing material to our children is because we keep allowing them to do so.