A police officer was struggling to arrest a man on the side of the road when the suspect grabbed his duty pistol. Things took a sudden turn when a convicted felon out on bond saw the tussle and decided to step in.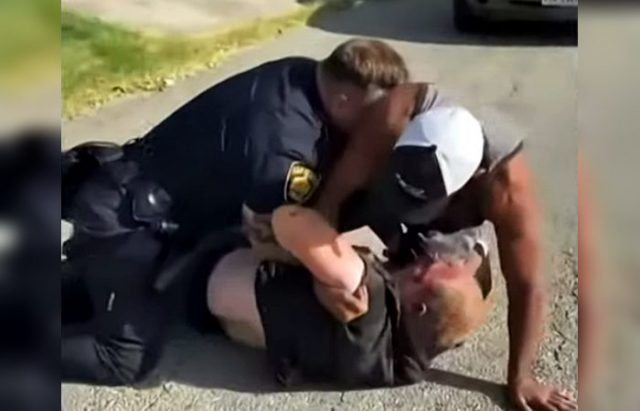 When Austin Police Officer Linville spotted 44-year-old Jack Albert Evans, a suspect with an outstanding warrant, he pulled up to the wanted man near an intersection and confronted him, KENS reports. Unsurprisingly, Evans took off on foot, prompting Linville to pursue him. Once the officer caught up to the suspect, things took a heated turn.
On any given day, many law enforcement officers face life-threatening situations as well as the long-term physical and psychological effects of violent crimes. Unfortunately, as the aversion toward the police continues to grow, so does the risk that comes with their duties.
Officer Linville attempted to arrest Evans, which led to a struggle. As both fell to the ground, Linville desperately tried to overpower the culprit to no avail. It was then that a convicted felon out on bond stumbled upon the pair and decided to intervene.
Mark Anthony Gonzales, who is a professionally trained mixed martial arts fighter, was out on bond for an arrest just months prior when he came across the altercation. In fact, he was on his way to the gym for some Brazilian Jiu-Jitsu practice when he spotted Officer Linville fighting with Evans. Given his criminal history and extensive physical training, any police officer would likely dread his arrival. However, Gonzales proved to be one of the most unlikely heroes.
A San Antonio Police officer was trying to arrest a suspect attempting to get away. Fortunately for the officer, Mark Anthony Gonzales is a trained MMA professional fighter. pic.twitter.com/m3eof2gr39

— The Daily Sneed™ ➐ (@Tr00peRR) September 6, 2021
Within an instant, Gonzales pulled over and jumped out of his car, telling his wife to start recording because he was going to help the officer. Summoning his extensive training, Gonzales pinned Evans' legs to the ground in an attempt to subdue him.
"I had no relationship with law enforcement or the system. In fact, I despised it because of what I was going through," Gonzales said. "I still went out of my way because I knew it was the right thing to do."
Although the pair looked as if they had finally overpowered Evans, he managed to loosen his right arm from the officer's grip and reach for the duty pistol. Fortunately, Gonzales was there to help subdue Evans as the officer yanked the suspect's hand away from the gun and re-secured his weapon. Eventually, they managed to handcuff Evans and take him into custody.
"It was one of those life-and-death situations where the suspect decided to reach for the (officer's) firearm and I was able to pry his fingers away from the weapon," Gonzales said. "It was just like watching a buddy on the mat and my training kicked in and I was able to lend a helping hand."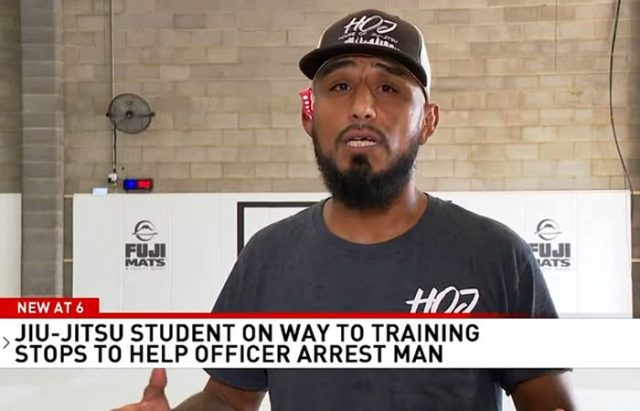 Gonzales said he told his wife to film the encounter because he didn't want his actions to be misinterpreted. He knows that his criminal record works against him but hopes to distance himself from that life.
"It changed my mentality, my behavior, my actions, my thoughts," Gonzales said. "With the right training and the proper techniques, things can occur differently and peacefully."
Gonzales says he grew up being passed around in foster homes and learned to fight from a young age. However, now that he has a family of his own, he wants to make sure they don't suffer the same fate as him, from the foster care system to the prison system.
"I'm not going to let the system break me because I have four beautiful kids and I promised myself they won't go through the system like I did," Gonzales vowed.
The video of the struggle went viral, and Gonzales was hailed a hero for his efforts. He hopes that the video will serve as a "record" of his positive change since his negative record has followed him for so long.
Gonzales is a hero, and we wish him the best. Hopefully, this incident signifies a major turning point not only in his life but in the lives of his children as well.