After seeing a Confederate flag towel, a black woman confronted a white family by screaming at them that they were displaying "a racist symbol of hate." However, the beachgoers were taken aback when a black man suddenly intervened.
After reportedly spotting a photo online of four white people lounging on the beach, LaShandra Smith-Rayfield hurried down to Lighthouse Beach in Evanston, Illinois, according to the Chicago Sun-Times. The self-proclaimed "anti-racist" activist was prepared to not only confront the beachgoers for having a Confederate flag towel but also dox them on social media.
When it comes to liberties, most Americans want to be left alone and, in turn, leave others alone. For some, however, allowing fellow citizens to have a differing opinion simply isn't an option.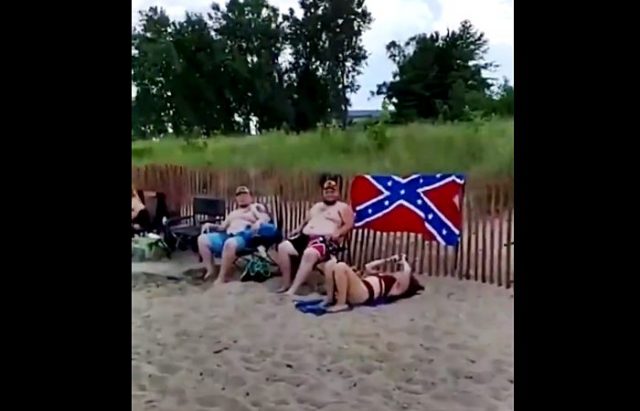 Smith-Rayfield uploaded a video of herself berating the beachgoers over what she referred to as a "swastika." However, while she was in the middle of harassing the white people, an unlikely figure emerged to end the confrontation in an unexpected way.
Smith-Rayfield, who has been identified as a public school teacher, approaches the beachgoers and blasts them for exhibiting "a racist symbol of hate," pointing at the towel. When one of the white men suggests that Americans have the right to use whatever towel they choose, Smith-Rayfield insists that she has an apparent right to not be offended by their display.
"That's not causing me physical harm even though it makes me feel uncomfortable in a place that I pay taxes and rent?" she asked rhetorically.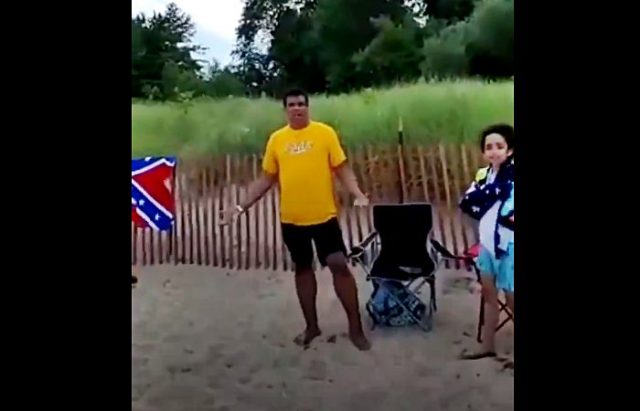 Shortly after Smith-Rayfield begins chastising the beachgoers and accusing them of racism, an unidentified black man walks over into the camera's view. Although he initially tries to play peacemaker, he quickly realizes that Smith-Rayfield isn't going to leave the people alone until they appease her demand.
"Let's not do this," the black man steps in to say.

"Then speak upon it. If it bothers you, then teach your children to speak upon it," she replies, thinking he is on her side.

"It's called 'people have a right to have their opinion,'" he surprisingly responds.

"Why am I arguing with a man of color about this flag?" she questions, her voice cracking with emotion.

"Because I f—ing fought to defend this flag," the black man fires back.
At this point, one of the men in the folding chairs stands up and walks with his arm extended toward the black man, shaking his hand in gratitude for his military service. The woman filming the interaction continues haranguing the beachgoers, calling their embrace "ridiculous."
Amusingly, the woman accuses the black veteran of not having "the courage to stand up against that." She then proceeds to tell him that he didn't fight for anyone's right to display such an image but "fought for our flag to have fifty stars."
"Just leave them alone," he finally tells the woman. "People like you haven't done s— for this country."
In an effort to diffuse the situation, one of the white men removes the towel from the fence and drapes it face-down over himself. The woman then thanks him for taking it down before the video cuts off. It was later revealed that Smith-Rayfield attempted to buy the towel off the beachgoers for $20 but ultimately left after they declined her offer.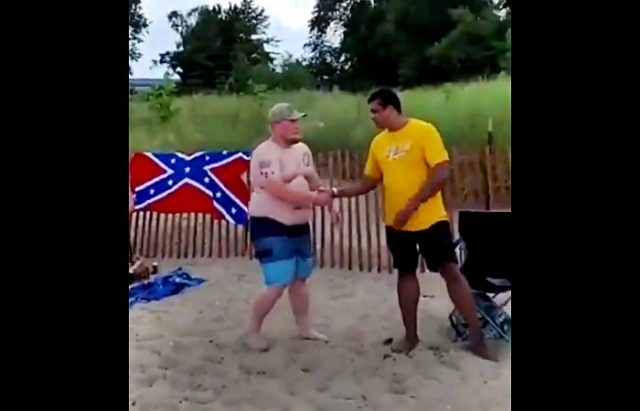 Smith-Rayfield has since expressed her distress over the incident and later managed to gather several dozen locals to protest against racism at the same location on the beach. She also received an apology from the mayor and was lauded for her "courage and persistence."
Leftist activists are determined to snuff out any differing opinions. Disturbingly, these fascistic tactics include shutting down every word, thought, and symbol that they deem offensive regardless of the actual intention behind them. Fortunately, there are still patriots who are willing to stand up and defend their fellow Americans' right to use whichever towel they want.