A grandmother, who once "hated" tattoos, decided to spend her entire life savings on getting inked, fully covering her body in a vibrant and unique canvas. After garnering attention on social media, she's since explained what prompted her transformation, as well as revealed what she looked like before.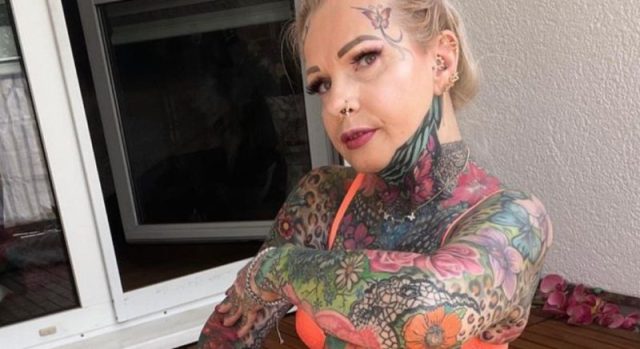 Kerstin Tristan, a 56-year-old German grandmother, "hated tattoos" before she got her first one in 2015, according to The Sun. However, within 8 years of getting inked for the first time, the newly tatted granny had spent her entire life savings — £30,000 or over $37,000 USD — completely covering herself in colorful tattoos, which she proudly flaunts on social media in revealing photos of herself.
Like most, Kerstin's remarkable story of transformation and self-expression started in a place of unhappiness. She decided to get herself covered in ink after she said she simply "couldn't stand" her own skin anymore. Not liking the appearance of her skin, the grandma turned to body art to cover it, transforming the skin she once hated into a vibrant and unique canvas that resembles a "beautiful meadow."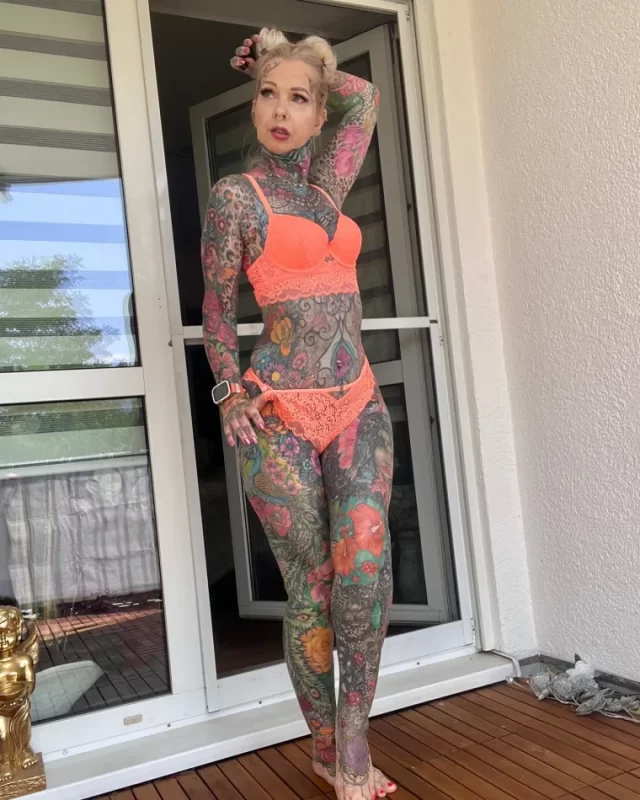 After investing a substantial amount of money to adorn her body with tattoos, Kerstin's inked tapestry includes images of vibrant roses and other flowers gracing her arms and legs while her shoulders are trimmed in a striking leopard print and intricate portraits decorate other parts of her body. The body art served its purpose, propelling Kerstin on an extraordinary journey from self-doubt to self-love.
According to the grandmother, the tattoos not only transformed her appearance but also changed her perspective of her own body, leading her to love her body like never before, the Daily Mail reported. Her newfound confidence is apparent in her social media posts, where she proudly showcases her colorful tattoos and occasionally shares before and after photos with her followers.
While tattoos aren't everyone's cup of tea, Kerstin's unique look has garnered significant attention and a dedicated fan base that showers her with admiration and compliments. In fact, Kerstin's army of followers seems to adore her carefully curated collection of pics that show off her work as they describe her inked body as "a beautiful work of art" and express their awe with comments like, "Wow, stunning photo."
Kerstin seems to share their sentiments, loving her new look. "When I look at myself in the mirror, I see a beautiful meadow full of flowers that one has to love," she said in a candid interview with Hooked on the Look, according to Daily Mail. Her transformation from self-doubt to self-love is encapsulated in this stirring statement, which emphasizes the liberating force of accepting one's genuine self.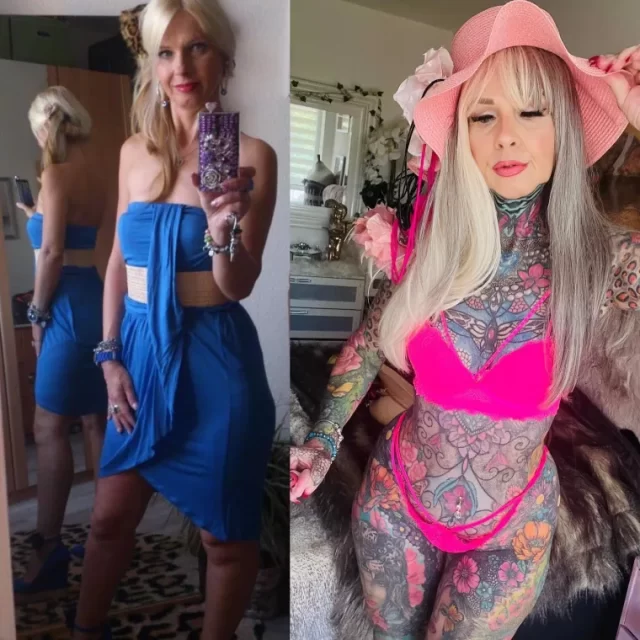 With her dissatisfaction with her own skin's appearance being the catalyst for change, Kerstin now dons images of birds, butterflies, and other animals, along with the flowers, leopard print, and detailed portraits that also cover her body. Indeed, her once-blank canvas is now covered in colorful art from her bold face and neck inkings down to geometric patterns on her feet.
When comparing earlier photographs of Kerstin to her current appearance, a notable difference can be seen. Her contagious smile is still there, but her body has obviously undergone a remarkable transformation, creating a striking contrast between her before and after photos. Where she once bore no tattoos, her now colorful skin stands out in stark opposition to her former self.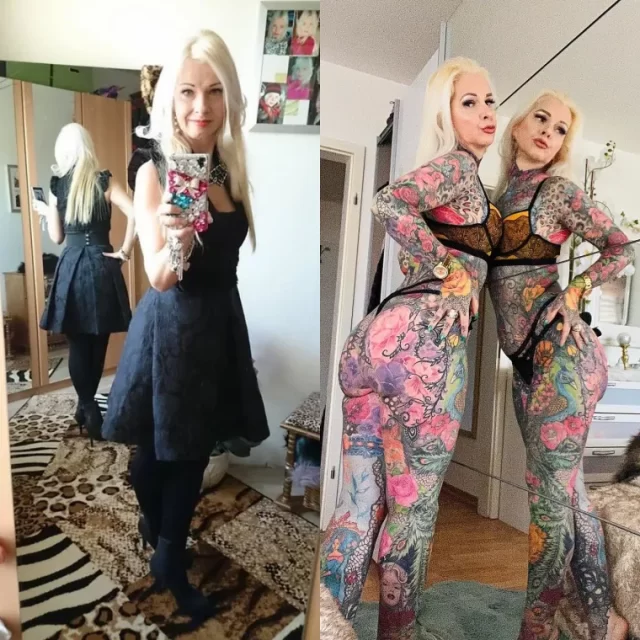 "I simply just wanted to try something new," Kerstin said of her transformation. "We all live just once and I thought that in my age something real has to come," she furthered, explaining her own journey to self-acceptance as she learned to embrace her appearance through tattoos and her personal self-expression.
While her methods might not be for everyone, the grandmother still provides an important and inspiring reminder that should be appreciated by all. The pursuit of personal happiness has no age restrictions. It's never too late to decide to do something that makes you happy, and as long as it brings no harm to anyone else, no one else should care.