One model has repeatedly made headlines after her body was once deemed "perfect" according to science, men, and even other women. After seeing her photos from over a decade ago, it's easy to see why. She's since hit her 40s, and you should see her now.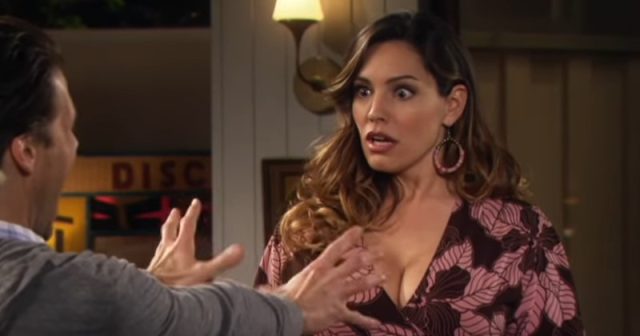 Kelly Ann Parsons, known professionally as Kelly Brook, is an English model, actress, and media personality. While she is known for her modeling work in the United Kingdom, she's known in the United States for her acting roles, including her role as Prudence on the 2015 NBC sitcom "One Big Happy" and for starring in "Piranha 3D." She's also known as the world's "most perfect woman, according to scientists," with her hourglass physique making headlines for over a decade.
In 2011, the public voted and determined that Kelly Brook had the best bikini body of the year, ranking her above the likes of Pippa Middleton and Jennifer Lopez, according to Daily Mail. The outlet added that "since her teens, Kelly Brook has turned heads with her 34-24-34 hourglass figure." Revealing the secret to her perfect frame, the model proudly said that having a "bit of meat" on her bones made her feel sexier. And, sexy, she most certainly is.
In 2016, Kelly Brook's perfect hourglass figure was garnering attention and making headlines yet again with The Sun declaring, "Kelly Brook is STILL the world's most perfect woman, according to scientists." Saying the "Kent lass" was "perfect in almost every way," the outlet explained that researchers at the University of Texas conducted a study that found the Rochester-born model had the "perfect figure" with the perfect height, measurements, and proportions without having ever undergone the knife.
MensXP echoed similar sentiments in 2016, reporting that "The Woman With The Hottest Body In The World Has Been Found." As they say, a photo is worth a thousand words, so let's just share a couple of images that show how strikingly gorgeous the model was in 2016.
Sexy, right? Most would say yes. However, as The Sun reported, the public was shocked that the "curvier" model was deemed perfect because, although it is known that "beauty and perfection are completely cultural and certainly arbitrary concepts, parameters of fashion, the pressure of advertisements, and models [on] TV, have always shown a completely different concept of perfection."
Simply put, the study showed that a body stereotype that women often consider "somewhat plump" actually comes closest to perfection and what would be considered a "harmonious body," the outlet explained. But, has Kelly Brook always been "perfect" by scientific standards? It would seem not since she has admitted that her weight has fluctuated over the years, meaning her measurements likely have as well. That seems evident when we compare a 2002 photo she posted to the ones she posted after hitting her 40s, but she isn't any less beautiful.
Make no mistake, Kelly Brook unashamedly prefers her plump figure. In fact, at 40, the model revealed how her mental health was at its worst when she was at her slimmest, according to Yahoo! News. "I'm a size 10 around my waist but a size 12 around my boobs and bum," the model explained at the time. "That's my healthy, happy size. Some of the skinniest times in my life have been my most miserable," she added. "When I lost my dad in 2007, I was [119 pounds]. I would not want to be in that place again."
Kelly Brook also explained that she's grown more confident with age, worrying less about how she looks and more about her own comfort. "You don't care if your bum looks big – you just want to be comfortable and stylish," she said. "I want to look nice, feel good, and be the best version of myself, but I don't want to look like a 20-year-old, I want to look like a good 40-year-old."
Kelly Brook did admit that, at one point, she got a little too big to feel "healthy or beautiful," but said she felt "sexy" again after dropping two dress sizes. "I crept up to a size 16. When my jeans started to feel tight I thought they'd shrunk in the wash," the model recalled. "I definitely didn't feel my healthiest or most beautiful, and I wanted to feel good again."
Even though she wasn't happy, she said her boyfriend didn't seem to mind her larger size. "He loves me whatever my size. He didn't even notice I'd gained weight. He doesn't care about things like that," she said. "He just likes that I sit down and enjoy eating with him. I'm not one of those girls who pushes a salad around her plate."
Kelly Brook was encouraged to slim down after photographers told the model to "breathe in" as she posed on the red carpet. Although the remark was a bit of a jolt, she was thankful that it motivated her to return to a size that made her feel more healthy. "Well, I'm glad they told me! They actually thought they were doing me a favor, but yeah, it was a bit of a shock," she said.
It's important to note that even when Kelly Brook slimmed down, the beauty queen's dress size was still in the double digits, and looking at her photos, she remained as gorgeous as ever. The point? Women don't need to give themselves eating disorders in an attempt to attain an unreachable and unhealthy standard. Instead, a "little meat on the bones" seems to be ideal, and both science and the world's most perfect woman seem to agree.