When eight-year-old Kayzen Hunter found out his favorite Waffle House waiter and his family were in dire straits living in an old motel room, Kayzen's "extraordinary" action changed the father of two's life in a big way.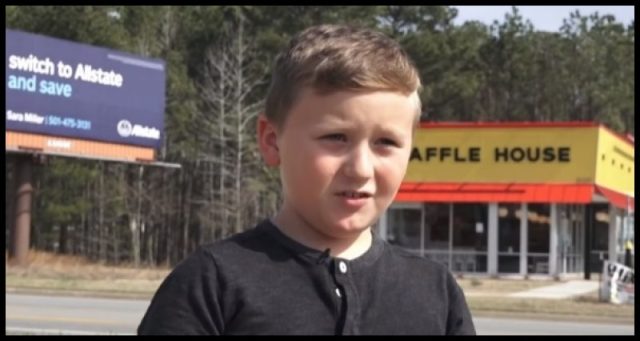 Kayzen Hunter has a ritual of going with his family for breakfast to the Waffle House in Little Rock, Arkansas, and on those trips, he became a friend to waiter Devonte Gardner. Kayzen's mom, Vittoria Hunter, said that her son and Gardner have been friends for over a year, The Blaze reported.
"It was about a year ago when they met. My dad started going and Kayzen would go with him. When he came home, he talked about Devonte and how much he liked him," she said. Devonte, 29, has memorized young Kayzen's favorite meal.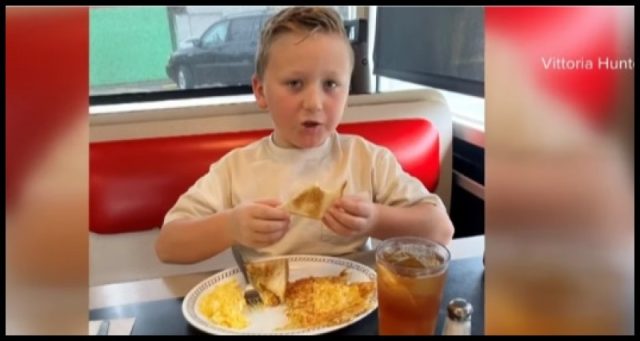 "Every time he comes in, I always give him a high five because that's what he expects," Devonte said. "He's a wonderful kid. He tells me jokes every time he comes in, like, 'Hey, Devonte, I got a joke for you,' and the next thing you know, we're laughing," the waiter explained. During a Waffle House visit a few months ago with his grandfather, John Donofrio, Kayzen said he learned a little more information about Devonte's life.
"Devonte said he wondered if anyone might know where he could buy a cheap car — he'd been having a hard time saving for one," Kayzen said. He and his grandfather learned that Devonte had been walking several miles a day to and from work and was living in a motel room with his wife and two daughters. About eight months earlier, they had to move out of an apartment that was infested with rats and contaminated with black mold.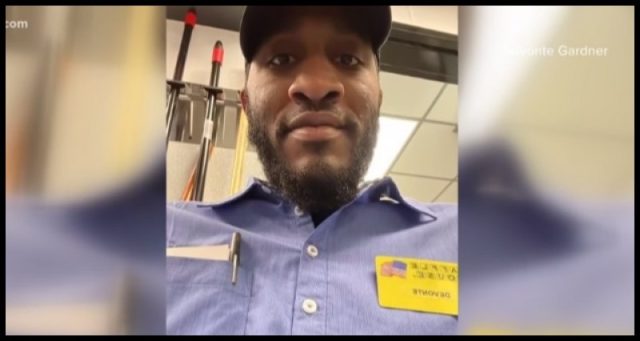 "We wanted to find something affordable, so we moved into a low-income area," Devonte explained. "We just got tired of infestations with rats and roaches and all this black mold. My daughters were getting sick. No heat and things like that. When it was cold outside, we had to bundle up with like four or five blankets in order to stay warm."
According to the Seattle Times, Kayzen was upset that his friend had fallen on hard times, so he went home and told his mom about Devonte's situation. "He kept saying, 'We have to start a GoFundMe and help Devonte get a car,'" Vittoria Hunter recalled. "He didn't give up on it. He's a kid with a big heart."
Kayzen's mom said she agreed to help her son set up a GoFundMe page, with the goal of raising $5,000 toward new wheels for Devonte. "Devonte is one of the most joyous and positive people you've ever met!! He always greets us with the biggest smile," Kayzen wrote in the campaign description. "I hope your heart is as BIG as mine and you will help me spread kindness in the world. Any amount helps!!"
When a local news station found out, donations began to pour in, and the fund soared to more than $100,000 — enough for a car and to pay for an apartment for Devonte's family for the next year, she said. Devonte said he was stunned when he learned what his young customer had done. "I started crying — I'd been quietly struggling and didn't want to ask anybody for anything," he said, explaining that he uses most of his tips to pay his family's $60 per day motel bill.
Devonte Gardner's wife, Aissa Shorter, was hired at a local McDonald's, and they worked opposite shifts so they could care for their daughters, Jade, 3, and Amoura, 2. "We had to give up most of our belongings because of the mold, but we're slowly working our way back," he said.
"I love working at Waffle House because I have an opportunity to make people feel good every day," Devonte added. "I love the people who come in, especially Kayzen. For this little guy to do this out of the kindness of his heart is really humbling."