Joy Behar's critics would say she speaks without thinking, and that's why her "five worst moments" on "The View" have them demanding that she should be fired from the ABC talk show.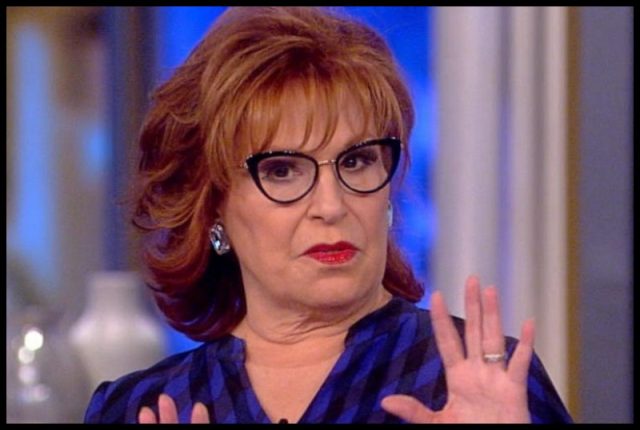 In 1997, Joy Behar was one of the original hosts hired by Barbara Walters and ABC to help launch a new talk show called The View. However, over the years, the former comedian has come under fire for remarks that led to a public backlash from critics who point to her "five worst moments" as evidence of why Behar has got to go.
#1 Joy Behar allegedly wore blackface.
One of the most significant controversies involving Joy Behar happened during an episode in 2016. Behar proudly showed a photo of herself dressed as "a beautiful African woman." Her co-host Raven-Symoné, who is African-American, seemed shocked by the image, asking Behar to confirm if she was, in fact, wearing blackface. Behar admitted that she had on makeup that was "darker than my skin," she said.
Joy Behar admitted during a taping of The View in 2016 to dressing as a "beautiful African women" at a Halloween party when she was 29 which involved makeup "that was a little bit darker than my skin"

The show even ran an image of the old photo pic.twitter.com/qKQqzDPxyn

— Jon Levine (@LevineJonathan) February 6, 2019
Later that year, Donald Trump Jr. made an appearance on The View and used the incident as ammunition in a debate with Behar about cancel culture. "We've all done things that we regret," Trump Jr. said. "I mean, if we're talking about bringing a discourse down, Joy, you've worn blackface." Behar's co-host Whoopi Goldberg jumped in to defend her from the accusation, telling the then-president's son, "She was not in blackface. Being Black, I recognize blackface — this I can say." Trump Jr. later tweeted the photo in question, saying, "Here's the picture of @TheView's Joy Behar in blackface. #FactsFirst."
#2 Joy Behar called Bill Clinton's alleged accusers "tramps."
The "fire Joy Behar" campaign really got going in 2016 during the presidential election after Donald Trump, who was then a candidate, made the bold move to invite several women who accused former President Bill Clinton of sexual misconduct to his debate with Hillary Clinton. Behar became incensed when it was suggested Hillary missed the opportunity to apologize to the accusers. "I would like to apologize to those tramps that have slept with my husband," Behar said sarcastically. "Maybe she should have said that."
Joy Behar @JoyVBehar calls rape victims "tramps" on #TheView & everyone laughs. So much for #DayoftheGirl huh?#MAGA pic.twitter.com/yslt5c9mNS

— Alana Mastrangelo (@ARmastrangelo) October 11, 2016
The backlash was brutal as many took to social media, taking issue with Behar describing women who say they were raped as "tramps." It especially offended Bill Clinton's alleged victims themselves. According to the Washinton Times, Juanita Broaddrick, who has accused Bill Clinton of rape, tweeted in part, "shame on you Joy — shame on you." But that's not all. An entire Facebook page called "Fire Joy Behar" was launched over the "tramps" remark.
#3 Joy Behar said Mike Pence hearing Jesus was a mental illness.
According to Deadline, during an episode of The View in 2018, while referring to the then-vice-president, Joy Behar claimed Mike Pence's Christian beliefs were some sort of mental illness. "It's one thing to talk to Jesus. It's another thing when Jesus talks to you," Behar said. "That's called mental illness — if I'm not correct — hearing voices." This time the public outcry reached ABC, and it couldn't be ignored. Behar apologized to Pence via a private phone call and on live TV.  Pence later said, "To have ABC maintain a broadcast forum that compared Christianity to mental illness is just wrong," and he described Behar's comment as "religious intolerance."
'The View' star Joy Behar mocks Vice President Mike Pence's Christian faith. @TomiLahren reacts on @foxandfriends. pic.twitter.com/zQtfZOqeM6

— Ainsley Earhardt (@ainsleyearhardt) February 14, 2018
#4 Joy Behar spreads a false news report about Gen Mike Flynn.
In 2017, Behar delivered a breaking news report on The View about former National Security Advisor Michael Flynn, claiming he was going to testify "against" then-President Donald Trump. "Michael Flynn promised full cooperation to the Muller team" Behar began. "And is prepared to testify that, as a candidate, Donald Trump directed him to make contact with the Russians. Yes!" she shouted, tossing the cue card into the air in celebration.
The truth was Gen Flynn did not testify against Trump, and to make matters worse, as the president-elect, not a "candidate," Trump had done nothing wrong. "ABC News later issued a 'clarification' that stated Trump had told Flynn to speak to Russia after the former real estate mogul won the election," NBC News reported. "Joy Behar Explodes With Joy On False Report Flynn Would Testify Against Trump," read the Real Clear Politics headline. "The View quietly deleted a tweet peddling fake news about the Michael Flynn plea deal after the liberal women's talk show was widely panned," The Blaze reported.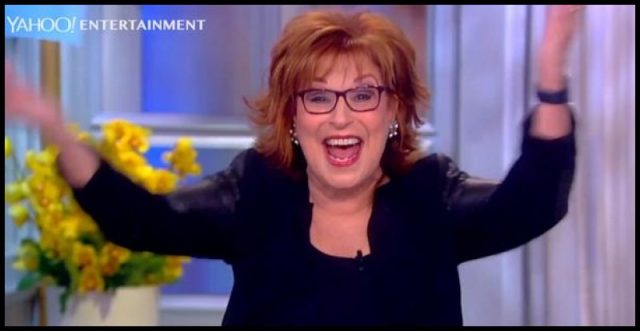 #5 Joy Behar claimed the war in Ukraine messed up her vacation plans.
During an episode in 2022, while discussing the possible fallout from the war in Ukraine, Joy Behar's remarks led to a huge backlash. "I'm scared of what's gonna happen in Western Europe too. You know?" she said. "You plan a trip, you wanna go there. I've wanted go to Italy for four years, and I haven't been able to make it because of the pandemic, and now this. It's like, what's gonna happen there too?" she whined.
"Joy Behar moans Russia-Ukraine war is making her vacation plans uncertain," headlined the New York Post, while Fox News went with "Joy Behar complains Russia-Ukraine war making her European vacation plans uncertain." The vacation remarks also went viral with public outrage coming from liberals and conservatives alike. However, even though the veteran celebrity makes headlines time and time again with public demands she should be fired, thus far those in charge at ABC/Disney keep Joy Behar as one of the hosts of The View.