As a lonely veteran was living out his final days on hospice care, the hospital asked him if he had a last wish. When he made his simple request, there wasn't a dry eye in the room.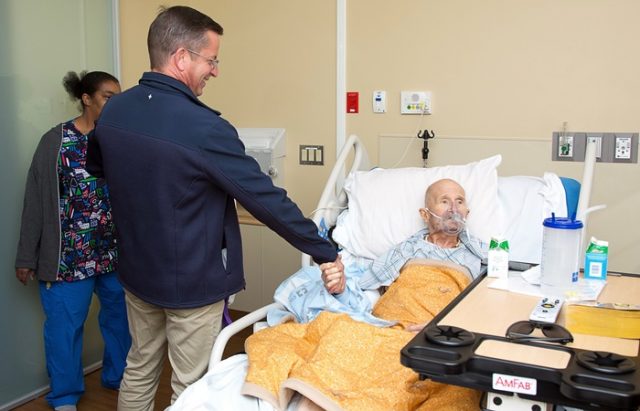 Although 69-year-old John Vincent didn't have an easy road, he definitely lived life to the fullest. As a Marine serving in Vietnam, he learned to take whatever fate threw at him. However, when the time came for him to depart this world, he found himself all alone in a New Mexico hospital.
While receiving palliative care at Raymond G. Murphy Veterans Affairs Medical Center, a social worker asked him if he had any final requests before he passed on. He could've asked to meet a celebrity, go sky-diving, or travel to a destination he's never seen. Instead, his humble request left everyone in awe.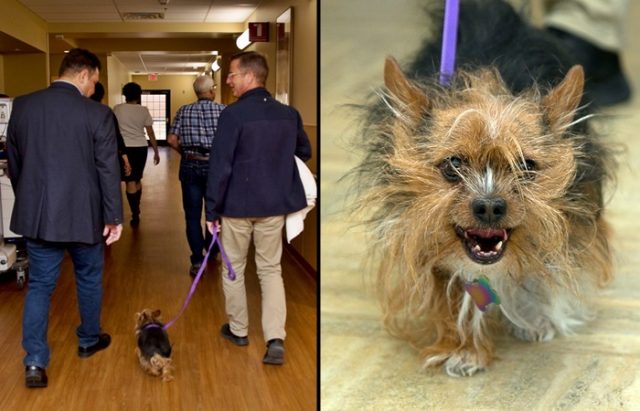 When asked what wish hospice care could fulfill for him, Vincent said that the only thing he wanted was to see his little dog one last time. He explained that when he was admitted into the hospital, he had to give up his Yorkshire terrier named Patch. Without hesitation, the caretakers contacted the Albuquerque Animal Welfare Department to find out what had happened to the little Yorkie, Today reports.
"We ended up with his dog because he didn't have any family here," Danny Nevarez, the director of the department, said. When they heard Vincent wanted to see the dog "one last time," Nevarez and his team took action.
When the caretakers explained the situation, the organization was determined to get the dog to Vincent. Unsure of how much time he'd have left, Nevarez drove the pooch himself to the medical center.
"It wasn't even a second thought," he said. "Everyone jumped on it and was like, 'Tell us where to go and when to be there.'"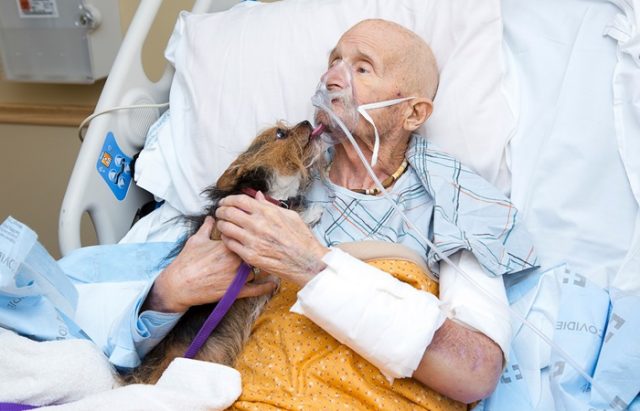 Nevarez said that it was almost as if the dog knew it would be his last time seeing his beloved owner. Despite being silent the whole trip, Patch suddenly perked up when they turned the corner to enter the hospital parking lot.
"It's almost like he knew, he just started whimpering," he said. "Like he had that anticipation."
When Nevarez entered the hospital room with Patch, Vincent's eyes lit up. The dog was placed on the veteran's bed, and the pair shared an emotional reunion.
"Yeah, that's me, that's daddy," Vincent cooed as Patch licked his face and neck. "Are you so happy to see me? I'm so happy to see you."
Vincent explained that he adopted Patch because he was the smallest out of the litter. The tiny dog would ride with Vincent on his motorcycle and even had his own pair of miniature goggles, the Albuquerque Journal reports.
"He was the smallest, and I wanted one that could ride on my bike," Vincent said. "The only hair I had was on my chin, which was called a patch. … And he had a little white patch, so we were the patch brothers."
Patch stayed by Vincent's side for the entirety of the visit. With his wish and his hope of saying goodbye to an old friend fulfilled, Vincent was completely satisfied to live out the remainder of his time.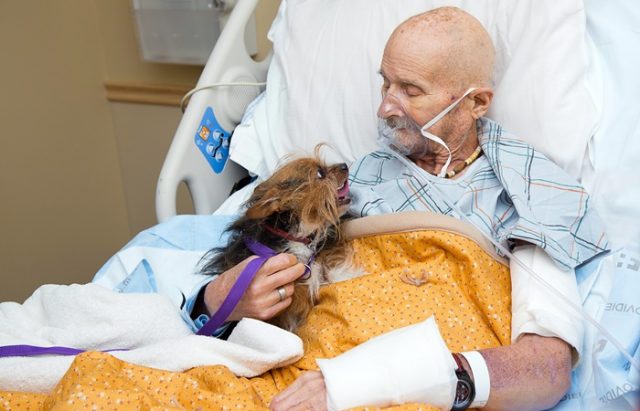 Immediately following the visit, Patch was adopted by a long-time animal welfare volunteer and fellow military veteran. The new owner vowed to make sure Patch is by John Vincent's side when he dies because, as he says, "No brother should leave this world alone."
The companionship that man's best friend provides is truly a life-changing experience. Thankfully, there were people around this precious veteran who understood just how important this friendship was to him. Now, he can finally rest in peace.