A Washington state homeowner found himself in a position no one ever wants to be in. During the early morning hours, intruders attempted to make their way into his home — but they didn't get far. Instead, the homeowner shot and killed one of them. Although he admitted it was "unfortunate," he had a message for anyone else who might consider doing the same.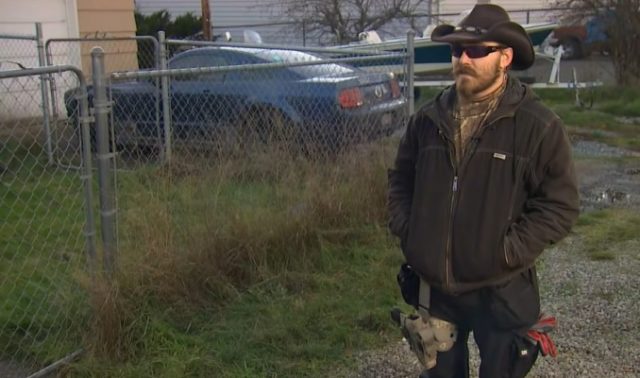 Jeremy Smith, a 31-year-old Washington state homeowner, was alerted to a potential break-in when two men kicked down his back door, trying to get into his Spanaway home on a Thursday morning. Jeremy called the police at about 4:20 am to inform them about an attempted burglary, Pierce County Sheriff's Department spokesperson Darren Moss said. By the time officers arrived, however, one man was dead.
While speaking with the dispatcher, Jeremy explained that the two men had kicked down his door in an apparent attempt to enter his home. Rather than let the intruders make their way inside, the homeowner said he had armed himself and fired his own gun at the two suspects, KING-5 News reported. Unfortunately for at least one of the intruders, Jeremy had good aim.
When the police arrived at the home near A Street E and 165th Street E., they found a 24-year-old man in the homeowner's front yard. He was deceased, having died from a gunshot wound after the homeowner fired at the two intruders, killing one of them. Authorities checked the surrounding area for the second suspect but were unable to locate them.
Speaking to KING-TV about the incident, Jeremy said, "I took action upon that, which was, unfortunately taking one life, and the other one ran." Although he called the incident unfortunate, Jeremy also sent a pretty bold message to anyone ever considering a home invasion, reminding would-be intruders that homeowners have the right to defend not only themselves but their property too.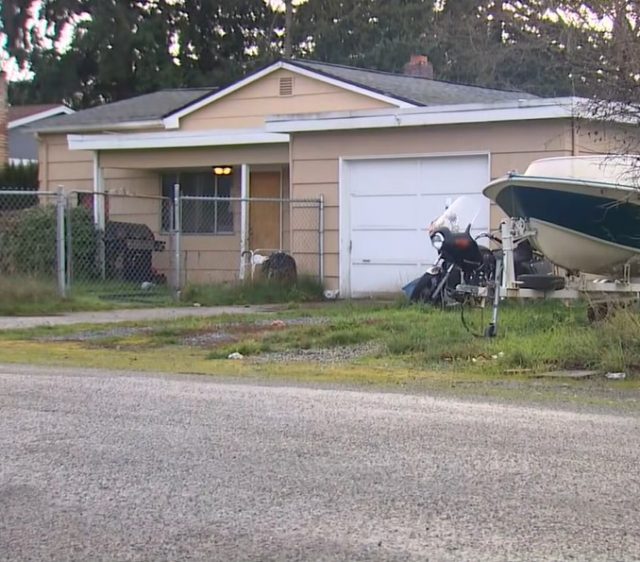 "I have the right to carry, and I have the right to protect myself, and I have the right to protect my property," Jeremy explained. "I don't know what they wanted out of this house, I don't know what they were doing, but I don't care," he added. And, he's right. When someone is kicking in your door, you shouldn't have to stop to ask what they might want or how you can help them.
While most gun owners agree and say they would do the same, Jeremy was quick to admit that you never know what you will actually do until you are in such a situation. "You get to talk about it a lot with your friends, or you get to talk about it with your family and go, 'yeah, we all carry,' but you know, or, 'this is what I would do,' or, 'this is what you would do,' but it's way different when it actually happens," he said.
Homicide Investigation in Spanaway. This morning a homeowner shot at 2 suspects breaking into his house near A St E and 165th St E. One of the suspects died from his injuries, the other suspect is not in custody. Detectives and Forensic Investigators are on scene. pic.twitter.com/BBeX1wnbp6

— Pierce Co Sheriff (@PierceSheriff) December 9, 2021
No arrests were immediately made, but officials said the incident would be investigated as a homicide. However, authorities added that, through the investigation, they may find that the homeowner was acting in self-defense. Meanwhile, they were also seeking the second suspect in the incident after he fled the scene and was still at large. It was unclear whether the second suspect was injured.
Jeremy Smith, who was not injured, says he was justified in defending himself and his family, and if his recollection of events is true, I'd have to agree. People who are willing to kick down doors at 4 in the morning probably don't have good intentions — and an innocent homeowner shouldn't have to wait to find out just how far the intruder is willing to go. Personally, I'd rather write about a dead home intruder than a dead or even injured homeowner who may have hesitated to defend themselves. So, here's to a story with what I would call a happy ending.