James Woods was blown away after one of his fans described how the veteran actor had saved his life. "You have moved me to tears," Woods declared.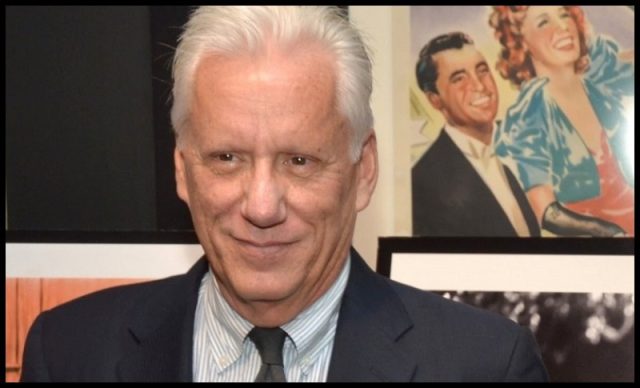 James Woods loves to interact with his fans. However, the conservative celebrity has made it clear that the only social media platforms he uses are Twitter and Instagram. "Any other social media account using my name is a fake," the Onion Field star states on his Twitter profile.
One fan felt the need to thank the actor and decided to reveal a very personal story. Woods boasts 2.9 million followers on Twitter, and the chances that the Salvador star would let alone see this man's post or respond to it were slim at best. But one thing Woods is known for is really making an attempt to engage with his fans on his social media accounts, and this man's post couldn't be ignored.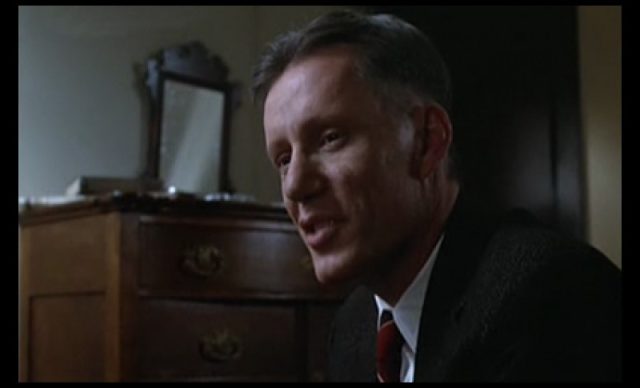 "What @RealJamesWoods does not know, is that 31 years ago, he had a hand in saving my life," the fan wrote. "His portrayal of Bill W. had stuck with me and when I finally had enough, I got sober. Mr. Woods and James Garner (RIP) are the two whose hands I'd shake." 
Woods was overcome with emotion. "This post moves me more than I can express," he replied. "Jim (actor James Garner) and I invested such passion in that project, because we knew what was on the line. To have been even incrementally responsible for saving a single life through my work is worth a thousand Oscars. You have moved me to tears."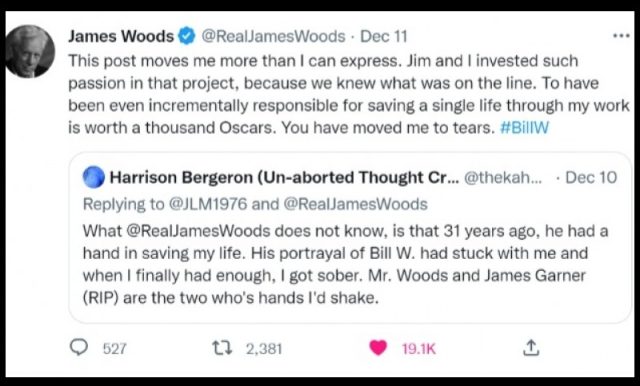 The fan is referring to the 1989 CBS Hallmark Hall of Fame made-for-television drama film titled My Name Is Bill W. It's based on the true story of stockbroker William Griffith Wilson, a World War I veteran whose drinking problem becomes a serious addiction and also loses his fortune in the stock market collapse of 1929.
Bill W's career and his domestic life are in tatters when he meets Robert Holbrook Smith (played by James Garner), also struggling with a drinking problem. The duo founded a support group that became the nucleus for the society of Alcoholics Anonymous. Woods won an Emmy for Outstanding Lead Actor in this role.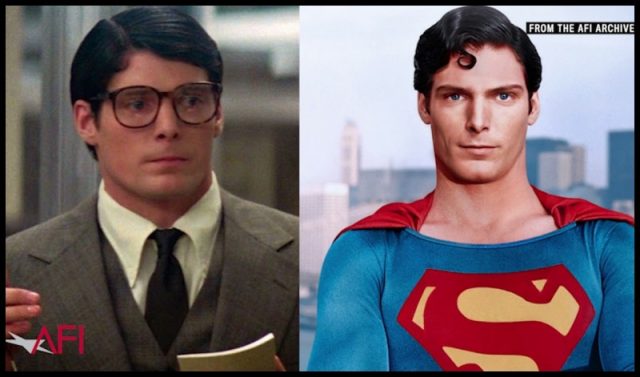 The other thing Woods loves to engage in on social media is giving his fans a behind the scene look into his career, like his friendship with actor Christopher Reeves. "At the very beginning of our careers, Christopher Reeve and I were friends with a bunch of now well-known actors," he wrote. "Chris was undoubtedly the sweetest and most modest of the gang. Considering his astonishing good looks and success, Chris was the most self-effacing star I ever met."
As a longtime conservative, James Woods returned to Twitter after being suspended in 2018 and 2020. According to the investigation launched by Elon Musk into the platform's practices, Woods was targeted by the employees of former Twitter CEO Jack Dorsey.
However, the news about being blacklisted on Twitter didn't get James Woods down for too long. "Ironically the same day I learned the government and Twitter colluded to suppress conservative voices, including mine, I had some great news," he posted. "I was approved as a Son of the American Revolution. My heritage descends directly from a Revolutionary War patriot. I am deeply honored."
The Oscar-nominated actor also shared personal information about his father with his fans. "My beloved father fought in the Pacific in World War II," Woods declared. "He, like so many other civilian warriors, took up arms in the war against Imperial Japan. The tragedy of Pearl Harbor led ultimately to the greatest triumph in world history." The actor's father, Gail Peyton Woods, was an Army Intelligence Officer who died in 1960.