James Woods isn't afraid to tell you exactly what he is thinking, and when it comes to Meghan Markle and Prince Harry, the veteran actor isn't a fan. In fact, Woods wasn't holding back when he sounded off on the couple in a big way, which he has done repeatedly.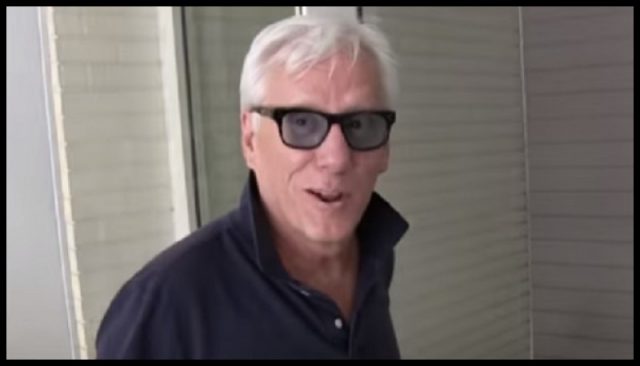 When James Woods isn't playing poker in a high-stakes tournament, the Oscar-nominated actor spends time posting to his Twitter account which has millions of followers. With such a large audience, anything Woods posts on social media usually gets attention, and that's what happened when he sounded off on Meghan Markle and Harry.
One meme posted by Woods that went viral shows The Beatles singer John Lennon and his wife Yoko Ono watching as a maid makes their bed. The meme includes the words, "John and Yoko waiting for the maid to make the bed so they can continue protesting against the system, 1969." Alongside the meme, Woods wrote, "Meghan and Harry. Fixed it for you." This is his way of implying that Meghan and Harry are the new John and Yoko.
Meghan and Harry. Fixed it for you. pic.twitter.com/l4ccvUYMod

— James Woods (@RealJamesWoods) April 27, 2020
Yoko Ono is infamous for her part in breaking up the legendary British rock band in 1970, and James Woods is making a couple of points with this meme. He is alluding to Meghan being the new Yoko, influencing Harry to step down as a royal along with moving the family to her home state of California. Royal watchers say this caused a big breakdown in the British Royal Family.
Woods is also mocking the married couple for the way they carry out their activism. Similar to John and Yoko having a maid make their bed while they protest against the system, Meghan and Harry have been criticized for lecturing people on their carbon footprint while they take private jets. However, this wasn't the only time the longtime actor weighed in on the celebrity duo.
Prince Harry and Meghan Markle take private jet after climate change event https://t.co/pDG5vuwXO2 pic.twitter.com/zx22bfTasU

— Page Six (@PageSix) September 27, 2021
James Woods also has a running theme when he takes to social media to sound off about Meghan and Harry. According to Woods, it's Meghan Markle who wears the pants in the family. When it was reported that the couple was looking to buy a waterfront mansion along the pricey coastline of California, Woods once again weighed in.
"Prince Harry, Meghan Markle eyeing $7M Malibu mansion once owned by David Charvet," read the headline, which Woods shared on Twitter with the comment, "If you're going to spend your life being a purse holder, might as well have a water view."
If you're going to spend your life being a purse holder, might as well have a water view. https://t.co/9M7DKWKRJ3

— James Woods (@RealJamesWoods) February 22, 2020
James Woods also had something to say about the rumor that Meghan Markle was looking to run for president of the United States. The rumor first caught the attention of most tabloids when British author Lady Colin Campbell made the claim she contributed to Meghan's inner circle.
Markle's rumored political aspirations also caught the attention of Joe Biden's sister, who invited the former TV actress to "join the Democratic Party" and potentially run for president. Woods caused quite a ruckus on Twitter with his take on that. "Why ruin one country, when you can ruin two? #Doubleheader," the actor posted.
Why ruin one country, when you can ruin two? #Doubleheader https://t.co/2qgyCfzpzj

— James Woods (@RealJamesWoods) June 22, 2020
Even former Fox News host Megyn Kelly was flabbergasted by the claim Meghan was looking to run for the highest office in the land. "Miss 'I want privacy' wants to run for president?" Kelly said. "She's the same girl she was when she was back up girl number four for Howie Mandel when she showed us she can open suitcases very well but has she ever opened a campaign? Has she ever opened an office? Has she ever signed the front of a paycheck instead of the back of one?"
Like Megyn Kelly, James Woods has also critiqued many aspects of Meghan and Harry's life. In fact, some say the seasoned actor saw the future for Harry when he weighed in on the couple's relationship when they were still newlyweds and implied Harry would give up his royal duties. "The moment you chose to go from prince to talent manager," Woods tweeted, along with a picture of Harry looking rather upset.
The moment you realize you chose to go from prince to talent manager… pic.twitter.com/ktChln63xP

— James Woods (@RealJamesWoods) March 8, 2020
British journalist Piers Morgan is another celebrity who isn't a fan of the activist couple. "Harry and Meghan have become the royal Kardashians, only a slightly trashier version if that was even possible," Morgan said. "[They are] a pair of shameless chancers."
The Brit reporter's tirade summed up the feelings of many Americans and citizens of the U.K. "[Meghan and Harry's] only thought each day is how to fleece and exploit their royal titles ever more cynically," Morgan added. "While simultaneously trashing the royal family and monarchy to which they owe their status — and playing the downtrodden, oppressed victims from their $11 million California mansion."