Actor James Woods was celebrating after he said Joy Behar got "sucker-punched" by a guest during an episode of The View.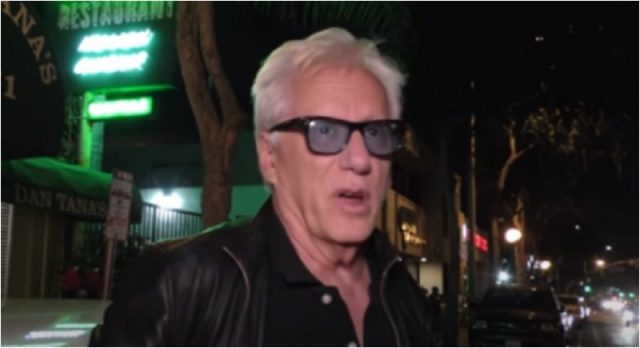 James Woods is a "loud and proud" conservative, making no apologies for his opinions. The veteran actor primarily uses Twitter to get his message out to the public, where he was vocal over an incident that happened when Kimberly Klacik, an African-American politician and businesswoman, took Joy Behar to task during an episode of The View.
"I'm the least likely person to watch The View (though Whoopi is a dear friend and nothing could ever change that, even politics), but this clip alone is worth its weight in gold. Watching @kimKBaltimore sucker punch Joy 'BlackFace' Behar is priceless!!!" Woods posted on Twitter.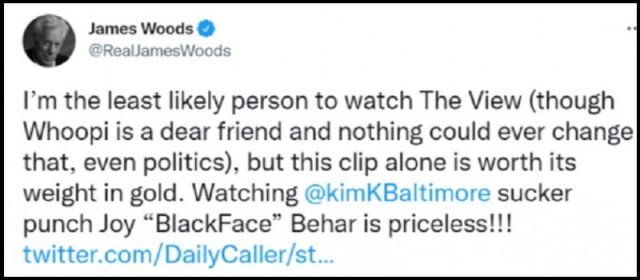 Joy Behar and Sunny Hostin were like a tag team during the Kimberly Klacik interview. Right off the bat, both Behar and Hostin disagreed with the African-American businesswoman from Maryland. Hostin was upset that Klacik did not support the Black Lives Matter movement. Klacik, who is from Baltimore, claimed that BLM was "hijacked" by those who "go into cities with the intent to burn and to loot."
When Behar got her turn to question Klacik, she went on the offensive. However, the Baltimore native fired back. "Is this the same Joy that paraded around in blackface not too long ago?" quipped Klacik. That caused Behar to momentarily lose her cool. "Excuse me! Excuse me! That's not true. The Black community had my back, they know that was not blackface, that was homage," Behar responded.
"They know that that was not blackface," Klacik said. "That was an homage? Oh, please! The Black community has my back as well." An annoyed Behar once again denied that her long-ago, much-discussed Halloween party get-up was blackface, calling it "homage," again. That's when Sunny Hostin jumped in to the discussion. "The Black community has your back? The Black community has your back?" Hostin said. "What planet are you living on?"
The African-American businesswoman tried to respond. "Sunny, can I speak? Can I speak, or are you just going to scream over me?" Klacik said. Behar then cuts the interview short, causing Klacik to respond, "That's been very immature, but thank you for having me." Later, the Baltimore native posted on Twitter, writing, "The ladies of @TheView didn't like what I had to say, so naturally they cut me off. Why are they silencing Black Women? Hey, @JoyVBehar — I think your White Privilege is showing through your blackface!"
James Woods also knows only too well how having strong opinions can affect one's life. "James Woods, the Oscar-nominated actor, and outspoken Hollywood conservative said he has been dropped by his longtime talent agent, Ken Kaplan, over his politics," The Wrap reported.
The news was first revealed by the Emmy-winning actor himself on Twitter, who shared an email he said he received from Kaplan. "It's the 4th of July and I'm feeling patriotic. I don't want to represent you anymore. I mean I could go on a rant but you know what I'd say," said Kaplan.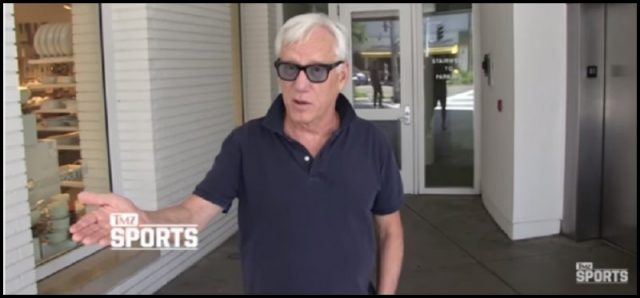 The vocal actor posted his response on social media. "Dear Ken, I don't actually," said Woods. "I was thinking if you're feeling patriotic, you would appreciate free speech and one's right to think as an individual. Be that as it may, I want to thank you for all your hard work and devotion on my behalf. Be well."
Woods has also taken a stance against Twitter in the past over "censorship." Twitter apparently suspended the veteran actor's account, claiming that a long-ago post that included a "meme" was against their terms and saying it "has the potential to be misleading in a way that could impact an election."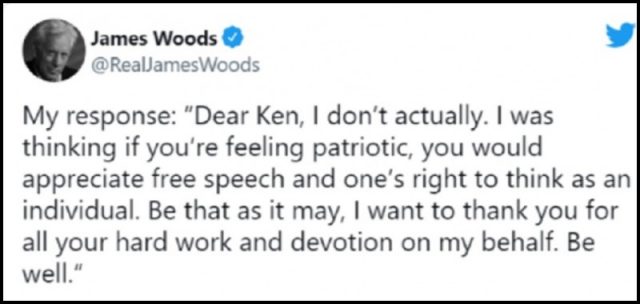 In an exclusive interview with The Associated Press, James Woods said this meant he would be allowed back on Twitter only if he decided to do what Twitter said and acceded to the social platform's concept of free speech — not the right to free speech outlined in the Constitution.
"Free speech is free speech — it's not Jack Dorsey's version of free speech," Woods said, referring to Twitter CEO Jack Dorsey. "[H]aving your voice smothered is much more disturbing than having your vocal cords slit," Woods added. "If you want to kill my free speech, man up and slit my throat with a knife, don't smother me with a pillow."