Early in the morning, a group of armed men entered a gas station and pointed a gun near a man with a bag of groceries. They quickly found out the customer they were holding up is a Marine who doesn't "mess around."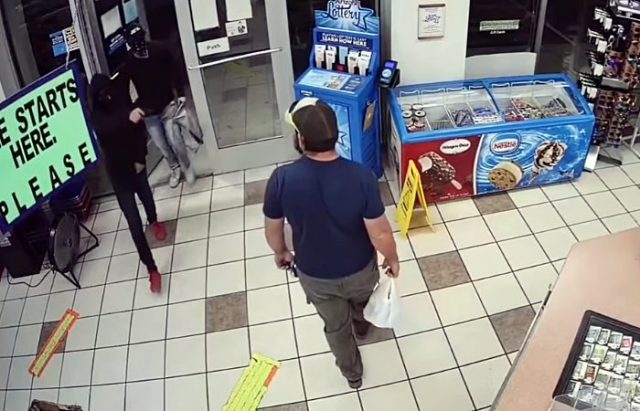 Surveillance video footage released by the Yuma County Sheriff's Department captured the heart-pounding moment a group of armed robbers came face-to-face with James Kilcer, a no-nonsense Marine veteran, WLS-TV reports. The dramatic encounter lasted just a few seconds, making the confrontation even more incredible.
As the old saying goes, "Once a Marine, always a Marine." So, when the Marine veteran was shopping at a convenience store in Arizona, he was just as aware of his commitment to his fellow countrymen as he was during active duty. However, threats are reserved to enemy territory.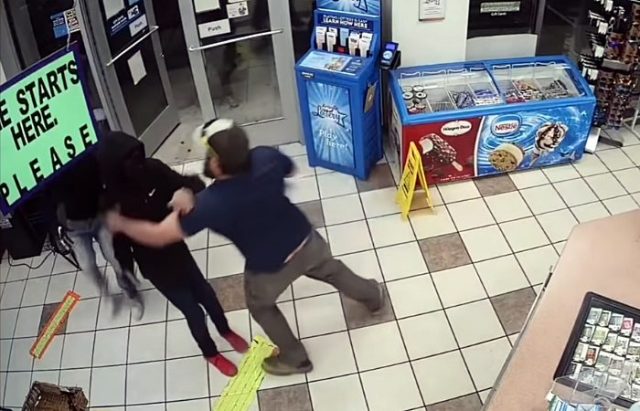 Police confirmed in a press release that three suspects, one of whom was armed with a loaded handgun, walked into the Chevron on Frontage Road. The armed assailant entered first and aimed his pistol at the cashier, intending to rob the store.
What he and his accomplices didn't realize was that they shouldn't have discounted the man with a sack of groceries standing just feet away. Within an instant, Kilcer swipes his left arm, knocking the gunman's extended arm and pistol down to the side. The Marine then smashes his grocery bag in the suspect's head as he takes him to the ground.
The pair scuffled for a moment while the second suspect scrambled out the door, abandoning his partner. A third masked suspect can be seen peering through the doorway as the scene unfolds before deciding against entering the store, choosing to flee as well.
"The other two suspects fled the area when they witnessed their fellow criminal stopped. The customer was able to detain the suspect he disarmed until law enforcement arrived," the YCSO said in the press release.
Police confirmed that Kilcer detained the gunman at the scene until officers arrived and took him into custody. The suspect is a juvenile and was booked at the Yuma County Juvenile Justice Center on charges of armed robbery and aggravated assault.
When Deputies contacted the customer, who previously served in the United States Marine Corps, and asked how he was able to take control of the situation, he stated, "The Marine Corps taught me not to [mess] around."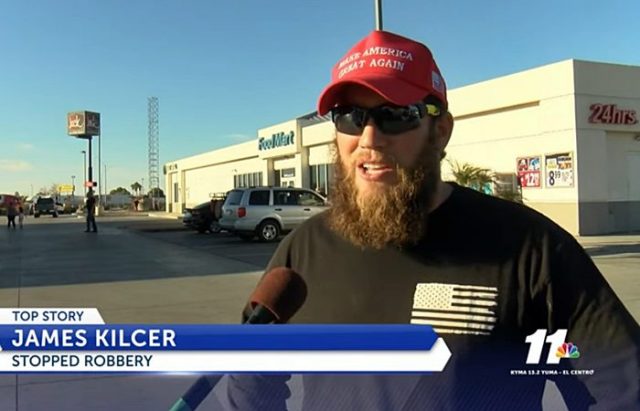 Kilcer later told KYMA that he didn't believe the firearm was real at first. It wasn't until he took the gun away from the suspect that he realized not only was it real but it was also loaded.
"I saw the gun and my first kind of thought in the back of my head was, 'That's an awfully small barrel — It might be a bb gun or airsoft or something,'" he said. "The gun felt plastic. All I felt was plastic. Nothing moved and the trigger didn't go off. I thought it was just a toy gun, toy airsoft or something that didn't have anything in it. I eventually put enough force on it to where it opens up and I feel the casing hit my hand and I knew it was a real gun at that point."
When asked if he would do it all over again, Kilcer explained that there's no other acceptable response. As he sees it, citizens have a duty of care to their community.
"Oh, yeah, in a heartbeat. You have to do it. I would like to think more people would do it. We're responsible for our own communities and we should be ready to do that stuff," he said.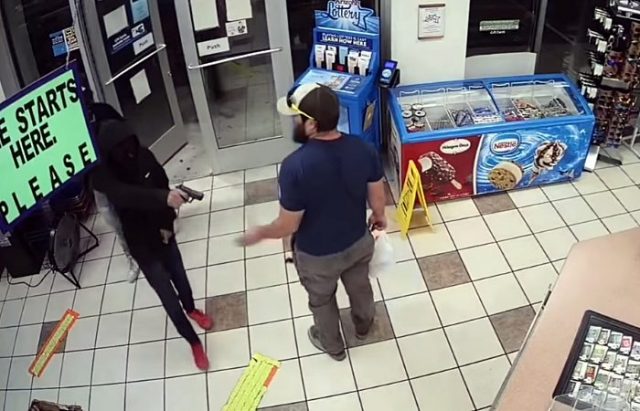 Kilcer is understandably being hailed a hero for his courageous efforts. Of course, this is the mark of a true Marine, regardless of whether he is actively serving the military or simply picking up some groceries at a convenience store.
While this store was lucky to have a Marine in its midst during an armed robbery, most of us aren't as fortunate. So, for the layman, appropriate use of the Second Amendment can mean the difference between life and death.