After an SUV was broadsided in Chicago at night, a group rushed the wrecked vehicle with hammers and bats as a mother cried out for her baby from inside the wreckage. The dramatic moment was all caught on video.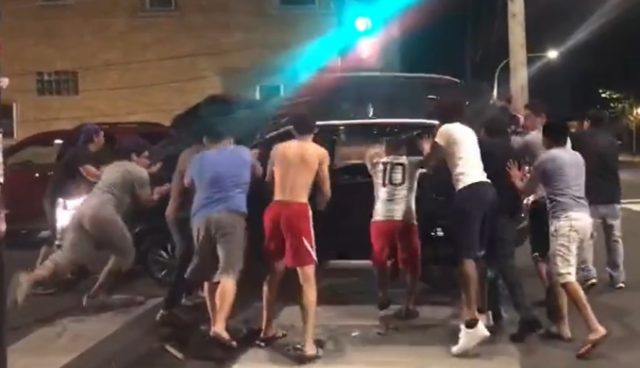 Isaac Terrazas was one of many residents of the Gage Park section of Lawndale who didn't hesitate to rush an SUV when it was flipped over during a car crash in Chicago, Illinois, CBS reported. After a speeding van ran a red light and broadsided the vehicle at the busy intersection of 51st and Lawndale, the SUV flipped over, trapping a family inside and leaving them at the mercy of passersby.
Thankfully, Terrazas and roughly a dozen others didn't hesitate to jump in and help, even though they were a bit shaken up themselves. "Adrenaline, fear. My legs were shaking so bad, yeah, fear," Terrazas said, describing how he felt during the dramatic moment he and others rushed the flipped-over SUV to rescue the family that was trapped inside. "I was scared for them," Terrazas admitted.
"We didn't know if anybody else [besides the driver] was in there, so we decided to flip it over. And, we made sure on the other side no one would get crushed," recalled Terrazas, who's seen wearing red shorts and no shirt in the dramatic footage. As Terrazas, his stepdad, and others got closer, they soon realized the driver of the SUV wasn't alone.
"I heard the mom crying and asking where her baby was," Terrazas said, recounting the screams that forced him and others into action. Using their bare hands, neighbors rushed to help free the trapped family as they pushed the SUV upright, back onto its wheels. And, the dramatic moment the neighbors rushed to help free the trapped family was all caught on video.
As neighbors realized there was a child, strapped in a car seat and crying in the backseat of the SUV, they leaped into action. "As soon as we found it was a little child in there, that was the turning point," James Nass IV explained. "We definitely needed to do something because the fire department was five minutes away," he added.
The good Samaritans grabbed anything they could to help clear the way. Using hammers and bats, they smashed the windows, hoping to rescue the family trapped inside, Daily Mail reported. "Hammers or bats, whatever they could just to break the windows to get them out," Nass said, describing the desperate rescue efforts of the group of neighbors, who say that particular intersection is busy and they're used to seeing accidents.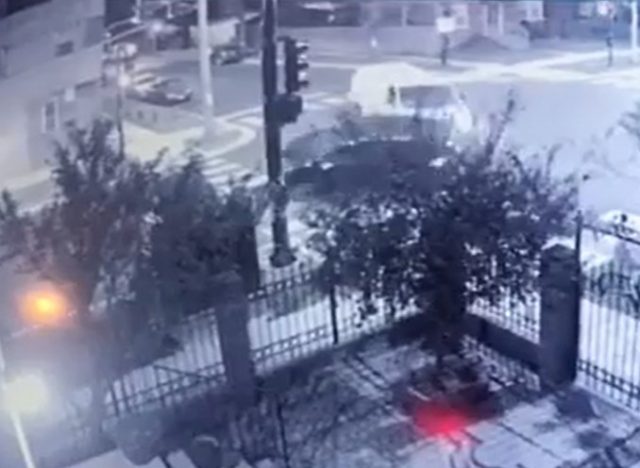 Moments before neighbors came upon the SUV, it lost control after being sideswiped by a van. According to the Chicago Police Department, the van ran a red light, struck the SUV, and caused it to flip twice. The van never stopped, leaving the family in danger as they were trapped inside the SUV when it came to a stop on its roof in the middle of the road.
Although the driver of the van committed a hit-and-run, which was captured on surveillance video from the area, police say everyone in the SUV, including the young child, was in good condition. And, it's all thanks to how this community rushed to help strangers in need, determined to save a life.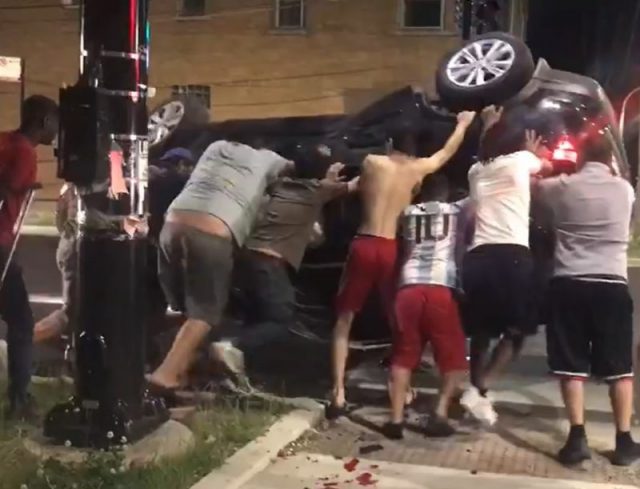 The actions of these good Samaritans show what we can do when we work together for the greater good. "It didn't matter what race we were, how old we were," Isaac Terrazas said. "We're all just humans, and we all helped, and that little act there shows we can come together and do something," he added. Indeed, there is a lot of good in this seemingly evil world. We just have to look for it.
We could see this story and only see the ruthless van driver, who struck a family and then left them, having complete disregard for other humans and their lives. Or, we could focus on the neighbors, who joined forces and rushed without hesitation to help. People of all colors worked together without skin color ever even crossing their minds. All they cared about was helping their fellow man, and that's a beautiful thing.