A thug decided to steal a veteran's flag after seeing him saluting it each day. The thief walked up to rip down the flag, thinking the veteran couldn't do anything since he was blind. They had no idea they had just made a very big mistake.
Howard Banks, a 92-year-old World War II veteran who's legally blind, flies Old Glory outside of his Kaufman, Texas home. Having been blinded by a flare during his service to his country, one would think people would leave the old man alone to live out his years in peace, but sadly, that's not the case. Years after serving during wartime, he's still defending our flag.
Sadly, our flag has become a symbol of controversy and division, and someone took issue with Banks flying the American and Marine Corps flags outside of his home — more than once. While there are those who believe the flag represents all the good and freedoms our country has to offer and fly it with pride in honor of those who served to defend it, others feel America has failed to provide liberty and justice for all. The latter takes issue with the symbol of our great nation and refuse to honor the emblem of our country.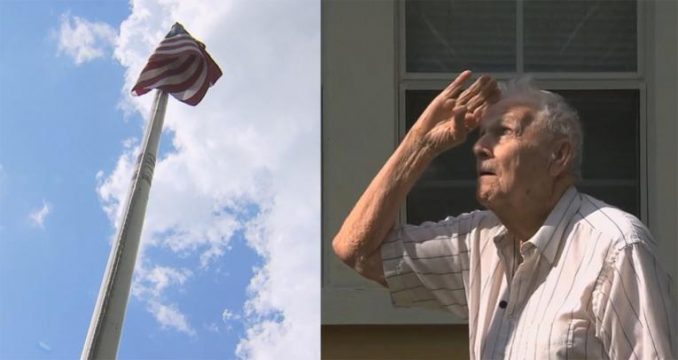 Regardless of where you fall when it comes to your feelings on our country and our flag, most would agree that everyone has the right to do what they please when it comes to their own property and displaying the flag. Unfortunately, at least one thug didn't feel this way when they saw Banks' flying the flag outside his Texas home. Choosing to disrespect the flag, the degenerate also tried to infringe on the veteran's rights — but the war hero wasn't about to be violated without a fight.
As the blind veteran was minding his own business, he heard his flag being pulled down, and since this wasn't the first time someone had vandalized his property, targeting his flags, he had a good idea of what was going on outside. The suspect likely thought the old man was an easy target since he couldn't see, but they made one big mistake. He could hear just fine.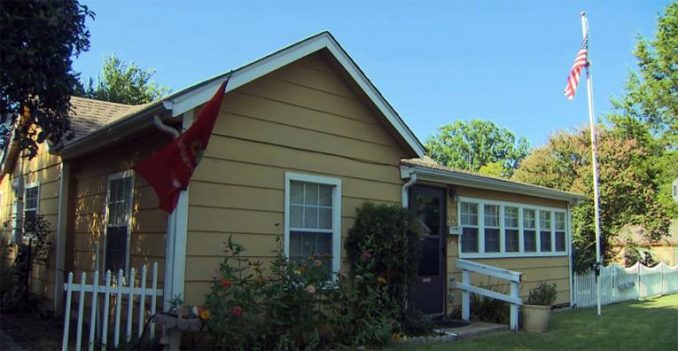 Recognizing the noise right away, the elderly man leaped into action the best he could, rushing outside to find out what was going on. That's when Banks caught the thugs in the act. But, the depraved individuals decided to take their disrespect one step further.
"I walked out, hanging onto the railing and stepped down. That must've startled them," Banks recalled. "They could see me. I couldn't see them. I turned and looked in the other direction, and about then – 'wham!' They knocked me down."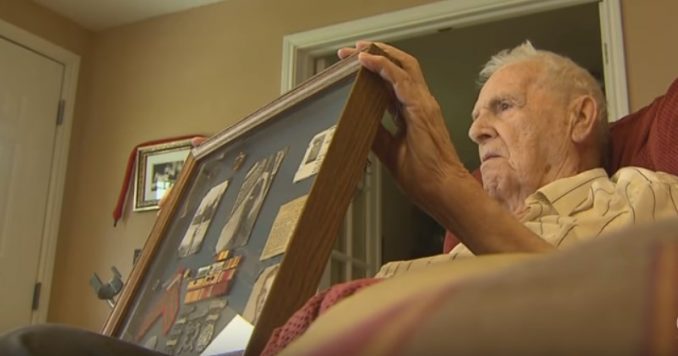 Although Banks took a hit and was injured in the chaos that ensued, he successfully defended his American flag. The thug was forced to run off without it. Not to be discouraged and wanting to make his disgust with the veteran's patriotic sentiments known, the vandal ripped down the old man's "God Bless All Police" sign and threw it across the yard. Still, things didn't go according to plan for this thug at all.
Rather than teach the old man a lesson about his display of the flag, the thug's attack had the opposite effect. There's no doubt the vandal hoped to discourage the veteran from honoring the flag, but he was far from successful in his efforts. Not only did the veteran defend the flag, he then received an outpouring of support after neighbors heard the scuffle and came running to the elderly man's aid.
Banks suffered a twisted knee, as well as several bumps and bruises, but he's shrugging the injuries off. "I'm durable. I can take it," said the patriot, who enlisted in the armed forces at the age of 18 and fought in the battle of Iwo Jima, Japan, during World War II. Speaking of the flag and his daily habit of saluting it, which he picked up in the military, he added, "It's the one thing I can cling to. Yet at my capacity, there's not much I can do. But I can honor our flag."
As for the vandal, they aren't getting off scot-free. "We are doing everything in our power to find the suspects that committed this cowardly assault and bring them to justice," the Kaufman Police Department said in a statement. "This gentleman is a hero to our officers and the city's residents should be extremely proud to have him as part of our community."
According to Banks, someone had previously tried to cut down his flag pole. That time, he found his U.S. flag shredded and his U.S. Marine Corps flag thrown in a ditch. With this latest attempt to vandalize his property, his family has placed cameras around the outside of his residence, and any future thugs who decide to attack better think twice. "If there's any way to catch them and I was able to do so, I'd like to whoop them good with my crutch," Banks warned.
That sounds like exactly what these punks might need. You don't have to like the American flag. That's your right. However, you never have the right to put your hands on someone else's property. The fact that this thug would push a blind veteran, who walks with a cane, just goes to show that they are the lowest of the low. Don't like the flag? Don't fly one. But, don't dare put your hands on a war hero who wants to peacefully honor the country he fearlessly served on his own property.