After receiving a demand that black students get "special treatment," a UCLA professor promised to treat his students equally and not based on their skin color. As such, the university pulled him from his classes. However, he fought back.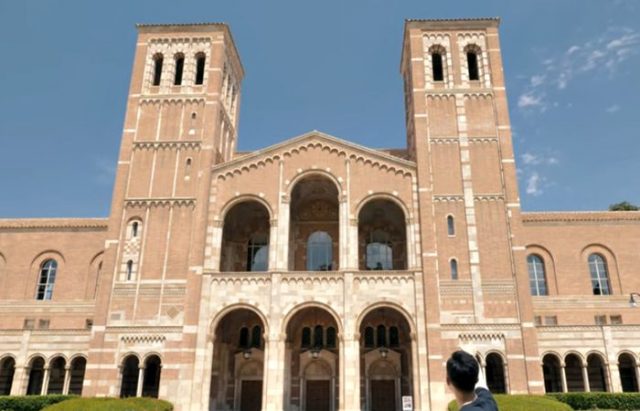 Gordon Klein taught in the UCLA law school and Loyola Law School before moving on to the UCLA Anderson School of Management. For 39 years, he's lectured students in accounting. Unfortunately, he didn't realize that the main priority of the universities is no longer to produce career-driven individuals but, rather, political activists.
The College Fix reports that Klein received a request from a student asking for what the veteran professor calls "special treatment" regarding grading for black students in his classroom. The student suggested "a no-harm and shortened final exam" as well as extended deadlines for final assignments and projects for black students.
In response to the discriminatory appeal, Klein decided to get the student thinking about the consequences of such an action. In an email that has since been shared by angry activists, Klein utilizes the Socratic method to expose the serious flaws in the student's request.
"Are there any students that may be of mixed parentage, such as half black-half Asian? What do you suggest I do with respect to them? A full concession or just half?" Klein writes. "…Can you guide me on how you think I should achieve a 'no-harm' outcome since our sole course grade is from a final exam only? One last thing strikes me: Remember that MLK famously said that people should not be evaluated based on 'the color of their skin.' Do you think that your request would run afoul of MLK's admonition?"
The thought-provoking email received no answers but immediately prompted demands for Klein's termination. In a petition by UCLA student Preet Bains, Klein's equal treatment of black students is criticized as "extremely insensitive, dismissive, and woefully racist." The petition calls for the professor's termination "as soon as possible."
"We ask for your support in having Professor Klein's professorship terminated for his extremely insensitive, dismissive, and woefully racist response to his students' request for empathy and compassion during a time of civil unrest," Bains writes.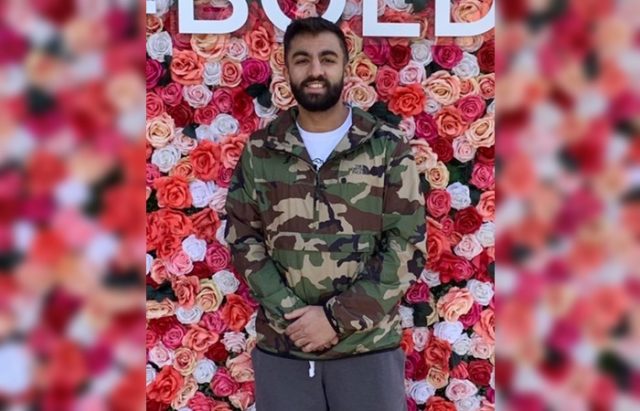 Apparently, the university agrees that its professors should use racially discriminatory practices toward students, as Klein was quickly suspended and replaced by other faculty members. Administrators refused to cite which policy Klein has violated, only confirming that he was "reassigned" and suggesting that he was the subject of a discrimination complaint.
Klein insists that he was actually following UCLA rules by refusing to modify his syllabus in response to "individual factors." He has accused the school of punishing him for following the rules and denying him an investigation.
"The best I can figure out, they needed the sacrificial lamb," he told FOX News. "That's what my colleagues have told me. And I was [easy] to sacrifice when they're weighing the principle of standing on equality of treatment for all students irrespective of color versus trying to placate the angry mob. It was easy for them, at least they believe it was easy for them, to simply jettison me."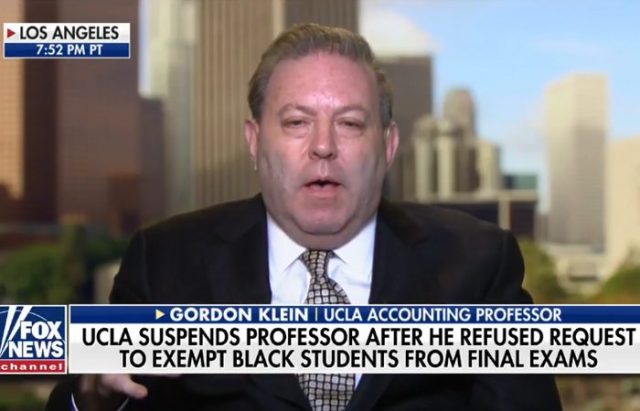 UCLA issued a bizarre response, invoking "equality" while simultaneously apologizing to students for Klein's refusal to discriminate based on race.
"Respect and equality for all are core principles at UCLA Anderson," the Anderson School wrote in a statement, according to the Daily Bruin. "We apologize to the student who received [Gordon's email] and to all those who have been as upset and offended by it as we are ourselves."
Klein has expressed willingness to consider exemptions for students based on their individual situations but reiterated that school policy would only approve "rare exceptions." Still, he was barred from his classroom for his refusal to stray from the school's official policy.
Although the school allows professors to offer alternative solutions for students on an individual basis, having a particular skin color isn't an acceptable indicator that an individual has special needs. In fact, assuming such is merely the soft bigotry of low expectations.
Thanks to cancel culture, a good teacher has once again been suspended from his position. For the outrage mob, it's not enough to simply remain silent on political issues. They demand you say the right words and conform entirely.