Paige Spiranac is a former pro-golfer turned Instagram model. "The most famous female golfer in the world" is no stranger to controversy. Spiranac decided to address "disgusting sexual" rumors when they began to circulate.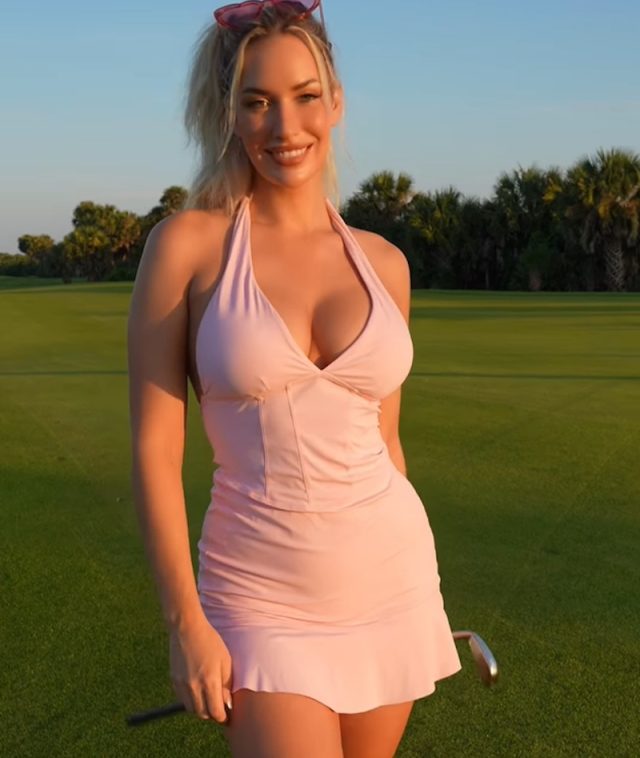 Paige Spiranac abandoned professional golf to become a tremendously successful Instagram model and fashion influencer. With millions of social media followers, the Colorado native is undoubtedly the world's most recognized female golfer. According to Spiranac, this increased celebrity has come at a high cost.
Spiranac claims that every time she attends an event with male athletes or celebrities, she is bombarded with obscene rumors. "One thing people don't talk about with being a woman in a male-dominated industry, whether it's golf or the sports industry, is that any time I do content with another man there are rumors and comments, and it's all disgusting sexual stuff," she said.
"And so I feel like it prohibits me from participating or being invited to certain events when there are male athletes and male celebrities because of the rumor mill and all of this stuff," Spiranac added. Not stopping there, she went on to explain how "unfair" these vile rumors are. "It's just so unfair, and any time I'm pictured with another man… the comments are just gross," she declared.
"It's really frustrating because I don't feel like I get to interact with people normally," Spiranac claimed. "I don't want to start any of those rumors for myself or for them. I just wish people could be normal and realize that here could just be a male-female working relationship with nothing else going on," she said.
Spiranac has previously been criticized for "over-sexualizing" herself. In reaction, the former professional golfer lambasted the "hypocritical rival influencers" who she claimed "did the exact same thing" as her. "[I]nfluencers who came up behind me, they were saying that they didn't want to take the path that I was taking," she said. "They weren't going to 'oversexualize' themselves, and they turned around and do the exact same thing."
Spiranac claims that "it's taken years" for her to be confident in her own skin and doesn't care what others think of her. "I got to the point where I was like, 'no matter what I do people are going to criticize it,'" she said. "It's just doom and gloom on social media all the time and it's depressing and I don't want that when people come to my social channels."
"I want it to be fun and stupid and provocative and interesting and just sexy and fun," Paige Spiranac added. "I don't care what people think about me anymore. 'Are they going to take me seriously? No. They never did and who cares if they do now," she said.
Spiranac went on to reveal that she manages all of her own social media channels, including video editing. "I think you'd be surprised with how many influencers have ghost tweeters, who write their tweets for them and aren't involved and aren't posting and aren't doing the day-in and day-out of commenting back…none of it," she said.
Paige Spiranac's rise to fame as a fashion influencer and social media star hasn't been easy. The Instagram model claimed she was "traumatized" in 2022 after being chastised by another female golfer for wearing an "inappropriate outfit" when she went to play at a new course. Spiranac stated that she "cried all the way home" following that incident.
However, Spiranac has remained determined to do her own thing in the face of all the criticism and rumors. "What I produce is not that provocative. If my body makes someone uncomfortable, that's not my problem," she defiantly declared. "I'm not doing anything illegal. I'm not causing harm."